Running an election campaign takes many hours usually with a team of volunteers pitching in to help.
Some Tauranga by-election candidates launched their campaigns over a fortnight ago, while others are just getting underway with putting up hoardings, delivering flyers, door knocking, and getting out amongst people.
SunLive has invited Tauranga by-election candidates to send in a photo of themselves on the campaign trail this weekend.
Nominations for candidates close at noon Tuesday, May 17.
Jan Tinetti, Labour
Labour List MP Jan Tinetti is having her campaign launch today at a ticketed fundraising lunch at Trinity Wharf.
"The team has been incredibly busy over the weekend with putting up the initial hoardings," says Jan. "I have been out and about connecting with the community at many events."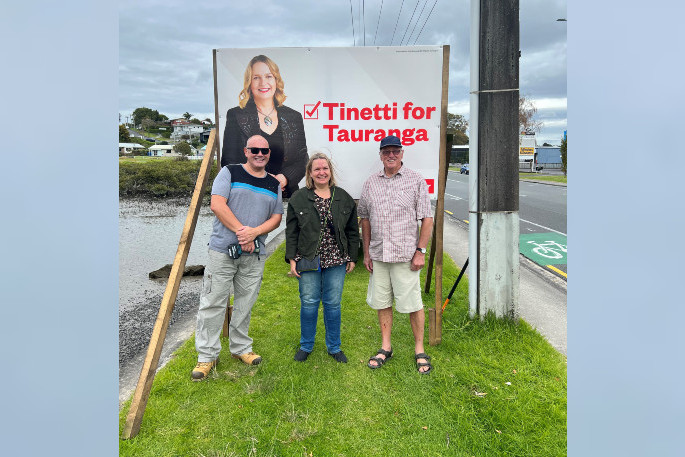 Labour candidate and List MP Jan Tinetti with Gordy and Chris Pointon helping with hoardings. Photo: Supplied.
"I've had some incredible conversations where I'm hearing a growing optimism over Tauranga's future. People are seeing real progress within the city with true progress towards infrastructure needs.
"However, many people are wanting me to focus on an equity of access to Tauranga's future prosperity as we build back better post Covid,' says Jan.
Christopher Coker, Aotearoa Legalise Cannabis Party
Christopher Coker, candidate for the Aotearoa Legalise Cannabis Party has been out and about in the CannaCar this weekend.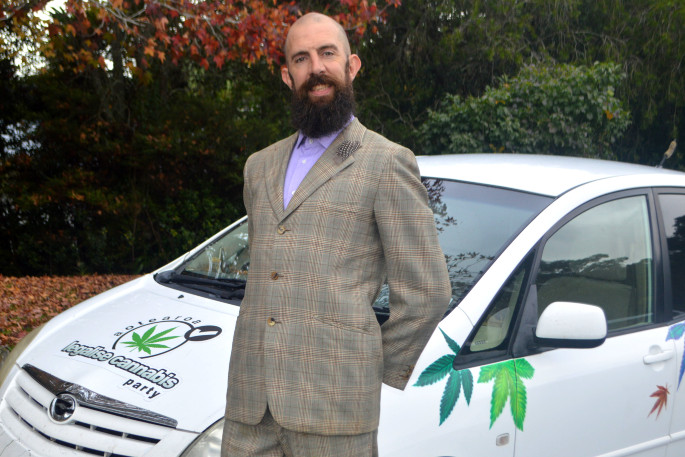 Christ Coker with the CannaCar. Photo: Supplied.
"Spreading the good word about recreational, medical, spiritual and industrial uses of cannabis," says Christopher, who goes by the name Christ, "and how if elected, I will bring positive change to the BOP by taking control of the cannabis portfolio, bringing jobs and building new industries.
"I promise to make cannabis products a well-known household remedy like honey and lemon tea."
Sam Uffindell, National
National candidate Sam Uffindell has been out visiting businesses this week and door knocking over the weekend.
"This weekend I'm out knocking on doors with a team of supporters, sharing how I'll work tirelessly to address the issues facing Tauranga as your strong local voice," says Sam. "I've loved spending time meeting people like Barbara and Nicolaas who we had a great chat with about Tauranga and what we can do make sure it remains one of the best places to live, work and raise a family."
"It's been a fantastic week getting around meeting as many people as I can to talk about the issues that matter to Tauranga.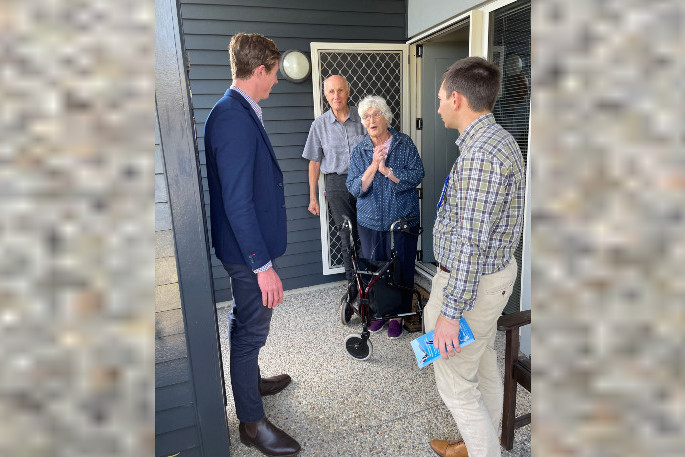 National candidate Sam Uffindell with Barbara and Nicolaas. Photo: Supplied.
"On Wednesday, I took National's Transport Spokesperson Simeon Brown to the Wairoa River Bridge where we reaffirmed National's commitment to build both stages of the Takitimu Northern Link as traffic snaked up the road behind us," says Sam. "The TNL is a sorely needed project to get Tauranga moving, and National is the only major party committing to get it done.
"I've also been visiting businesses in our CBD and hearing their stories about the crime and anti-social behaviour we're dealing with in our city.
":Part of the problem is the truancy crisis that's exploded under this Government, with 40 per cent of kids not attending school regularly. National has been clear that we will prioritise tackling this crisis and get kids back in the classroom."
Helen Houghton, New Conservative
New Conservative co-leader and Tauranga candidate Helen Houghton says that in only a few weeks she has met with "many incredibly hard-working Tauranga leaders who have a heart for this city".
"From substance abuse centers, pregnancy support, men's shed, police patrol, Cool Bananas young adults who are teaching values to children, to church leaders, I have been welcomed and felt at home so easily," says Helen.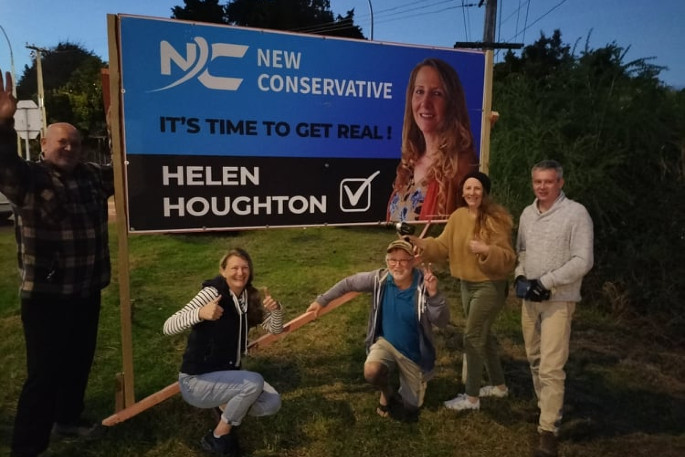 New Conservative candidate Helen Houghton with her hoardings team. Photo: Supplied.
"The way communities connect people is something that I am passionate about which is why I left full-time teaching to set up a charitable trust supporting families in my hometown of Christchurch," says Helen.
"I am encouraged to see Tauranga has many similar organisations and individuals who share this vision for the people in this community.
The high cost of living as well as crime, youth lawlessness, failing education, and ineffective family policy is affecting us all. The government needs to reign in its spending and address urgent local needs."
Helen says youth crime is something we all need to own.
"Why are children so angry and reverting to crime, where is the family are just a few questions we should be asking as leaders who want to make a positive impact," says Helen. "Some of the MPs say that kids need to take more responsibility, need to get in touch with reality and think about how they would have managed without family support, which many of these youth are lacking. All children need a parent, two for the best outcome, who are present for guidance, structure, and stability for children to develop positive healthy behaviours.
"Tauranga deserves great leaders who will put the needs of their community as a priority. I am the best person to go to Wellington to represent Tauranga and address concerns that some politicians ignore,' says Helen.
Peter Wakeman, Independent
Independent candidate Peter Wakeman says he has been campaigning virtually.
'[I] was speaking to someone in a retirement home over the telephone," says Peter. "They informed me that they cannot visit some other parts of the village including some of the spaces that have social functions due to their policy concerning Covid restrictions.
"It is estimated that approximately 25 per cent of this retirement home have Covid including the manager. This village only allows certain relatives and/or people that are visiting specific residents to have access."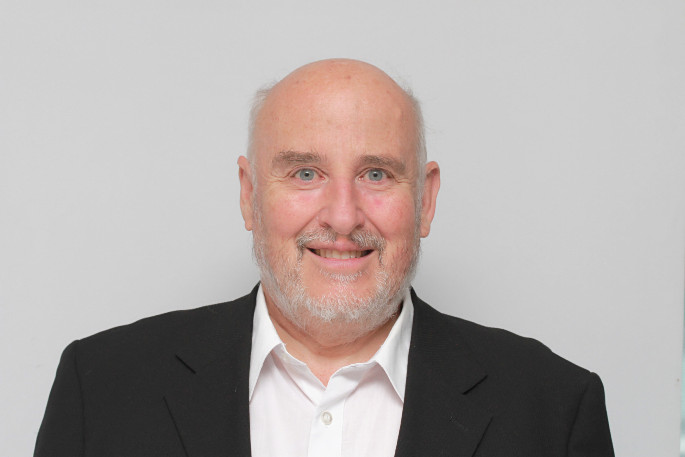 Indepdendent candidate Peter Wakeman. Photo: Supplied.
"This raises the question of having an election and campaigning in a Covid environment,' says Peter.
"With the announcement today of the shortage of nurses, one wonders why it is not free for people to study nursing as it was many years ago."
Peter says that a retirement village resident also shared his view with Peter that climate change is caused by population growth.
"He raised the question of whether parents should seek approval to have children," says Peter.
"He pointed out that religion and human rights support the concept of consistent population growth.
"Other concerns suggest that we are going down an apartheid track by having co-governance, the Tauranga Council has to give away water assets to this co-governance authority. Costly legislation? Already many millions of dollars have been spent on consultation without enhancement of our water infrastructure."
Cameron Luxton, ACT Party
ACT Party candidate Cameron Luxton has been out meeting and engaging with the residents of Tauranga.
"Democracy, infrastructure, and crime are some of the key issues I've been hearing from locals all over Tauranga during my street corner meetings and walkabouts,' says Cameron.
"Tauranga's democracy has been whittled away at by the Labour Government taking away this year's local body election and now with co-governance. ACT would restore democracy to Tauranga, hold a referendum on co-governance and would repeal Three Waters and the Māori Health Authority."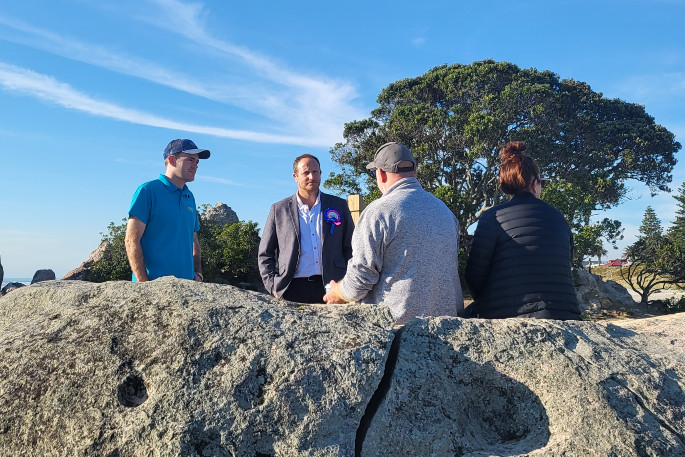 ACT Party MP James McDowall with Tauranga ACT candidate Cameron Luxton talking with locals. Photo: Supplied.
"Our infrastructure has been neglected by politicians who use big promises to win votes but fail to follow through. ACT would create 30 year infrastructure partnerships with local councils and share half the GST on construction with the council, giving the incentive to consent more,' says Cameron.
"Crime is a huge issue for locals here, I spoke to the bus drivers, security guards, and business owners on Willow St who feel unsupported from a lack of communication from council, police and our welfare services.
"ACT would ensure that you can't get parole without being able to read and would retain 3 Strikes, keeping the worst violent and sexual offenders out of our communities."
Sue Grey, NZ Outdoors & Freedom Party
"It's been a fabulous weekend on the campaign trail with a very enthusiastic and well attended house meeting, visits to local farmers and freedom markets, and plenty of listening about local concerns and solutions," says NZ Outdoors & Freedom Party candidate Sue Grey..
Sue says she is "stunned by the incredible enthusiasm for her campaign and the many generous offers of help".
This weekend there was also the public release of the documentary 'Truth, Politics and Lies' which features Sue Grey, musician Aly Cook's 'Little White Crosses' and "various MPs in Parliament changing the law after one of Sue's successful High Court challenge", says Sue.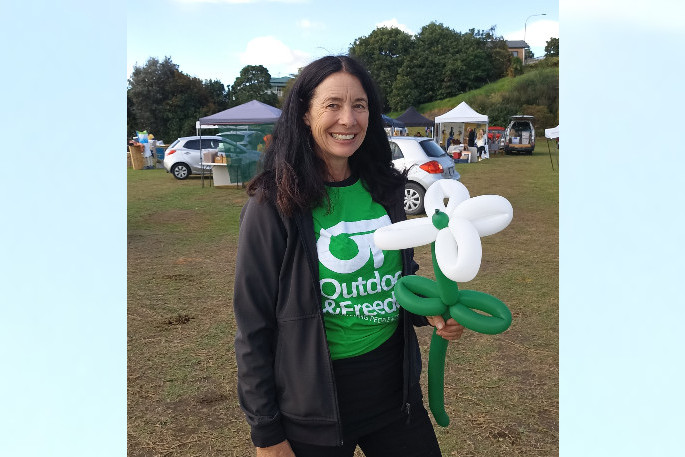 The NZ Outdoors & Freedom Party's candidate Sue Grey. Photo: Supplied.
Sue is planning a public showing of the documentary and a panel discussion about human rights.
Sue says she is very excited to have so much local support for her campaign.
"It's clear the people of Tauranga have had enough of the government controlling their lives," says Sue. "They are well and truly over Covid and the fear, division and isolation it created, and are excited discussing solutions to reclaim their body sovereignty and control of their lives.
"People are increasingly becoming concerned about the reach of national and globalist agendas and are seeking more local independence."
Sue has advertised a series of community meetings and is planning more meetings on health, democracy, human rights and overcoming the current discriminatory regime to heal division and find unity. Details will be posted on www.suegreytauranga.co.nz and the "Sue Grey Tauranga" Facebook page.
On Monday Sue will be speaking at a Freedom and Rights Coalition event and "encouraging voters to be brave and vote for someone different from the existing red/blue party franchises".
SunLive also approached New Nation Party candidate Andrew Hollis for a photograph and comment reflecting being 'out and about on the campaign trail' this weekend.
Key dates for the Tauranga by-election:
Tuesday 17 May candidate nominations close at noon, by-election candidates announced 4pm
Wednesday 1 June overseas voting starts
Saturday 4 June advance voting starts
Saturday 18 June election day, voting closes at 7pm. Preliminary results will be announced later that night