The latest QV House Price Index shows the housing market is under increasing pressure from rising interest rates.
Loan affordability constraints are limiting buyers, and those who are in the market are spoilt for choice as listing levels far outstrip demand.
The average home decreased in value by 2.2 per cent nationally over the past three-month period to the end of April, down from the 0.6 per cent decrease in quarterly value change the country saw in March, with the national average value now sitting at $1,040,927.
This represents an average annual increase of 14 per cent, down from 18.3 per cent annual growth last month.
In Tauranga, home values declined this quarter, as they have in most of New Zealand's main centres.
The city saw its home values drop by an average of 0.4 per cent this quarter, which comes on the back of a 1.4 per cent drop in April and only minimal growth in February (0.2 per cent) and March (0.8 per cent).
The average value of a home here is now $1,193,589, still 20.3 per cent higher than the same time last year.
QV property consultant Derek Turnwald says Tauranga's peaking property market is old news for increasing numbers of sellers.
"There are more and more properties coming to market as owners who have held off until now realise that the market has reached its peak. Listing periods are also extending as supply increases and demand decreases.
"Demand for housing of all values has declined and is now generally subdued. It is a buyers' market now, with agents also experiencing noticeably less interest from Auckland buyers. With the international borders opening, returning expats could pick up some of the slack, but equally we can expect to see many Kiwis head off overseas as soon as they're able."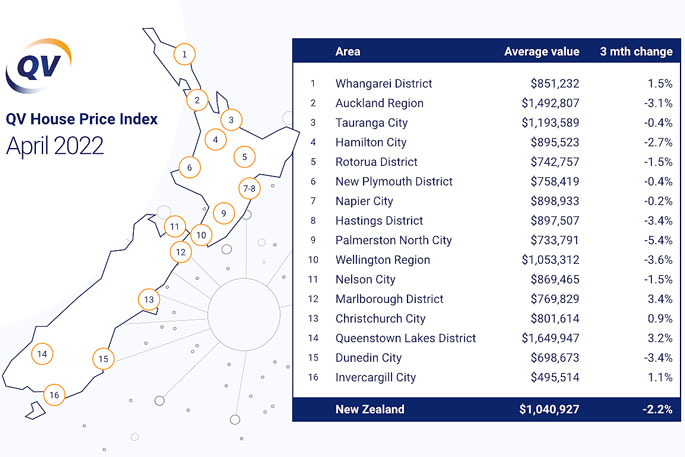 Image: QV.
"It's no surprise that the largest declines are occurring in locations that experience the strongest growth over the past couple of years," says QV General Manager David Nagel
"These markets were the first to become overheated and that makes them more susceptible to a value correction as rising interest rates, tightening credit and affordability concerns start to kick in."
Palmerston North and Wellington are showing the largest three-month value reductions at 5.4 per cent and 3.6 per cent respectively.
Dunedin and Hastings, both at 3.4 per cent reduction in values, are not very far behind.
Only 5 of the 16 major urban areas that QV monitors have shown an increase in three-monthly house price value, with Marlborough (3.4 per cent) and Queenstown Lakes (3.2 per cent) continuing to defy the downward trend in quarterly growth.
Queenstown is the only major urban location to record an increase in the rate of value growth compared to last month.
"Falling attendances at open homes and declining auction clearance rates have been well publicised, demonstrating a swing in the balance of power between vendors and purchasers.
"Developers are feeling the pinch, especially in Wellington and Auckland, with off-plan sales quotas not being met, compounding the impacts of materials and labour shortages.
"A big part of the three month value reductions occurred in late March and April so we expect to see a gradual escalation of value declines in the coming months as vendors wanting to sell their properties are forced to meet the market.
"This is a trend that's likely to spread across all of New Zealand as listings continue to outstrip demand in the majority of New Zealand towns.
"It's difficult to see things getting better any time soon with interest rates forecast to rise further in response to inflationary pressure, while net migration is likely to be negative for the rest of the year as the borders open up.
"Fortunately we have a well insulated banking sector with LVRs having been in place for much of the past cycle and with the country at almost full employment.The likelihood of wholesale mortgage defaults is low."
Despite the latest quarterly value reductions, annual value growth continues to track positively with the average property in New Zealand increasing in value by 14 per cent since April 2021.
The Canterbury region has recorded the highest annual growth at 28.4 per cent while the lowest growth has occurred in the Wellington region at just 7.1 per cent growth over the past 12 months.