Weather forecasters are predicting a cold front to push over the North Island today from the west, while southerlies build further south.
In the North Island, WeatherWatch.co.nz says some cloud and the odd shower is expected in the west with northwesterly winds.
"Rain develops this morning in the southwest (Taranaki through to Wellington), chance of a heavy fall then rain moves into the upper North Island this afternoon.
"As the front that brings this rain clears off to the northeast rain eases to showers this afternoon and evening respectively and winds change southwest.
"The east coast is drier with high cloud, there may be a few spits of rain spreading from the west afternoon on wards.
"Later this afternoon southerlies move into Wellington bringing rain, rain spreads north in the west and up the east coast from this evening with the chance of an isolated heavy fall, maybe even some thunder."
In the South Island, it's looking mostly cloudy for the West Coast with occasional showers, heavy rain for Buller and Tasman eases this morning, showers clear up in the evening as the airflow tends to the south.
WeatherWatch.co.nz says morning rain clears for Nelson to sun, a few showers push back in this evening with south to southeasterly winds.
"Marlborough has some rain (especially about the Sounds) moving through first thing as a cold front moves over, the odd shower from afternoon as winds tend to the south, showers turn to rain late afternoon.
"Occasional showers for Canterbury, showers picking up in the afternoon and gradually turning to more widespread rain in the evening with southerlies.
"Otago has cloudy areas with the odd spit or shower, picking up from afternoon with southwesterlies then easing from the south overnight."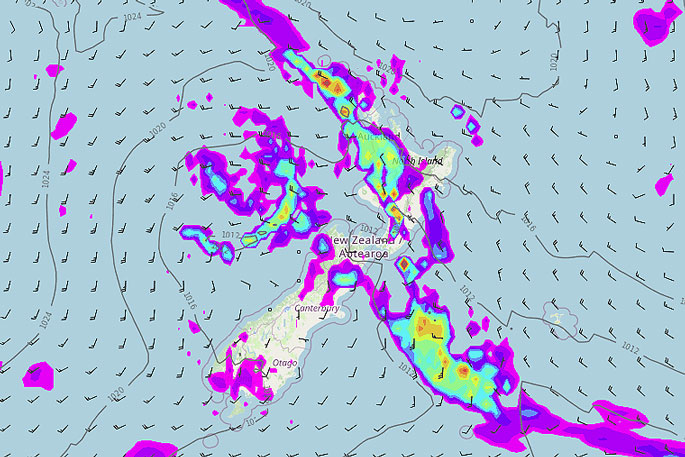 A rain band is forecast to move over the country this week. Image: WeatherWatch,co.nz