Hauraki District Council will parade out something different to help commemorate ANZAC Day in the district after making the decision to not go ahead with ANZAC Day street parades and Civic Commemoration Services this year.
Mayor Toby Adams says that while it was a difficult decision to make, especially in light of the changes to the Red Traffic Light setting recently, he is confident it is the right one.
"We start planning these events well in advance and when the call was made to not go ahead with the parades, it was because the guidelines in place were too tight. Now, even with the easing of restrictions, we're conscious of the importance of keeping the vulnerable in our community safe, given the current spread of Covid in the Waikato."
"That, together with the lead in time we need to put traffic management plans and event organisation in place, meant we needed something special in our kit bag that would be meaningful to our community and we think we've got it."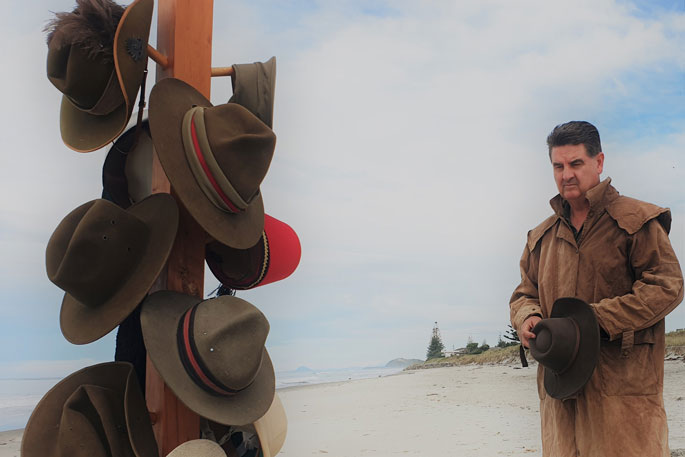 Actor Mark Wright will use just a hat to change into different characters for his one man play Monologues from Gallipoli.
Along with a $1500 Council donation for each RSA Poppy fund in Ngatea, Paeroa and Waihi, Council learnt that local actor and NZ icon Mark Wright was writing a one man show highlighting the sacrifice and humanity of Gallipoli that he intends to premier at Waihi Drama Society and saw an opportunity to work with him.
"By collaborating with Mark, we've been able to create a unique video to offer the district on ANZAC Day. Voices behind the Uniforms is our video featuring excerpts from Monologues from Gallipoli, the one man play written and performed by Mark, along with local stories from members of the RSA and footage from previous parades," says Adams.
For Mark, who travelled to Turkey in 2014 to front a TV documentary Sons of Gallipoli this collaboration means a lot too.
"My great grandfather used to own the Rob Roy Hotel in Waihi and two of my great uncles left from there to serve in Gallipoli, so this collaboration with Hauraki District Council and the RSA is very special for me," says Wright.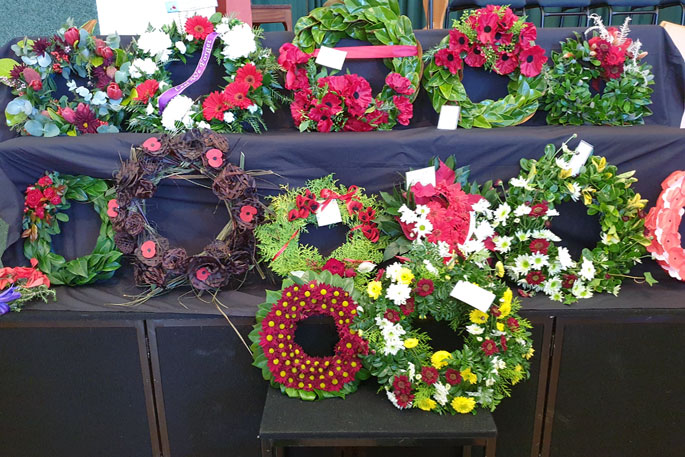 ANZAC Day wreaths laid in commemoration at the Ngatea War Memorial Hall, 2021.
Adams says the local RSA's will conduct their own dawn services on ANZAC Day and they'll be welcome to feature Voices behind the Uniforms on their TV screens at their premises throughout the day.
"We'll run the video on our YouTube channel and on our Facebook page as well so families can watch it together anywhere across the district or even New Zealand wide."
"Although Voices behind the Uniforms highlights the battle of Gallipoli, we feel very proud and privileged to use it to represent our tribute to all the men and women in uniform who have served New Zealand in peacetime and in conflict," says Adams.
For a list of services being held by the RSA in the district visit https://www.hauraki-dc.govt.nz/our-district/anzac/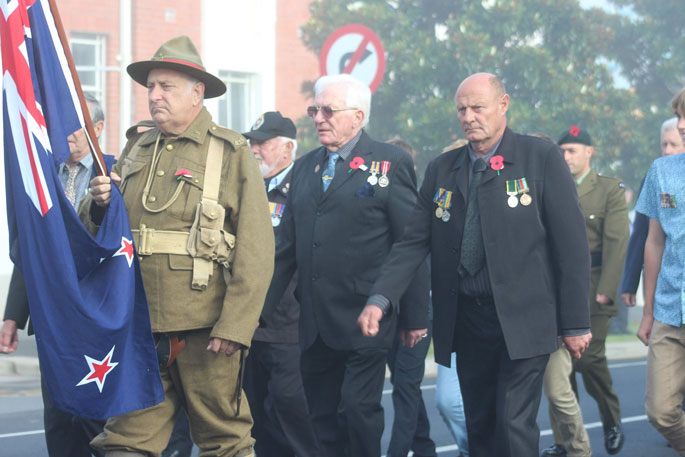 ANZAC Day Parade, Paeroa, 2019.