A multi-coloured scuba diver, a turtle and a pair of rock cod are a fun reminder for students at Pāpāmoa Primary School that the only thing that should go down our stormwater drains is rain.
Year five and six students at the school took part in Tauranga City Council's Waterline education programme earlier this year and the fruits of their labour are a sight to see.
The programme is designed to help primary school children in Tauranga develop an understanding of why we need to conserve water and how our wastewater and stormwater systems work.
"No rubbish, and no soapy water," says 11-year-old Aiden Billman.
"Wash your car on the grass, not in your driveway."
Part of their learning involved coming up with some artwork to reinforce the 'drain is only for rain' message. A competition was run on the Waterline Facebook page where the community could choose the winning artwork, attracting more than 25,000 votes.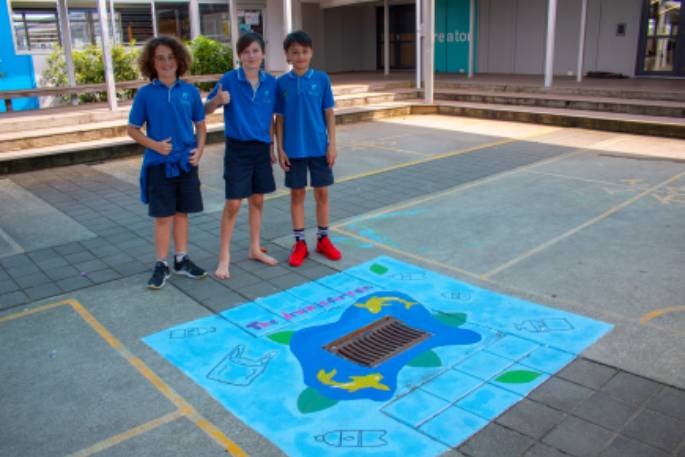 Cobain Jones, Aiden Billman and Zarhian Goodwin designed one of the winning artworks – a pair of rock cod.
Aiden and his classmates Zarhian Goodwin and Cobain Jones produced one of the winning artworks – a pair of rock cod.
"We originally started with koi fish but then we found out it was a pest, so we changed to rock cod," says Zarhian.
Ten-year-olds Karin Aono and Lucy Clemens are chuffed with how their winning scuba diver looks, with his helmet fitting perfectly around the stormwater grate.
"We drew him over a couple of days so we could work on getting his body shape right," says Lucy.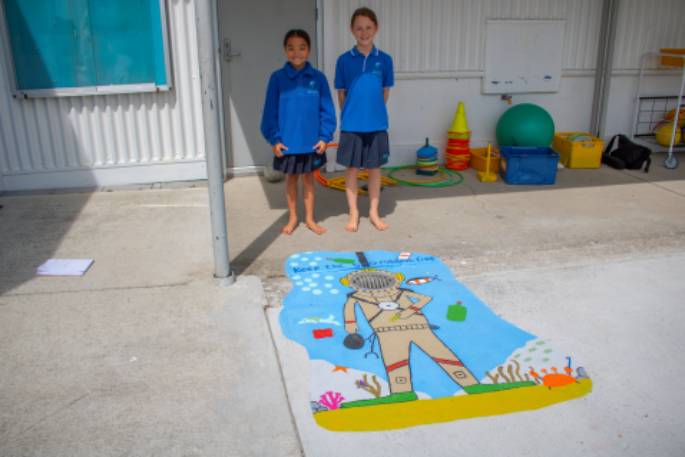 Ten-year-olds Karin Aono and Lucy Clemens with their scuba diver drain painting.
Ivonka Wilken is also super proud of her turtle.
"If we stop putting rubbish in our drains it will help our environment and the sea animals," she says.
The winning designs were painted on the drains at Pāpāmoa Primary School by Council staff.
Council Waterline educator Sarahann du Plooy says the children are fantastic ambassadors but we can all help protect our ocean by taking ownership of our local stormwater drain.
"Everything that is dropped in the gutter around your house, school, and work can flow through these drains and end up out at sea which is detrimental to the environment and aquatic life," says Sarahann.
"So, if you see a piece of litter please pick it up. We can all play a part to protect our oceans."
If your school or community group is interested to learn more about our water education programme, contact us on 07 577 7000 or visit our website.