Tauranga's STEMFest is getting closer with the official launch of this year's project being a "great success".
Sponsors and friends gathered at Basestation and Tinkd Makerspace for the official STEMFest 2021 launch on Thursday.
The Board of STEM Wana Trust and organising team are delighted to share their exciting highlights for the upcoming festival.
On October 3, Durham Street in Tauranga's CBD will completely shut down and become a place of learning, fun and inspiration for young people all over the Bay of Plenty.
STEMFest founder Tia Lush says their goal for the festival is to become the Fieldays of STEM.
The first STEMFest went ahead in 2019, with 3500 people turning up for the day, however, last year the festival was cancelled due to Covid-19.
"For 2021, we're doubling our numbers and are aiming to issue 10,000 free tickets this year," says Tia.
"For us as a charity we are here to promote science, technology, engineering and mathematics.
"These are the four fields that we know we're going to run out of talent in, but we need these future problem solvers to be able to solve issues such as climate change problems or our technology problems.
"However, these subjects are predominantly known by young people as 'tough' subjects."
But when a child tells Tia they are interested in LEGO, problem solving and building things, she tells them that they have just described an engineer.
"So it's just making those connections for them and making those relevant pieces come together, so they can see themselves as an astrophysicist as an astronaut as an engineer and for us its connecting the heroes already working in that space and making them the communicators and putting them on a one to one level," says Tia.
"It's creating role models, it's making stuff relevant and creating inspiration and aspiration."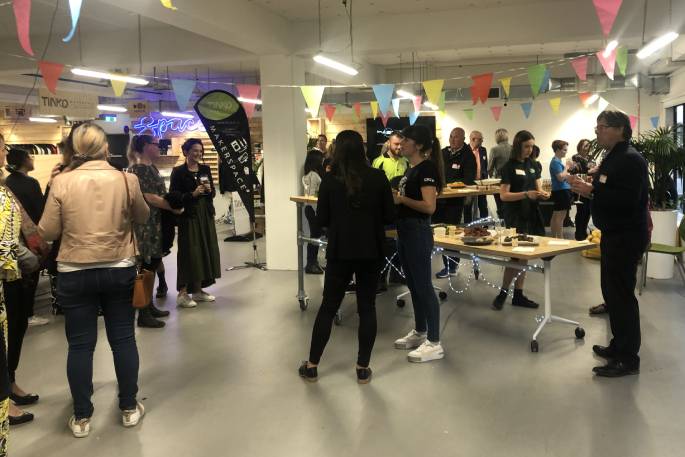 Friends and sponsors gathered for the official launch of STEMFest 2021 on Thursday.
STEMFest's headlining sponsor, Trustpower, supported the charity in 2019 and is back this year to once again be a part of the action.
Trustpower community and communications advisor Jen Spence says one of the reasons Trustpower sponsors STEM is due to the large amount of people within the company that hold STEM-based roles.
"Anything we can do to share what we actually do at Trustpower is quite a cool opportunity because we don't normally get to do that," says Jen.
"A lot of people don't realise that we have hydrologists and a lot of engineers within our team.
"There's lots of really cool careers that people might not know about at Trustpower and so we are making sure people get excited about those subjects and hopefully we could see them in the future."
Jen says the STEMFest in 2019 was incredible.
"What originally sold us to get involved was Tia and the team.
"They were so enthusiastic and passionate about it. They came in and explained the project and for us getting out into community and sharing what we're doing as well was a great incentive.
Another sponsor of the festival is Waikato University.
Waikato University's Chair in Coastal Science Professor Chris Battershill says the reason to support STEMFest is easy.
"It's to inspire young people."
Chris says his own career within STEM has been fantastic.
"I had no idea what I wanted to do and still don't so I tried to do a bit of everything.
"From medicine to diving and then into science it's been great.
"For young people to experience that, and particularly, young people like me who never really saw much of a future in anything, there's opportunities here and so we just want to pull that out and inspire them.
"Hopefully what we see in the streets in terms of young people we will see again in the future either at this university or other ones.
"Everyone's got a talent and often they don't realise where it is and sometimes you can get a bit squashed in school and your best skills don't tend to come out.
"What STEMFest can do just in a street in a day can trigger something and in them. Off they go and the world opens up," says Chris.
Comvita is also backing STEMFest this year.
Comvita chief science officer Jackie Evans says Comvita is a business absolutely focused on science.
"Our success has been driven by science and developing the understanding of the science behind manuka honey and natural health products.
"We were involved in the first STEMFest two years ago and it was just great to see these kid's faces light up as we put lab coats and goggles on them and watched them become scientists for five minutes as they came through our stand.
"Science is fascinating and science is magic to kids and to see them engaging with it and seeing them involved in it at a young age – because we see so many kids and girls in particular drop out of sciences as they get older – I'm really passionate about making science accessible to kids and making it fun for kids.
"For children to be able to see and interact with people working in a science environment is providing role models to children that they can actually relate to," says Jackie.
"As a woman in science it's a privilege to inspire children that way and in particularly, young girls."
STEMFest will be free to attend, but tickets are required for health and safety as well as COVID-19 management.
Visit the website www.stemfest.nz for more information.