A fire on Bay of Plenty's Matakana Island is still burning a week after it started.
Last Sunday, a large fire burned for more than 24 hours on the island and crews remained on scene all week but it flared up again on Saturday.
Matakana Island sits 2km off the coast of Tauranga and is home to nearly 200 people.
This morning, more than 80 firefighters were battling the blaze with three fresh crews from as far away as Ngāruawāhia brought over by ferry, as well as five helicopters.
Principal rural fire officer Steve Webb says the fire, which is burning through a forestry block, increased from 19 hectares to about 40ha after it flared up.
Webb says the fuel source is making it difficult to get it under control.
"What we have is a problem where lots of fuel that hasn't burnt through and burnt properly, and it hasn't been consumed properly.
"So it is still smoldering and smoking so it gets worse in the heat of the day."
The fire was contained but that could change quickly, Webb says.
"If we get any hot, dry, windy weather there is a possibility it could go across the containment lines.
"So that is what we are working hard on over the next 48 hours to make sure we eliminate the fire doing that and that is where all the hard dirty slog comes in."
Volunteers from the mainland have been rallying around the firefighters.
Shaan Kingi from Katikati Māori Wardens says when the blaze broke out, they offered their support to whānau on the island.
"We got teams together to get bottles of water, chocolates and Up&Gos to make sure the crews had some to snack on," Kingi says.
Matakana Island resident Marlene Samuels says it has been a long week, but fire crews have been working incredibly hard.
"That does concern us, these are our family, sons, uncles," Samuels says.
"We are concerned for their health and safety but they are doing a good job."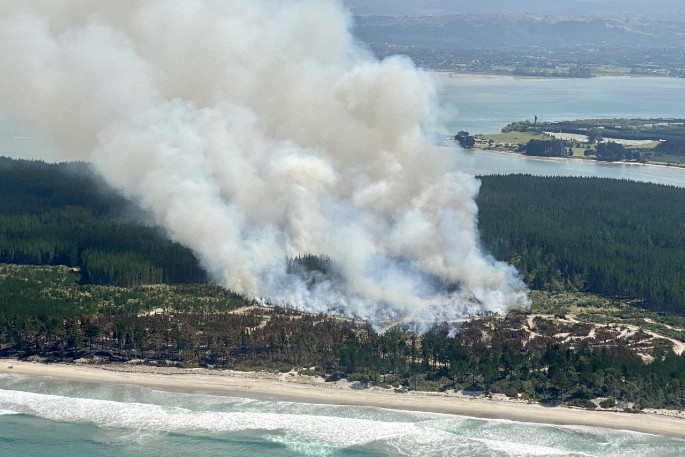 The fire on Saturday afternoon. Photo: Glenda Maplesden.
She says although the fire is burning near their community, the smoke is not having much of an impact.
"We're not that much affected on our side but I understand residents in Otūmoetai are getting more of the smoke than what we are."
She says they are grateful for the support that has been offered to the tight-knit community.
"We are all family, we are all connected to each other and we care about what happens.
"We are just keeping an eye on each other and making sure we are looking after each other."
Fire and Emergency says they are aware of the smoke drifting towards Tauranga City and told residents if they were affected to stay indoors and close windows.
Those who need medical advice are told to contact healthline.
Fire crews are expected to be on the island for several more days yet.