It's Sustainable Fashion Month in downtown Tauranga and the ReMaker Space are hosting a suite of events and workshops from November 20 to December 5 offering the opportunity to learn creative ways to change wastefulness into resourcefulness.
The public are encouraged to come along and learn from the friendly community of ReMakers who have the know how to show how.
For the clothes minded, the big summer season clothing swap is taking place on Thursday November 26 from 6pm – 9pm. It's time to channel your inner 'Marie Kondo' with some of your favourite pieces. If it's in fab condition but you think it could spark more joy in a new owner, place it aside. Do this up to 12 times with your clothing, along with a small amount of good condition shoes, accessories, bags and hats and bring them along to the great clothing swap. Each bag of up-to-12 items will be swapped for tokens which can then be used to 'purchase' new items. Extra tokens can be purchased for just $1 each and all token proceeds will go to the non-profit ReMaker Space.
For those who get frustrated trying to organise their own wardrobes and may need some hanger management, there is 'What's in your wardrobe' a free event on Sunday November 29 from 4pm – 7.30pm which looks at how to sustainably revamp your wardrobe.
The 'How to' opportunities continue. For those who want to make their own rag rug, Gayle Heath is running workshops on sewing and knitting them, as well as teaching people how to use rescued fabrics to create stylish and personalized tote bags.
Vinnie Paul Callister, another ReMaker, designs one-of-a-kind patchwork kimonos, hacks and vests and also teaches how to sew leather, denim and canvas using a heavy duty industrial sewing machine.
Jess Elliot handcrafts all-natural body products and has workshops at ReMaker Space on making soap, body butters and other body products.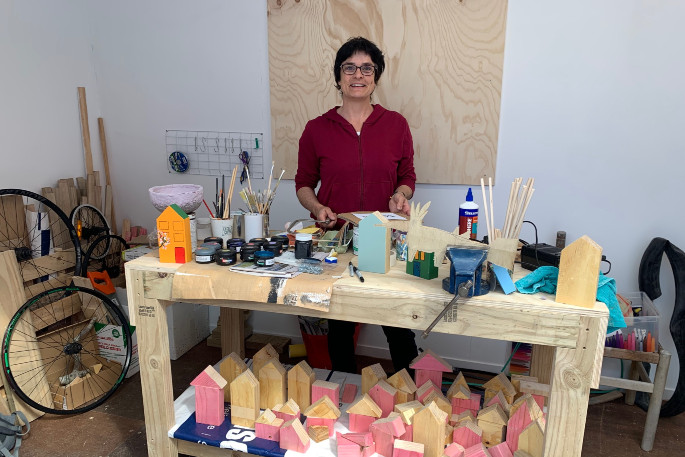 Sandra Landolt.
Sandra Landolt is running workshops on making Advent Calendar Trees from wood and fabric, and teaching how to use paper into pulp to make other items. Sandra is a kinetic artist and educationalist whose work has been shown in international exhibitions. She is a talented artist who repurposes found materials to create both conceptual and practical art pieces. She is also passionate about working with families and creating collaborative and interactive artworks that are accessible to people of all ages
On December 2, from 5pm – 7pm come along and learn how to turn a sheet into a dress with Emma La Rocca. Emma is the founder of the zero waste fashion company Emroce. She specializes in zero waste, surf friendly swimwear but overall, creates inspirational designs to encourage change, as she believes the current production and consumption models are too damaging to our health and our planet. Emma's main focus is on pattern making to create zero waste and she is constantly researching for new innovative sustainable fabrics. Emma has lived the last four years in Italy but has returned home to base herself and her swimwear business in Papamoa. She is running workshops at ReMaker Space.
A free 'Textile Waste' seminar and discussion group with Deborah Crowe from UsedFully will be held on December 2 at 2.30pm. Deborah is currently on her NZ tour sharing her knowledge on textile waste initiatives throughout the country.
Finally, adding her own 'wow' factor to ReMaker Space is designer Kerry Funnel who is running weekly workshops. Learn to convert a shirt on Tuesdays from 4.30pm – 6.30pm and attend her 'Alteration Station' on Wednesdays from 5.30pm – 7.30pm. Kerry is also teaching the basics of using a sewing machine.
All workshops and events take place at ReMaker Space, Our Place, 91 Willow St, Tauranga. For more details go to www.remakerspace.co.nz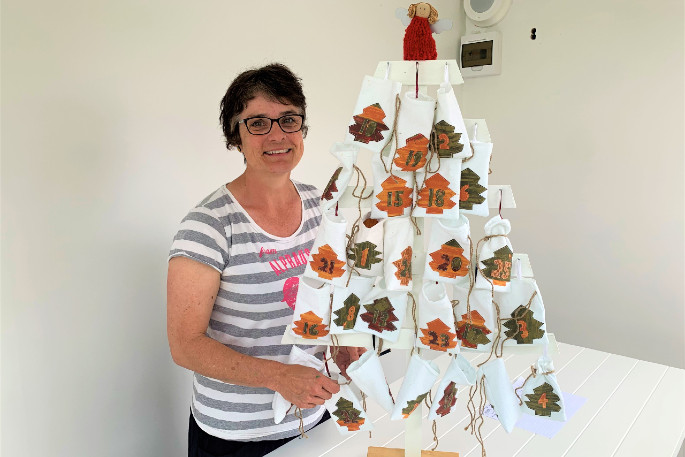 Sandra Landolt with an advent calendar.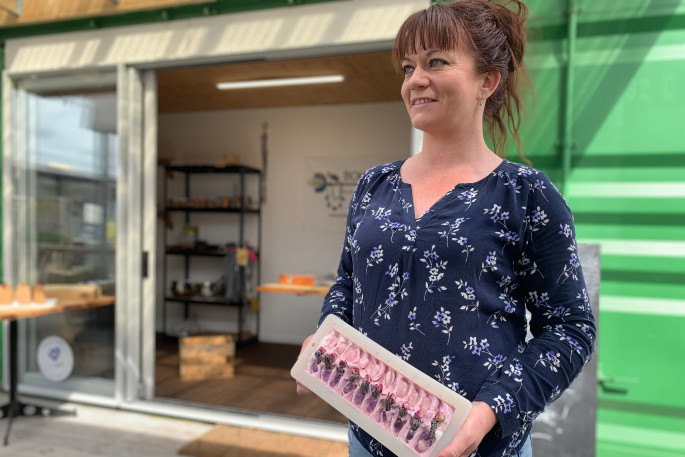 Jess Elliot is running workshops at the Boho Body Care container.