You can't beat a day of rugby at Tauranga Domain. There is only one sleep to go before the Bay of Plenty Steamers battle it out with Hawke's Bay for a prized trophy.
The Steamers coaching team have named their side to play Hawke's Bay in the Bethlehem Coachlines Battle of the Bays on Sunday, when both teams will compete for the Macrae-Shelford Bay Cup.

Bay of Plenty currently hold the Macrae-Shelford Bay Cup which fittingly honours two stalwarts of the game Ian Macrae and Frank Shelford, who have both represented the All Blacks and both provinces.

Second five-eight and centre Ian Macrae played seven matches for the Bay of Plenty in 1962 before heading to Hawke's Bay to see out his rugby career playing a further 85 matches between 1963 to 1971.

Bay of Plenty centurion, flanker Frank Shelford pulled on the Bay of Plenty jersey 121 times from 1977 to 1987, however wore the Hawke's Bay black and white hoops in 1983 for 12 games before returning to the Bay of Plenty to finish his playing career.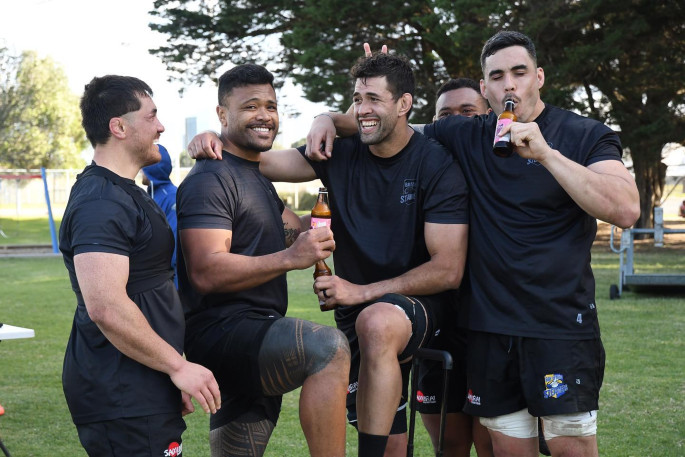 Kane Le'aupepe will play his blazer game (15th game) on Sunday to earn his Steamers blazer.

It will be a momentous game for Jeff Thwaites as he runs out for his 50th game for Bay of Plenty.

Gates Open at 11.30am and the curtain begins at 11.45am with the FMG Girls XV taking on the Farmlands Girls XV. Selection into the two teams is by geographic location of their school or their home town. Girls were selected based on attendance and attitude at training as well as over all skill set and commitment to personal growth.

Tickets range from $5 for children to $20 for adults and are available to purchase online by clicking here.

Bay of Plenty Steamers v Hawke's Bay
Jordan Lay

Kurt Eklund

Jeff Thwaites**

Stan van den Hoven

Kane Le'aupepe*

Joe Johnston

Mitch Karpik

Sam Dickson

Luke Campbell

Otere Black (C)

Joe Webber

Chase Tiatia

Mathew Skipwith-Garland

Emoni Narawa

Kaleb Trask




Nathan Vella

Tevita Mafileo

Ross Geldenhuys

Zane Kapeli

Joe Tupe

Te Toiroa Tahuriorangi

Scott Curry

Fa'asiu Fuatai
*Blazer game (15th game)
**50th Game

Unavailable due to injury:
Keepa Mewett
Hugh Blake
Aaron Carroll
Dan Hollinshead

Game Day Details:
Sunday November 1
Tauranga Domain

Curtain Raiser game:
FMG Girls XV v Farmlands Girls XV
Kick off 11.45am

Bay of Plenty v Hawke's Bay
Kick off 2.05pm
Live on Sky Sport NZ Channel 051