Breast Cancer Foundation NZ is calling on the people of Bay of Plenty to give a little time to make a big difference for its upcoming Pink Ribbon Street Appeal.
Collectors will be shaking pink buckets on October 30 and 31 at around 65 sites across the Bay of Plenty, in towns and cities including Katikati, Kawerau, Mount Maunganui, Opotiki, Papamoa, Rotorua, Te Puke, Tauranga and Whakatane.
They'll be joining 10,000 volunteers across Aotearoa raising vital funds to support women going through breast cancer, search for ground-breaking scientific discoveries and spread the message about the importance of early detection and going for regular mammograms.
Each year, around 190 women are diagnosed with breast cancer in the Bay of Plenty, and sadly every year we still lose around 35 there to breast cancer.
People can sign up to volunteer at www.pinkribbonappeal.org.nz or phone 0508 105 105.
About Breast Cancer Foundation NZ - BCFNZ is a not-for-profit, non-government funded organisation that depends on donations and fundraising for its work in breast cancer education and awareness, medical research and training grants, advocacy, and supporting Kiwis with breast cancer. BCFNZ's programmes are evidence-based, and overseen by its medical advisory committee. The pink ribbon symbol is a trademark of BCFNZ.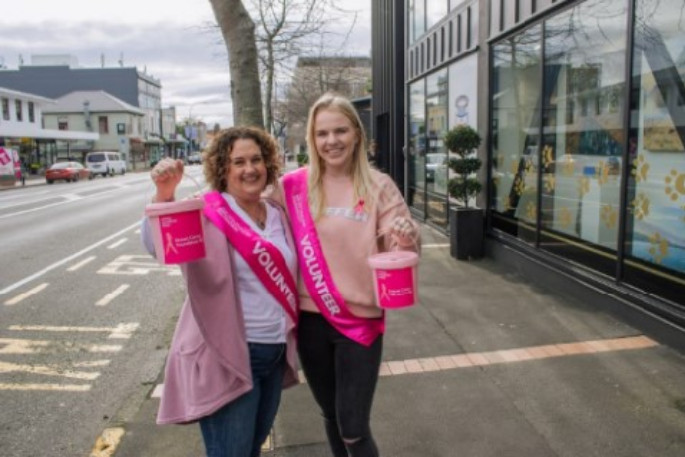 Amber Hannan, who is 35 and lives in Mount Maunganui, has been volunteering for the Pink Ribbon Street Appeal since 2009 in a number of different towns including Ashburton, Cambridge, Nelson and Taupo. She was the first person to set up the Pink Ribbon Street Appeal in Mangakino when she lived there a few years ago.
"When my mother died from breast cancer at the age of 44, I was only 16 at the time," says Amber. "I decided I would use the pain I was feeling and turn it into something positive, something that would make Mum proud.
"For me, volunteering isn't just about raising money, it's also about bringing awareness and making boobs part of everyday discussion. Cancer doesn't discriminate, so ignoring symptoms or putting off getting checked only does yourself and your loved ones a disservice. Please look after your health, you are important."
"We couldn't run our Pink Ribbon Street Appeal without the support of our amazing volunteers," says Breast Cancer Foundation NZ Chief Executive Evangelia Henderson. "The money raised will help us to make zero deaths from breast cancer a reality, funding breast cancer research, education, and patient support.
"It's been a tough year for everyone and we never imagined we'd be launching this year's appeal in the middle of a global pandemic. But this year has shown how great New Zealanders are at banding together, and we hope Bay of Plenty will show some love for Kiwis affected by breast cancer by supporting our appeal."