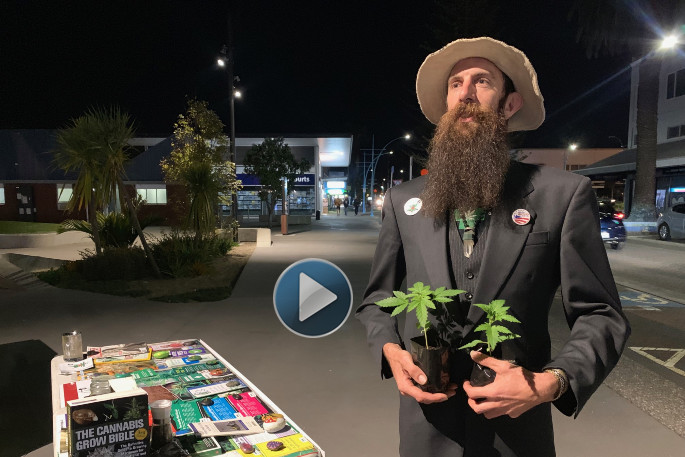 Click the image above to watch the video
While reggae music wafts from his Aotearoa Legalise Cannabis Party-branded car across downtown Mount Maunganui, Bay of Plenty candidate Christopher Coker has been giving away free hemp seeds this evening.
With only hours to go until all candidates must cease campaigning at midnight tonight, Christopher has taken the opportunity to set up a table next to the Tauranga City Council recycle rubbish bins at Te Papa o Ngā Manu Porotakataka.
He has been spending the evening engaging with locals out enjoying the night air and strolling between the Mount Mainstreet bars and restaurants.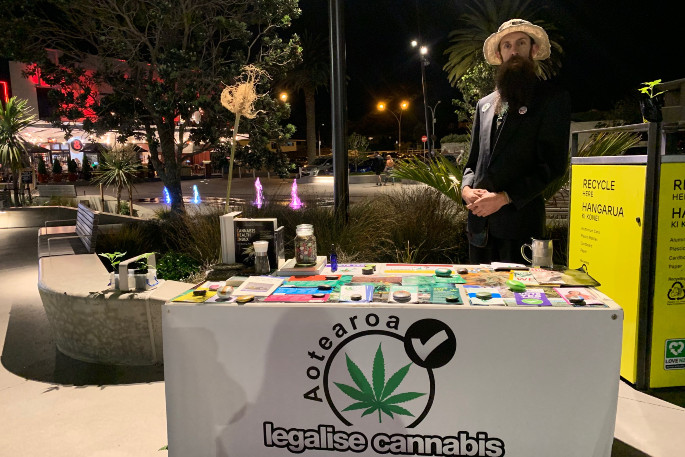 "I'm using the last given hours of light and darkness now to publicise cannabis in our country, and bring forward better education to the general public, who seems to be pretty positive, I might say, on the referendum," says Christopher.
"I'm giving away free bags of cannabis seeds. They have been crushed, sadly, because the government won't allow me to give plant-able cannabis seeds.
"I was wanting to become a licensed industrial hemp farmer to give them to my healthy hempy hens, but the Ministry of Primary Industries changed the law on me half way through my business plan, which put a stop to what I wanted to create a great future for the district in providing healthy hempy hens' eggs for my public."
Christopher also has seedlings on display.
"I have some 'demonstration plants'. This is a hemp root – you can also manufacture medicines out of the hemp root. If you were to leave that soaking in a bowl of oil for six months, it will enable you to extract the medicines out of this hemp root.
"And I also have some 'display' hemp seedlings. These should be readily available if the referendum passes. We should be allowed to have up to four cannabis plants in our back gardens."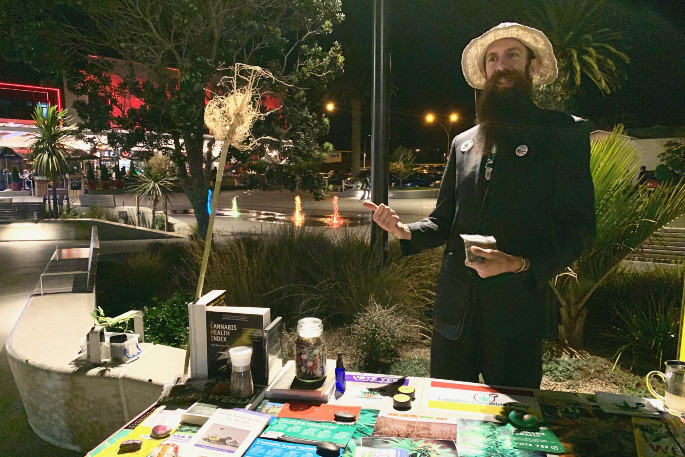 Chris has set up a table with an array of relevant information.
"I have a tonne to give away. Take any brochures, flyers, stickers. I have all the information readily available, because it's all about education. Sadly we've had a lack of education regarding cannabis and it's my duty as a good citizen to stand here in the dark of the hours preaching to the people about medicinal and recreational and spiritual cannabis which Aotearoa Legalise Cannabis Party has been representing for over 25 years."
Christopher says he is having a positive response from the evening's preach.
"Really, really positive. We've got all ages of all people that are all stopping. Passersby have been glad and pleased to take the cannabis seeds off me. I will note again that they have been dehulled. They are hemp cannabis seeds and they are only for dietary supplements.
"People are well aware that I am gifting people cannabis seeds. I wish in the future to be able to gift my 14 grams of cannabis to my friends when the legislation passes through in the referendum."
Tomorrow, Saturday October 17 is the last day for the public to vote in the General Election and also vote in two referendums. The cannabis legislation and control referendum gives the public the opportunity to vote on whether the recreational use of cannabis should become legal, based on the proposed Cannabis Legalisation and Control Bill.