A new and exciting exhibition featuring live improvised music, live painting, films and animations opens tonight in downtown Tauranga.
Located next to ASB in the Red Square 'backfeed blender' is a contemporary and immersive moving art experience not to be missed, and has sprung from an idea by artist Elliot Mason.
"It came from the last exhibtiion I did where I played a piece of music to a moving image," says Elliot. "I liked that process, so that's where the idea came from.
"It's about those relationships between sound and painting and moving image."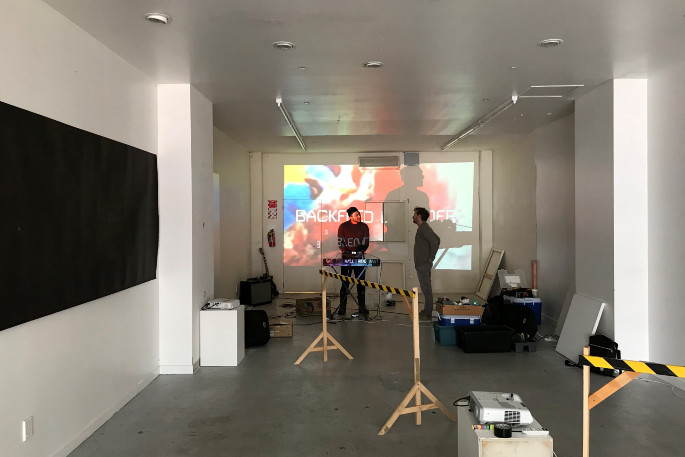 Elliot has collaborated with a collection of renowned local artists, moving images creatives and musicians to bring his 'backfeed blender' experience to Tauranga's CBD. It promises to be a unique exhibition revealing an unfolding and unexpected mix of skills, interpretation and play.
The multi-sensory exhibition presented by Elliot Mason & Friends is part of the Activate Vacant Spaces programme administered by Downtown Tauranga.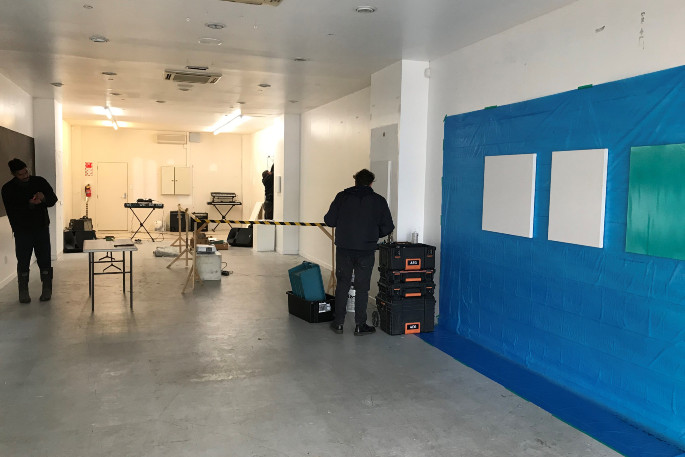 Getting ready for the launch tonight, where artists will be painting to live music.
The Activate Vacant Spaces programme matches property owners with individuals who have creative ideas for temporary projects. The programme features installations, displays, events, interactive experiences, art, culture, heritage, music, performances, pop ups and refurbishments, and is intended to be "a continuum of vibrancy for all to enjoy".
'backfeed blender' features the creative talents of Elliot Mason, Henry Harrison, Luke Turner, Edward Gains, Olly Roy, Kyle Sattler, Craig McClure, Te Marunui Hotene, Kristian Lomath and Joel Burgin.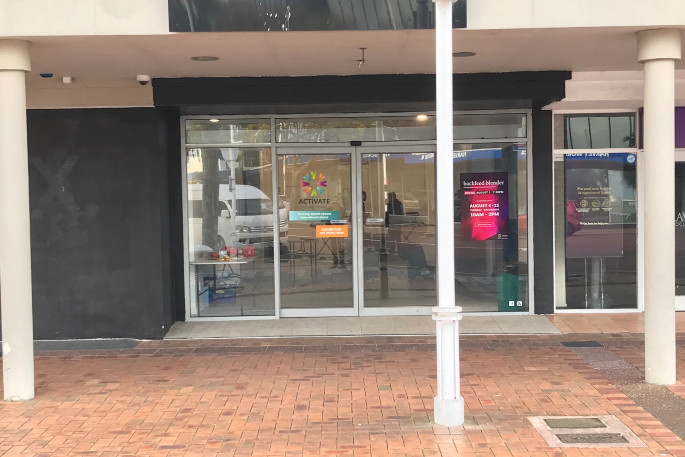 'backfeed blender' will be located in the shop next to the ASB in the Red Square, downtown Tauranga
​The raw, fun, live, responsive and in the moment backfeed blender opens at 7.30pm tonight, August 1 and will feature footage, animation or short films with live improvised music and live paintings.
The resulting exhibition with completed paintings and recorded music set amongst the moving images will be open to experience daily 10am – 2pm Tuesday to Saturday from August 4 – 15.
A video and sound installation by Kyle Sattler recorded live during the 'Stitched up' group exhibtion in Tauranga in February 2020:
Cacophonic Opus Of The Flooded Whirlpool from Kyle Sattler on Vimeo.