Rough weather conditions are delaying divers inspecting the Funing, the log carrier that lost power in the Tauranga Harbour on Monday morning.
The vessel remains in safe anchorages outside of the harbour and is not disrupting shipping traffic, says Maritime New Zealand principal communications advisor Vince Cholewa.
Divers were due to inspect the vessel on Tuesday, but Vince says the weather has been too rough for divers to work safely.
"Forecasts are for the weather to improve with it being marginal for diving today – a decision is still to be made – and much better Thursday to Saturday.
"Funing is in safe anchorages and is not disrupting shipping traffic. It is also easy for tugs to get to vessels at anchorage if necessary – Funing is safe where it is and does not need assistance from tugs."
Vince says there is unlikely to be any serious damage to the hull, as it is a double hull with water-tight compartments.
He says no oil or other pollution has been seen in the water and the crew have tested the compartments from inside the ship.
They have found no ingress of water or anything else.
"Divers will inspect the hull to confirm, and will inspect the propeller and rubbers for any damage caused by snagging the buoy's chain.
"If the vessel is safe to sail without repairs it will be able to continue its planned voyage to China.
"If the vessel requires repairs a repair plan will be established by the owners; authorities would overview any such proposals."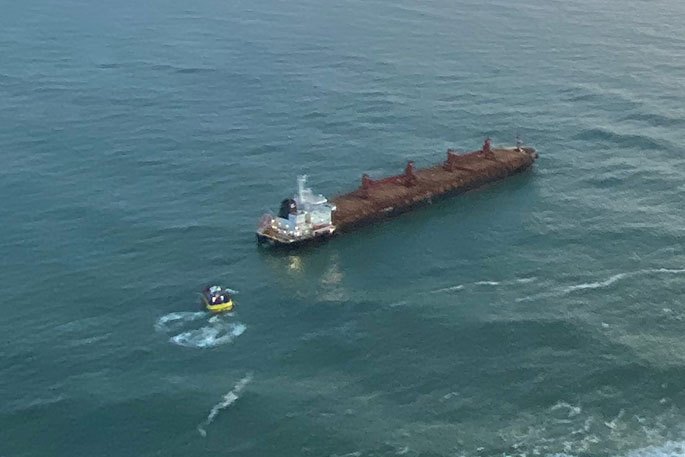 Vince says at this stage it is not possible to speculate what, if any, repairs might be needed, how long they might take and if they would be done in Tauranga or elsewhere.
The Transport Accident Investigation Commission has confirmed that an inquiry into the incident has been launched.
"The Commission has appointed a team of three investigators, led by TAIC's Manager of Surface Investigations," says senior communications advisor Simon Pleasants.
They were due to arrive in Tauranga on Monday afternoon.
Simon says the team will be busy gathering evidence relating to: what the people involved were thinking and doing; the ship itself, including its maintenance and design; the ship operator's policies and procedures; and what was going on with the weather and sea conditions.
"The Transport Accident Investigation Commission opens an inquiry when it believes the circumstances of an accident or incident have - or are likely to have - significant implications for transport safety, or when the inquiry may allow the Commission to make findings or recommendations to improve transport safety."