Local Labour MPs Jan Tinetti, Tamati Coffey and Angie-Warren Clark say National's 'ghost plans' to get tough on crime are little more than hot air.
The MPs say the Government is actually rolling up its sleeves and working alongside police, iwi and the Tauranga community to tackle organised crime.
"Firstly, we acknowledge the grief of all families caught in the recent tragedies within the Western Bay of Plenty, including those of our brave police men and women who have increased their presence in our community, to provide the people of Tauranga Moana with stronger peace of mind," says Jan Tinetti, List MP for Tauranga.
"Local police have assured me organised crime is their number one priority in the Bay of Plenty. They have seized more than $6.4 million in assets from local gangs, since the start of the 17/18 financial year and they are keeping the pressure on.
"While these facts fly in the face of Mr Muller's recent comments, the truth is National had their chance to be "tough on crime" for nine years. They weren't and they still aren't."
Jan says the recent tragedy included a semi-assault rifle, the kind the Government quickly banned from shelves in the wake of the March terrorist attack and bought back off many respectable gun owners across Aotearoa.
"Now, we are backing our police force in targeting organised crime, and ensuring their weapons find similar fates.
"Parliament will soon vote on tougher penalties for people who supply firearms to gang members and other unlicensed offenders."
Jan is challenging Tauranga MP Simon Bridges to walk the talk and support these new gun laws, as up till now he has tried to block them.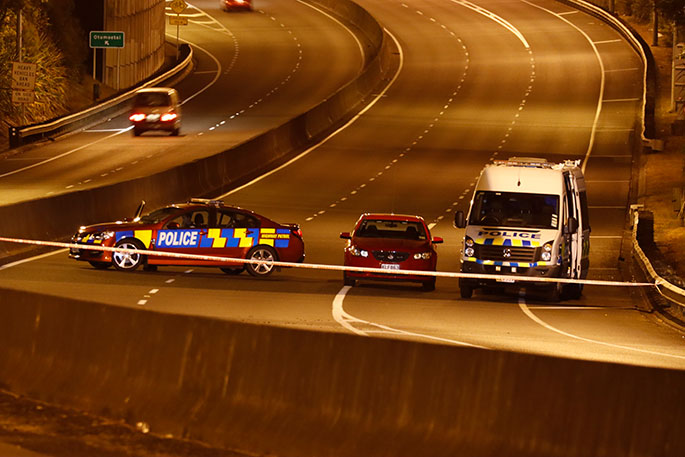 Police have closed State High Two following a fatal shooting. Photo: Daniel Hines/SunLive.
MP for Waiariki Tamati Coffey says National wants to create "Strikeforce Raptor" to target gangs, like some comic book solution to organised crime in New Zealand.
He says the reality is iwi, whānau and communities need us to be smarter.
"Let's not kid ourselves it's only people wearing patches who are driving this. We need to tackle organised crime, including white collar drug criminals, from multiple angles, such as education, rehabilitation, housing and poverty – like this Government is actually doing.
"I specifically want to acknowledge Corrections Minister, Kelvin Davis for launching Hokai Rangi – a dedicated strategy created alongside Māori, to reduce our high rates of reoffending and imprisonment – one which is already starting to see positive results."
List MP for Bay of Plenty Angie Warren-Clark says the Coalition Government is pouring more resources into Policing, with an extra 91 fulltime Police officers in the Bay of Plenty District, over and above those who have left.
"Minister of Police, Stuart Nash advises me that's a 14 per cent increase since start of 17/18 financial year.
"While there is more mahi to do, this is a huge relief for local families, when Police numbers dropped across the country in the last five years of the previous government.
"We all have a part to play in giving nothing to organised crime. We encourage anyone who may know anything about the recent tragedies, to anonymously contact Crimestoppers on 0800 555 111, and help us create safer communities for our families."