Two days of fun, fast and friendly competition wrapped up with medal presentation on Friday, November 29 at Blue Light's under 15 games held in Tauranga.
More than 300 year nine and 10 competitors, across futsal, fast five netball and golf, along with 50 volunteers, coaches, teachers and supporters, all declared that the second year of Blue Light's under 15 games was a success.
"A massive thank you to Hannah and the Blue Light team from all the staff and students from Whangaparoa College. We had an amazing time and it was a great way to finish the year. We will be back for sure next year," says director of sport at Whangaparaoa College Joe Duffett.
Teams come from both local and North Island schools with Tauranga Girls High School, Mount Maunganui College, Te Puke College, Blue Rovers, Mahurangi College, Whangaparaoa College, Raglan School, Hillcrest High School, Murupara Area School and Gisborne Girls High School all competing.
"It was great to see so many year nine and 10 students in Blue Light's under 15 games, because keeping teenagers participating in sport was a key outcome for us," says Blue Light's programme manager Hannah Ward.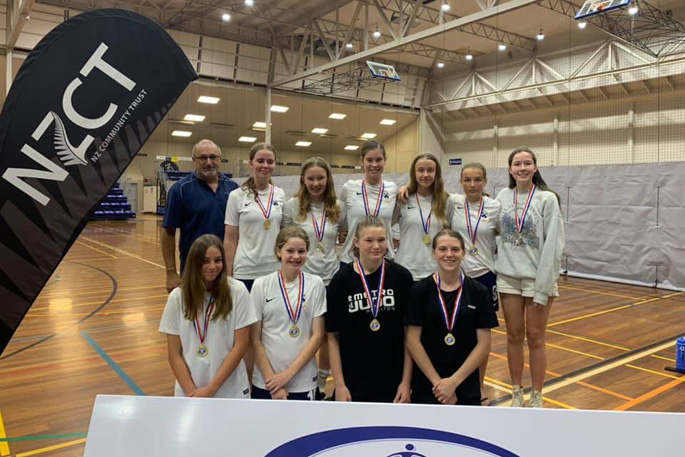 Hillcrest Girls' Futsal Gold Medal winners.
Local Tauranga teems performed well in the under 15 games with a notable standout being Tauranga Girls College achieving a clean sweep in the golf, winning gold, silver and bronze.
Taking two gold medals back north were Whangaparaoa College who performed well winning both the boy's futsal and the fast five netball competition.
"We saw all of our games values – fun, fair play and whanau – in evidence across the teams participating at under 15 games. The Supreme Awards that we game to Mount College 2 for the futsal and Murupara Area School for the fast five netball are evidence of that.
"A huge thank you to NZCT, whose support is invaluable in making the under 15 games a reality."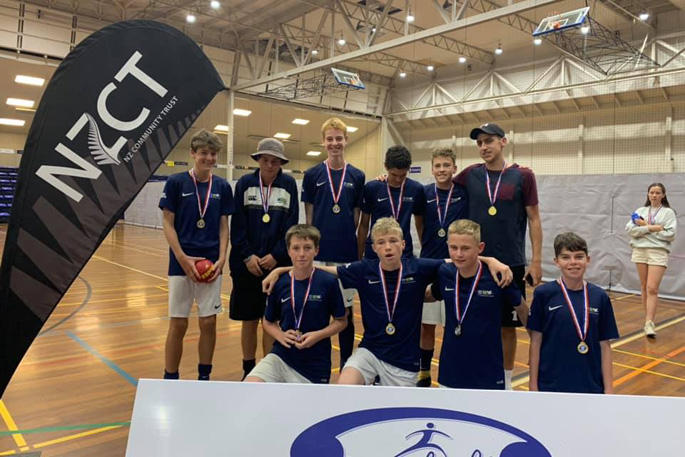 Whangaparaoa Futsal Boys' Gold winners.
Medal Winners:
Boys Futsal
Gold: Whangaparaoa College - Auckland
Silver: Hillcrest High School - Hamilton
Bronze: Blue Rovers 2 - Tauranga
Girls Futsal
Gold: Hillcrest High School – Hamilton
Silver: Mount Maunganui College - Tauranga
Bronze: Tauranga Girls Rua - Tauranga
Boy's and Girl's Futsal Supreme Award
Supreme Award: Mount College 2 – for their positive attitude, respect and determination and encouraging their own team and others
Fast Five Netball
Gold: Whangaparaoa College - Auckland
Silver: Tauranga Girls' College Tahi - Tauranga
Bronze: Mahurangi – The Other Team - Auckland
Supreme Award: Murupara Area School – for being a fun positive team which showed perseverance, sportsmanship and displaying all the values of the Under 15 games
Golf
Gold: Jessica Hayward – Tauranga Girls' College
Silver: Judy Shin – Tauranga Girls' College
Bronze: Georgia Kaye – Tauranga Girls' College