An elderly lady says she will have to stop shopping in Greerton village if the begging ban is revoked.
Joy and her husband returned to shopping in the town centre when the begging and rough sleeping by law came into place on April 1 this year.
The eighty-year-old says they avoided Greerton for at least a year because they were intimidated by the homeless begging and being verbally abusive.
"It's really quite intimidating to go into the shops and have people sort of spread eagled at your feet.
"If they just ignored you and you ignored them it would have been fine but to get verbal abuse basically because you didn't give them something.
"To be honest while it was happening, we shopped at either Bayfair or The Lakes, we just wouldn't go into Greerton."
Recently Tauranga City councillors voted to move forward on a recommendation to revoke the begging and rough sleeping provisions in its Street Use and Public Places Bylaw 2018.
The by law prevents people from begging and rough sleeping with five metres of public entrances to retail or hospitality premises in the Tauranga City, Mount Maunganui and Greerton CBDs.
Joy is upset that the by law could be revoked and thinks the council needs to spend time in the CBDs to see the difference the by law has made.
"Ask the people or get out there and see what it's like for yourself and imagine it with bodies sitting and yelling at you from doorways because they block up the doorways that are shut overnight.
"I was so angry when I thought those people [councillors] haven't been in in the job long.
"In a way, I felt what right have they got to speak for us even though we elected them.
"If there'd been any mention of that from any of the nominees there's no way they would have got my vote because it has just been so pleasant since they changed the by law, to go and shop there."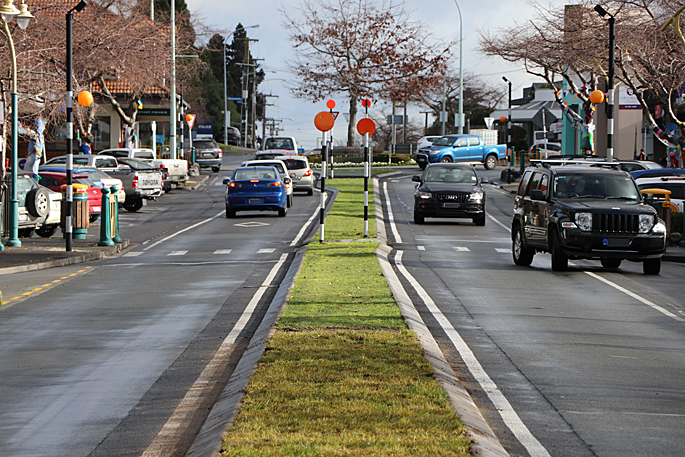 The Ohauiti residents says Greerton is their closest shopping centre and they don't want to have to spend extra time and money going to Bayfair or The Lakes
"That for us is extra petrol and everything else, which we don't particularly need, but at least it was peace of mind.
"Peace of mind for people is really important as you get older. You don't want to feel as though you're being abused because verbal abuse is often worse than physical."
Joy and her husband head to Greerton at least once a week for lunch because it's much nicer now.
"It changed from a place that people wouldn't go and didn't want to go to and shop to a place that was really lovely to shop and like us I'm sure there are a lot of other people that are going back more often.
"It is a lovely place to shop and it would be a shame to see that go down the gurgler."
She thinks a lot of people will stop shopping there and she knows a dozen people that avoided Greerton because of the beggars.
"I am involved in a group of women and there were a lot of them that just said oh we won't shop there now.
"People feel guilty that they're not able to give them money. It puts the guilts on you and you shouldn't have to feel like that. I mean it's people's prerogative if they want to give or not give."
Joy has concerns for the homeless people's welfare despite the intimidation and abuse.
"I mean we care too, just because we get cross with tripping over them and being abused by them it doesn't mean to say you don't care about people.
"I know there are a lot for one reason or another who are genuine homeless but, I do believe that there's also people out there who aren't and are just takers and I mean that's sad."
An overview of the proposed changes to the bylaw, the draft bylaw and an online submission form are available at www.tauranga.govt.nz/streetuse
To make a submission about the proposed change, people can go to the website or fill in a form at the council's customer service centre at 91 Willow St, the Greerton Library, or the Greerton Lotto Shop.
Consultation runs until 5pm on Friday, December 20, 2019 and hearing of submissions will take place in January 2020.