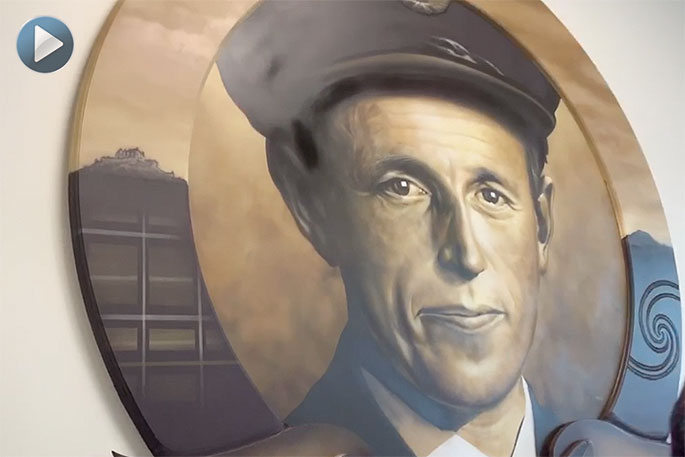 Click the image above to watch the video
Tauranga's newest mural is honouring a 'forgotten aviator'.
Graham Hoete, or more commonly known as Mr G, unveiled his newest piece at the new Tauranga Airport terminal.
Mr G's work of art is a circular portrait of the late Oscar Garden, the first New Zealand resident to fly from the United Kingdom to Australia.
Tauranga Airport approached Mr G three months ago to create a feature piece for the new complex, and not long after, he learned about Oscar's story through Ingrid Wicksteed and thought it would be fitting to construct a mural of 'the forgotten aviator'.
"Ingrid was saying it would be cool if I could paint some kind of tribute mural of him somewhere in Tauranga because he lived here for 26 years," says Mr G.
"She told me his story and I was pretty much blown away, and I said actually, I've got the perfect spot for this."
After meeting with the council and airport representatives, Mr G went about his work and yesterday, he revealed his piece at a small gathering.
"My priority was presenting it to Mary, Oscar's daughter, just in a nice, respectful and intimate fashion.
"I wanted to make sure Oscar had a strong connection to Tauranga Moana, but also the fact that he was an aviation legend," says Mr G.
"It's quite funny, he brought this second hand Gipsy Moth plane, flew it all the way from England to Australia, knowing the plane was called Kia Ora as well, he had a kiwi battler mentality.
"He went out and gave it a go and did it on a shoestring budget, and he was a humble man who didn't like to talk about himself."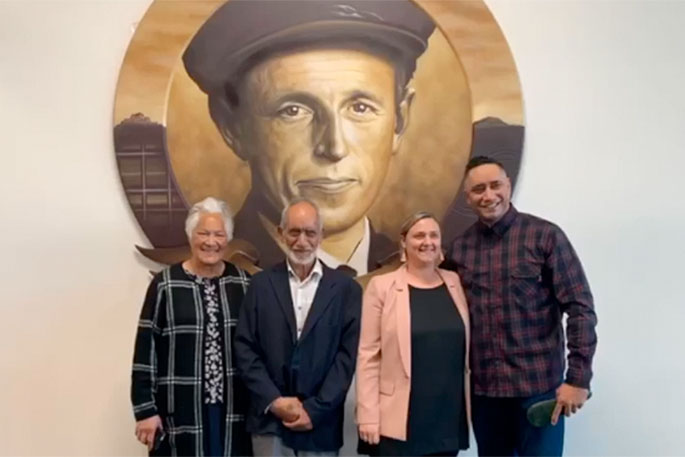 Mr G says Oscar has unfortunately been a forgotten aviator, but he wants his art piece to educate people, so Oscar can be remembered.
The piece itself is a painted portrait, and in the frame Mr G incorporated Edinburg Castle and the Scottish tartan on the left hand side to acknowledge his Scottish heritage, and on the right hand side he has painted Mauao and a carving of a koru.
"It will bring back his connection to Tauranga Moana and Aotearoa."