Rowan Elliott, age 20, has always been an animal lover.
"I've grown up with all sorts of animals and mum and dad never said no to anything," says Rowan.
It's no surprise, that two years ago, a straight-forward cat rescue has now snowballed into a large animal rescue operation run by herself along with Siobhan Mikaere and Jennie Dryden.
This month, the trio who run RRR Rescue – for rescue, rehabilitate and rehome, have found themselves caring for 38 puppies, 50 cats and kittens, five miniature ponies, two horses, 50 kid goats, rats, guinea pigs and five rabbits. And there's 40 chooks hanging out too.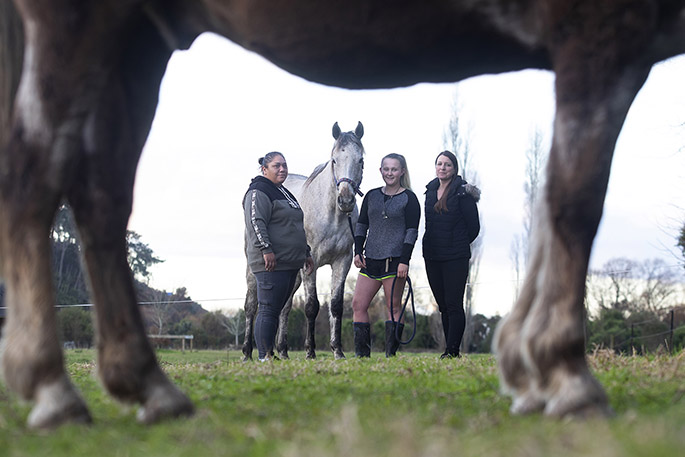 Siobhan Mikaere, Rowan Elliott and Jennie Dryden. Photo: John Borren
Rowan remembers the start of this bursting animal enterprise, now spread across six properties.
"I went to the dump with Dad, and there was a little dump kitten sitting watching us," says Rowan. "She was heavily pregnant. I went home and told Mum about her and she said go get her.
"So I brought her home. She was beautiful and had five beautiful kittens.
"After that the dump people saw us as a place to call for help with calls for over 70 cats.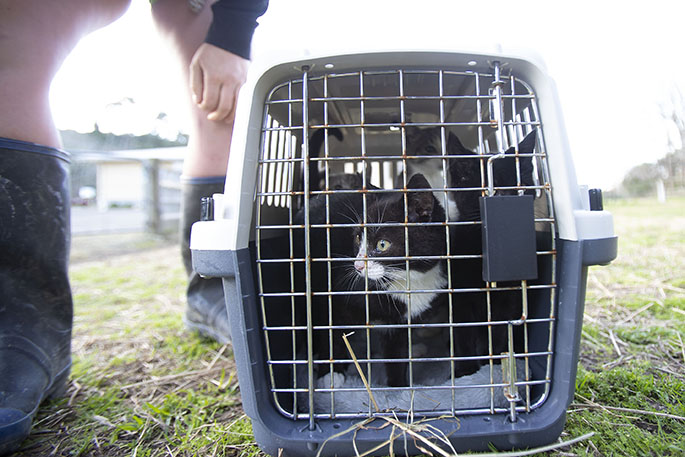 Photo: John Borren
"Instead of them getting run over by the machinery at the dump or dying from respiratory infections, I raised them myself with mum and then we just rehomed them.
"There was no TNR – trap, neuter and release – happening. Many of the dump cats were feral, wild as hell, reproducing constantly. We were getting litters of eight repeatedly.
"The reason I started this was because I contacted so many rescues to help me with these dump kittens, and no one could. Absolutely no one could help me because they were so overrun.
"I thought 'bugger it, I've just got to do it myself'."
She continued on for about a year, during which time she met Jennie and Siobhan.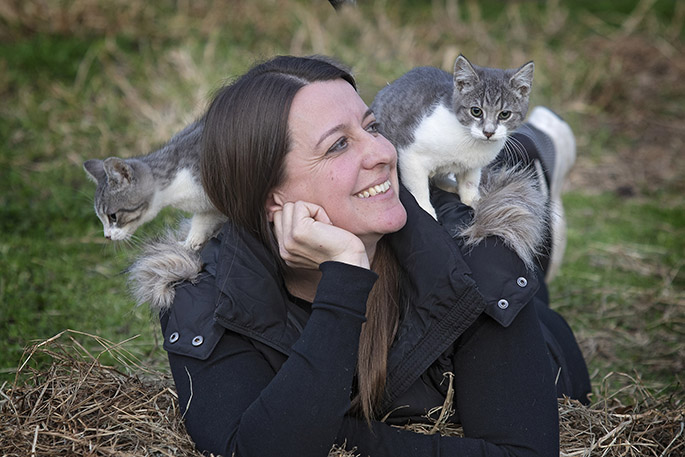 Jennie Dryden. Photo: John Borren
"They were both adopters adopting my kittens. Siobhan wanted to start her own rescue, and I said 'well why don't we do it together' and she was like 'sweet let's do this!'
The trio teamed up, quickly figuring out which areas they were each going to specialise in. Why stop at cats when there's so much need for everything else?
"Jenny is great with rehoming, Siobhan is amazing with dogs, and when it comes to really little sick babies, I'm fantastic," says Rowan. "I can do IV fluids and know about stock, as I've grown up on a farm. So horses, miniature ponies, goats, sheep, cattle, I find them extremely easy to deal with."
"We started RRR Rescue and shut down Rowans Rescues for Rehoming which was just me.
"It pretty much went from there."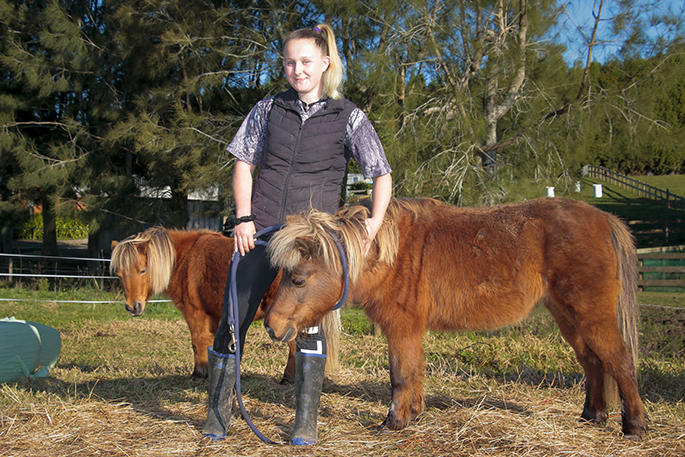 Rowan Elliott with miniature ponies. Photo: Bruce Barnard.
The group gets tagged by many people across NZ as they come across animals that need rescuing.
"We get a lot of grief for not helping, as we don't have the means or the funds to help every single person that asks for it.
"We get a lot of elderly people who have elderly animals and they just can't keep up with them so we do our best to take really old and elderly animals to place in retirement homes with people who will love them for their last days.
"We do all the bottle feed babies and premmies. It doesn't matter how young that animal is, we will do our absolute best to do what we can for that animal."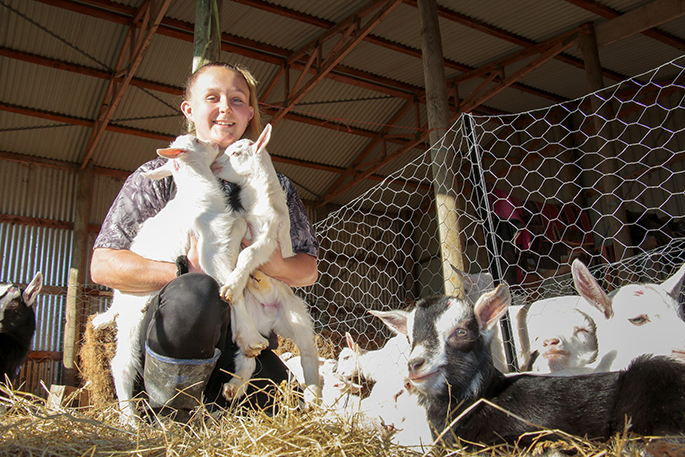 Rowan Elliott with kid goats. Photo: Bruce Barnard
During this time, Rowan was full time studying, doing her police training, and bringing in the kittens and bottles with her on the course to feed during her breaks.
"Siobhan, a full-time nursing student with two children, and Jennie a house renovator and full-time mum of three boys, were doing the same as well.
"It's the one thing we want to get across to people is that we don't do this 24/7. We're trying to make a difference for something that really needs help, while also trying to live our own lives."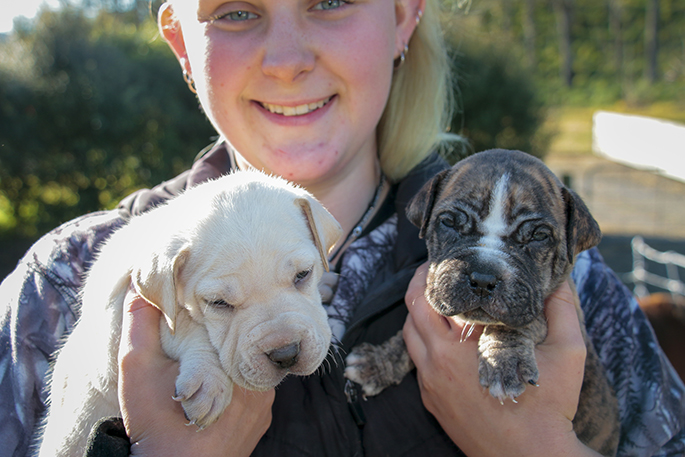 Rowan Ellliott with puppies that need new homes. Photo: Bruce Barnard
The women have trapped, neutered and released most of the cats at the dump. They took them to a local vet who de-sexed and vaccinated them, with about seven toms and feral females returned to the dump the same day. About 60 kittens and cats have been rehabilitated and rehomed.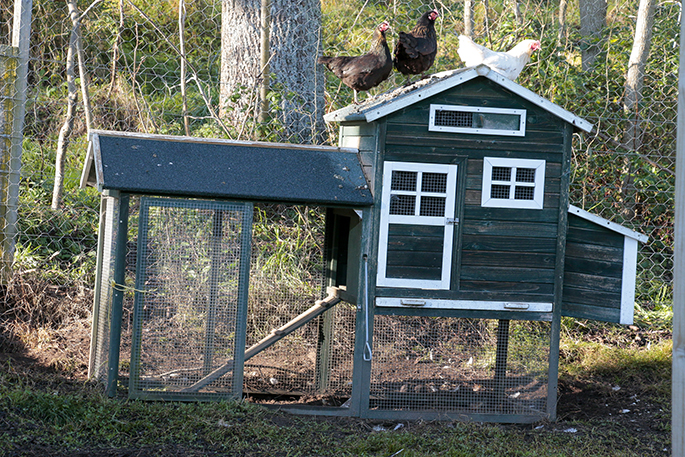 Photo: Bruce Barnard
"We've had a notch taken out of the dump cats' ears so we know who has been de-sexed and who hasn't."
"The dump people were happy to take them back, because they were so well fed from the dump food and were fine to be there as ratters but they can't reproduce."
They paid for this out of their own pockets at the start, but have had help from the public sponsoring the cat de-sexing, with donations of $100 for a female, and $50 for a male.
"The main thing we need help with is funding. Food donations are always a massive help but it's the vet bills that get on top of us. Just having money in the bank will take off the stress."
Rowan Elliott can be contacted on 027 461 0888, or through the RRR - Rescue, Revive, Rehome - Facebook page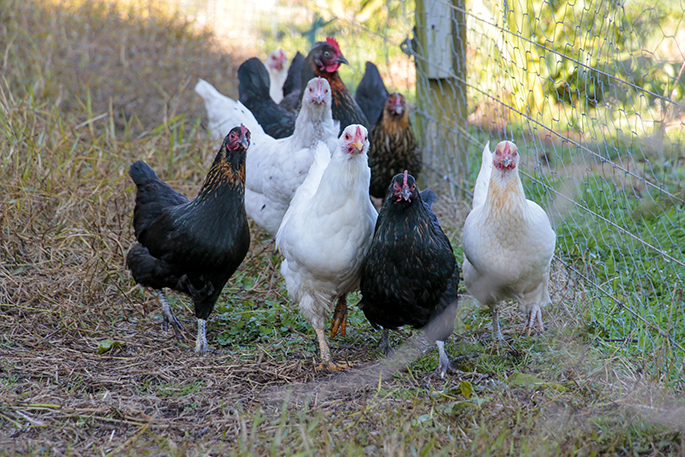 Photo: Bruce Barnard