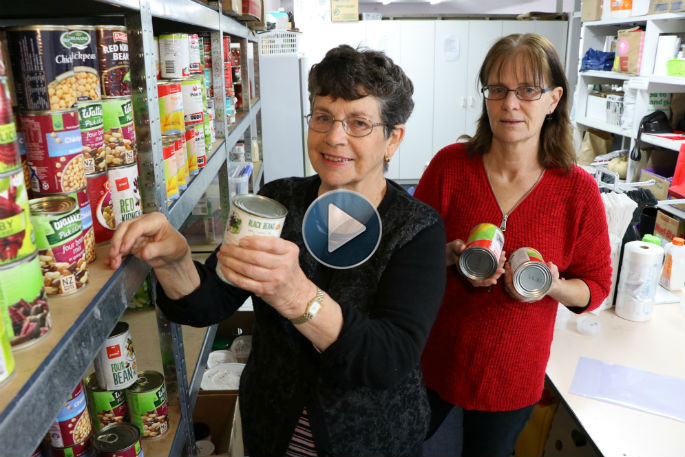 Click the image above to watch the video
Te Puke is "a good place to be struggling" thanks to the work being done by a vibrant bunch of volunteers and employees.
Social services hub EmpowermentNZ is experiencing a high demand for food and budgeting advice, even from those who are working.
The group provides people in need with access to food, advocacy assistance, budgeting help, social work, and counselling. It relies solely on grants and donations from the community for funding.
EmpowermentNZ foodbank manager Clare Cooper says they are supplying food to people from all walks of life, including working families.
She reckons all it takes is one big expense like a car repair to blow the budget.
"It's neat to be able to walk alongside people, and sometimes it's only for two or three weeks, to get them over that hump.
"If you are going to be struggling, Te Puke would be a good place to be struggling, because we have a really generous community," says Clare.
EmpowermentNZ social work manager Deborah Nicol says a lot of people find it hard to seek help.
"I have met a lot of people who have sat in the car park and been too nervous to come in," says Deborah.
"We would really like to just sit and chat with them over a cup of tea. If there's anything that we can help with we will.
"That's the beauty of not being government funded as yet, our boundaries aren't as tight. We can actually go a lot further with people."
Molly Walker moved from Napier to Te Puke with her family about a year ago.
She became a client at the hub when she first arrived after going through domestic violence and budgeting issues. Eventually, she started volunteering in the kitchen.
"I was finding the struggle really hard. At the same time, I knew my worth and wanted to find somewhere where I could help," says Molly.
Molly says the hub provides people with so much more than a feed, helping to teach life skills to those who need it.
"It's helping to rebuild people's thinking, we are teaching them basic things like manners, patience and budgeting.
"It's not just a feed they get here, they get compassion, they get people's time."
Clare thinks the wrap-around services at the hub means people do not need to depend on multiple agencies for different types of support, something which can often subject them to shame and stigma.
"It can be pretty humbling to have to do that, so they can come in here and we will wrap around them.
"Often if people are coming in for a food bank there are other underlying issues going on," says Clare. "We have got the social workers, we have the budget, it's like a one-stop shop."
Volunteers Anya Otene and Angela Mabey run the kitchen at EmpowermentNZ, working hard, having laughs and serving kai most days of the week to hungry community members.
Both women say they volunteer in the kitchen because they understand the daily struggle of sleeping rough.
"That's why I like helping other people, we have been in the situation like they're in," says Angela.
"I have lived on the streets, and it's time to give back to the people that are living the life we used to live. We are in a better place now than what they are."
Angela wants people to know they shouldn't be afraid of seeking out help from EmpowermentNZ.
"Don't be scared to come in because it's for everybody here, it's for everyone that needs help. Even a hug, a coffee and a chat."
The EmpowermentNZ Annual Report states that in 2018 they fed 1796 people and handed out 689 food parcels.
4324 volunteer hours were completed and they provided 906 hours of social work client contact.
The majority of their funding comes from grants, alongside donations from businesses, individuals and churches.
Deborah says the massive increase in living costs has resulted in people needing food support and sanitary items.
"Really what we are needing is canned goods, sanitary items, a lot of women are coming in with nothing like that."