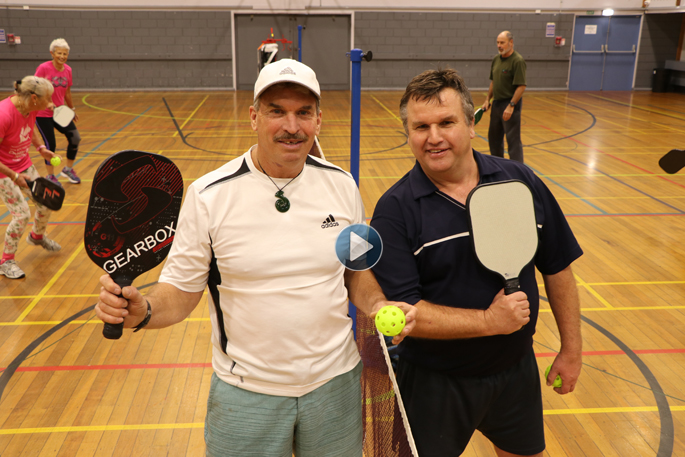 Click the image above to watch the video
A new sport is taking over the Bay of Plenty and has made its way all the way from the United States.
Terry Umstead is teaching Tauranga residents how to play this new sport Pickleball, and says it is a sport for anybody at any age.
"It doesn't take as much energy as tennis does, you're not running as hard and your serves are underhanded.
"It's a really good social activity and a lot of people play it just for exercise and to have fun."
Invented back in 1965, Pickleball is a cross between tennis, badminton and table tennis. It is played on a badminton doubles-sized court using paddles and a hollow ball with holes in it.
Pickleball may be unheard of in New Zealand, but according to Terry in the USA and Canada it is huge and the sport could be a potential for the Olympics.
He says many of the cruise ships have Pickleball on-board and when they are docked in Tauranga, they come and join in with Terry and his crew.
Tauranga residents meet every Wednesday morning at the Mount Sports Centre from 10am till 12pm.
"We usually do a little warm-up and we do a few drills and then we start playing games. We usually play doubles because singles is a lot harder to cover the whole court.
"The only problem with it, it that it's addicting. It is so much fun.
"Tennis people are really quiet and wait for the points but Pickleball gives you fast reactions because that ball comes at you really fast. So a lot of tennis players are playing Pickleball because it's so fast, it helps you with your reactions.
"People are laughing and talking and it's so much fun do to.
"Everybody in the family plays it and it's very competitive. There's always something more to learn and it's way more strategic than any other sport I've ever played," says Terry.
Residents in the Tauranga area can head along to the Mount Sports Centre on Wednesday mornings to join in on the fun. They are also hoping they will start up an evening session soon.
Residents in Rotorua can also join in on the addiction with sessions being held on Monday evenings, Thursday mornings and Thursday evenings.
For more information about Pickleball or where to play the sport around the country, click here: