Surf lifeguards from around the Bay of Plenty and Coromandel areas made waves at one of the first Wahine on Water Events, held at Whangamata Beach over the weekend of April 13.
As part of a BP Leaders for Life Project, young volunteers Phoebe Havill, Phil Pirie, Paul Hardy and Julia Conway have been exploring ways to get more female lifeguards keen and confident to crew and drive IRBs (Inflatable Rescue Boats).
Fifty per cent of surf lifeguards are female, yet only 28 per cent of our IRB drivers are female. This is something the group want to address through pairing less experienced lifeguards with an experienced female IRB mentor. The intention of the networking day is to give women an opportunity to expand their boat experience, in a supported and relaxed environment.
The event was targeted at women from any club who would like to enjoy a fun day in an IRB, learning tips on driving and crewing from some of the best women IRB drivers in the region.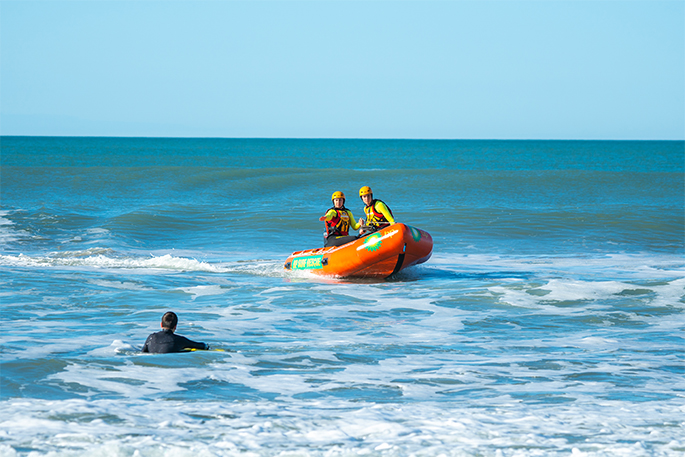 The first training day gained a lot of attention throughout the country with other regions looking at hosting their own training days.
"It was a great day out on the water with lots of young women taking part and getting involved!"says Event Manager Phoebe Havill.
"We had members from right across the Eastern Region come along, 20 who were here to gain more skills and confidence and another eight mentors and instructors who helped run the day."
During the half day training candidates and instructors took part in different activities and drills such as reversing trailers, engine maintenance, patient pickups and patient care, as well as driving skills.
Another member of the BP Leaders for Life Group, Phil Pirie, helped with the logistics and planning in the lead up to the training day.
"We were really impressed with the turn-out and the support which we have received from all the club officials, instructors and parents. Not to mention Whangamata Surf Life Saving Club - the club has been fantastic with the use of their facilities," says Phil.
"It was heaps of fun! Really well run by the instructors," says Maggie Lowe from Whangamata SLSC and who took part in the training. "I feel a lot more confident out on the water, it was such a great learning environment."
When asked if she had any advice for those thinking of taking part in the next Wahine on Water Networking Event, Maggie said "you have to get involved! It's so much fun and you meet loads of new people as well!"
The Wahine on Water team are already planning their next training, which is due to be held at Omanu Beach on 28 April. Details on how to get involved with this camp can be found on the Surf Life Saving New Zealand website.