A cruise ship with a majestic nature is in port today, as passengers disembark to enjoy a sunny day at the Mount with a refreshing breeze.
The Majestic Princess arrived from Wellington earlier this morning and is due to head to Auckland at 4.30pm.
The cruise ship is registered to the United Kingdom with a gross tonnage of 144216.
It can carry 3917 passengers and 1332 crew members.
All those people, plus Tauranga and Mount residents, are going to enjoy another fine day with westerly winds today.
According to the MetService, it's going to be 29 degrees today with an overnight low of 16.
It was already 20.1C at 7.30am.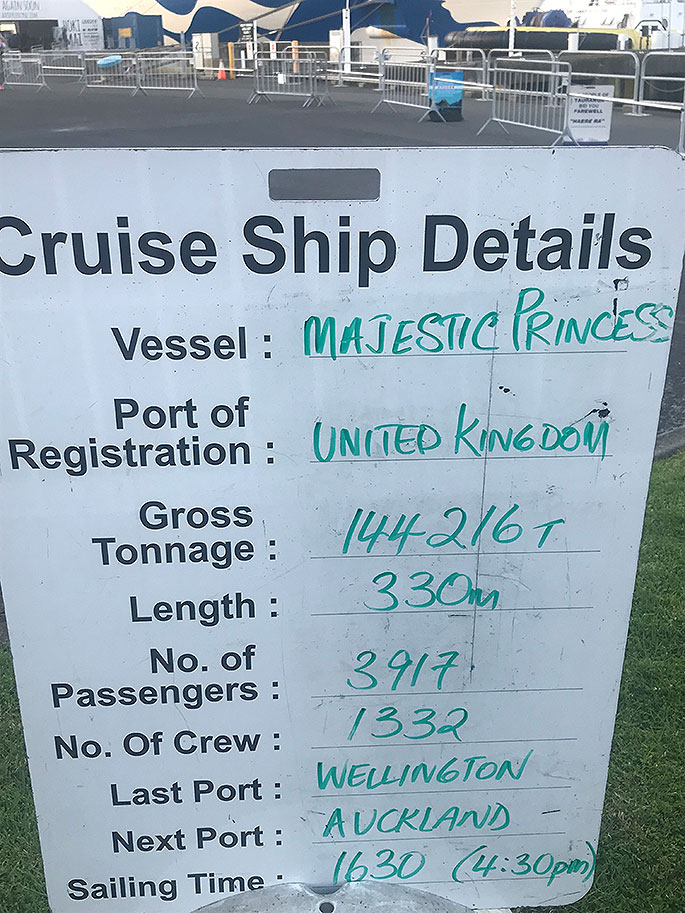 See what is happening in and around Tauranga below:
Monday 7 January
Alcoholics Anonymous
Open meeting 10am. Tauranga Central Baptist Church,13th Ave/Cameron Rd. All welcome. Ph 0800 229 6757
---
Argentine Tango
A close-embrace dance that will change your life! Come on guys meet friendly young dancers to walk this 'journey'. Ph/Txt 020 4006 1340
---
Body + Soul Fitness
For over 50s. Mon & Fri Greerton Hall, Tues Tauranga Senior Citizens Norris St, Wed Bethlehem hall 9:15am. Ph Dianne 027 431 4326 or 576 5031
---
Cards 500
Social, competitive & fun. Flexible evenings to suit. No cost. Ph Chris 572 3834
---
Chess At Mount Maunganui
Mount RSA Chess Club, 544 Maunganui Rd, 6-7pm during school term. Late program 7pm onwards. Incl casual games. Noel 579 5412
---
Citizens Advice Bureau Tauranga
Free confidential impartial information & advice. Don't know? Ask us! Ph or visit us at 38 Hamilton St Tauranga Mon-Fri 9am-5pm 07 578 1592 or 0800 367 222
---
Dutch Friendly Support Network
Coffee morning (1st Monday of month) 10am-12noon. $3 entry. Vintage Car Club Rooms, Cliff Road, Tauranga. Ph Bernadette 572 3968
---
Harmony-A-Plenty Barbershop Chorus
Our Chorus teaches you to sing & enjoy a great craft. Meets 7pm, 183 Moffatt Rd, Bethlehem. Ph Gordon 07 576 5008. Welcomes new members.
---
Narcotics Anonymous
Open meeting every Monday, 7-8pm, at Hillier Centre, 31 Gloucester Rd, Mt Maunganui. If using drugs is causing you problems ph 0800 NA TODAY
---
Tauranga City Brass
Band practise is 7-9pm at 10 Yatton St Greerton. All brass players & percussionists very welcome. Instruments available. Ph Jeremy 021 132 3341
---
Tauranga Creative Fibre
Every Monday 9:30am, also 2nd & 4th Thursday 7pm. Learn/share spinning, weaving, felting, knitting, crochet & all things fibre. 177 Elizabeth St. Margaret 571 3483
---
Tauranga Senior Citizens Club
CARDS 500 Mon & Thurs. INDOOR BOWLS Tues,Wed & Sat, 14 Norris St (behind Pak n Save) 12:45pm for 1pm start. Entry $2 includes afternoon tea. New members welcome.
---
Tauranga Vision Friendship Club
For retirees. Friendship, speakers, outings, social gatherings. Meets 4th Monday each month 10am at Citizens Club. Ph Bryan 570 2483