Empowering women to defend themselves better through Brazilian Jiu Jitsu is what motivates Alessandra Moss.
The 30-year-old instructor was a late bloomer to the martial art in her native Brazil. She regrets she did not take it up until she was 22.
"If I had found Jiu Jitsu when I was a child I would say that I would have a much more balanced life because I always had a lot of energy to expend. But back then I lacked confidence and had no outlet for all that energy," Alessandra says.
In the last five years the popularity of Brazilian Jiu Jitsu has taken off around the world, particularly among teenaged women.
That is the target age group Alessandra wants to get involved in the sport.
"In other sport like boxing and Mua Thai you must be in a punching position when aggression is happening. In Brazilian Jiu Jitsu we give people the confidence to know what to do from the beginning and is a more gentle way.
"With Brazilian Jiu Jitsu you can lie down on your back with your legs up. We teach them how your legs are very strong and nothing can happen to you as long as you are keeping your legs up. You can strike your attacker with kicks and protect yourself."
Alessandra has been in Tauranga six years. For the last 18 months she has worked closely with the co-founders of the Tauranga Martial Arts Academy, Christine Young and Scott Coburn, in providing a comfortable, safe environment for women to learn in.
"They are very smart and the reason I came to work with them is the potential they saw how to stimulate the women in the sense of confidence and empowering themselves," Alessandra says.
"I have always wanted to do that. Most of the academies are not actually monitoring this. We start with a programme called Spring Starter and it is going really well.
"The girls who started two years ago are still here with us. Every year we are getting more joining consistently."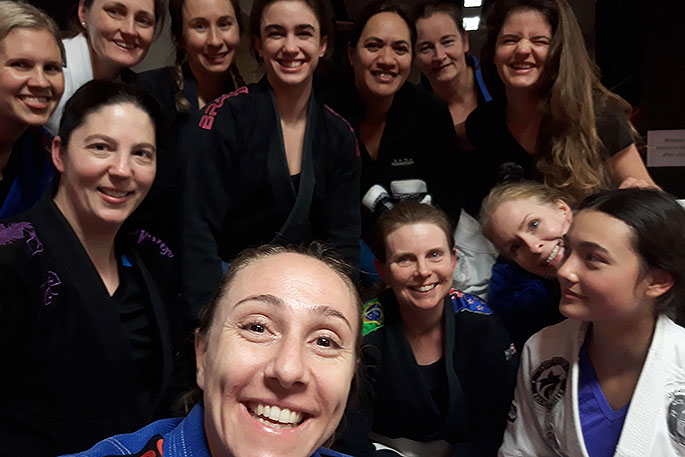 Alessandra Moss with students at TMAA.
Trust is the underlining concept in the Brazilian Jiu Jitsu training programmes that Alessandra runs across all age groups.
"When you put people together training, there has to be a lot of trust. We are different from other sports because we are in contact 90 per cent of the time.
"So I teach a lot about the discipline and we talk a lot about anger issues and how we should be treating each other, particularly with younger kids.
"We teach the kids the biomechanics so they don't get hurt but the most important work that we do for the kids is building up their character so they can be stronger growing up to adults.
"For us it is very inspiring. It is like a passion."
Next year Alessandra wants to reach out to schools like Tauranga Girls' College to demonstrate the sport, share her experiences and give the girls better choices.