Community members have rallied hard for another year to support others in need.
The efforts are part of the Emergency Services Food Drive, which has involved all of the emergency services and members of Civil Defence taking to the streets to collect non-perishable goods from members in the community to help those in need.
Mount Maunganui community constable Kurt Waugh says the appeal has been a success.
"I worked in the Mount and there were many families coming out giving food, but we've completely exceeded expectations across all areas including Pukehina, Papamoa, Tauranga, Katikati and Omokoroa.
"Just in our area we got about 30-40 boxes with more people stopping into the station after the event to donate.
"On behalf of the emergency services I'd like to thank everyone for their generosity, especially at this time of year."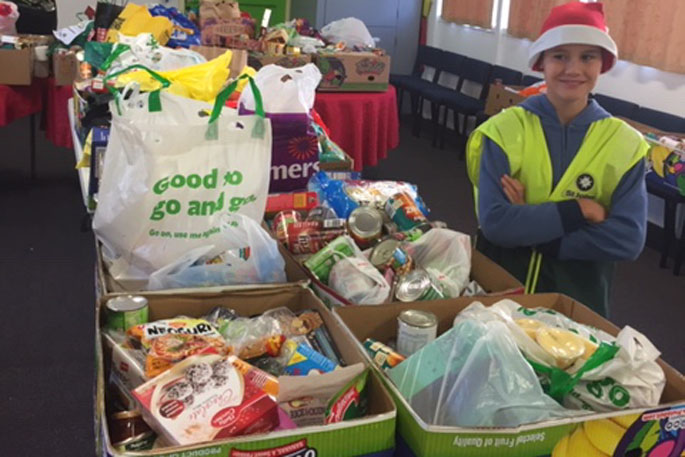 Papamoa Family Services practice manager Janice Belgrave says the organisation is overwhelmed by the community's support.
"It's tremendous the amount of donations we have received.
"There are varying types of donations including the staples like rice, flour and canned goods, but it's also really lovely that people have thought to give those special treats.
"All of those staple foods will be kept here in our amenity service which we will make freely available to the community, along with our free bread which is donated by Baker's Delight in Bayfair.
"We also provide emergency food parcels to clients, so the food helps there.
"We provide Christmas hampers to clients who otherwise would not be able to enjoy a special Christmas meal and so some of those wonderful treats will go towards these hampers."
In addition, those who help pack and organise the food collected are then thrown a barbecue as a token of gratitude from PFS.
She says the drive has helped the organisation for three years.
"Over the last two years, the food that gets brought in from it manages to last us for a whole year –this is an indication of how much food gets donated.
"In the last week we have only just given out the last of last year's food drive collections. It's just stunning the amount of generosity from the community and it is so appreciated by us as a service."
Salvation Army community ministries manager Davina Plummer agrees with her sentiments.
"We are so grateful for the amount of food that's come in. This will support families through Christmas and the holiday period.
"Children are home and they'll be looking in the pantry for what food they do have, so for those families this is fantastic.
"There's also been some cash donated, which along with everything else that was donated is so appreciated."
She says a range of items have been collected, including some treats.
"We have our clients that have worked with us through social work and budgeting services throughout the year that get nominated to us – we put together a parcel for these families and allocated them out.
"We also use these items right through until January and February when families have children in the home returning to school, which helps relieve financial pressure there too.
"We're so grateful for people thinking of others, without this we wouldn't be able to make the difference for others."
Kurt says people wanting to donate food can still do so.
"Unfortunately due to the short window of time we have to run the food drive, we weren't able to reach every street, however those wanting to donate food can still do so."
Drop boxes have been set up in the Katikati, Papamoa and Te Puke and Maketu community police stations, Tauranga, Greerton and Mount Maunganui fire stations and the Omokoroa community centre.