And if the results of the NZ National Artistic Swimming Championships held in Auckland are anything to go by, it's definitely working.
Around 170 athletes from ten clubs around New Zealand and international swimmers from Australia and New Caledonia competed in the country's most prestigious synchronised swimming event.
Tauranga Synchro's team of 21 athletes, ranging in age from nine to 20, came home with an impressive medal haul and showed once again that Tauranga is a major player in the sport.
Lara says the sport is a demanding one and requires a huge level of commitment and dedication.
"All the girls work so well together, help and support each other, and strive to achieve great results. But they also have a lot of fun doing it, which is why it's such a fabulous sport."
Athletes Eva Morris, Isobel Pettit and Eden Worsley dominated the Junior and Senior categories, winning golds for every solo and duet event they swam in.
Karlina Steiner, new to the Junior category this year, won a silver medal for her solo routines.
Tauranga swimming star Zylekia-Pratt Smith beat 51 athletes to win gold for Figures in the 13/14/15 year old category, the largest group in the competition.
Zyleika won two more golds, one for her solo performance and another for her duet with Karlina Steiner.
Tauranga's 13/14/15 team featuring Zyleika, Karlina and teammates Emily Carter, Avalee Donovan and Martha Bruce also claimed a bronze for their upbeat robot routine.
The senior, junior and 13/14/15 athletes joined forces in the Open Free team event, winning silver and entertaining the crowd with their uplifting superhero themed performance.
Ella Claydon and Chloe Boyt added silver to the club's medal tally for their duet in the mixed age Aquarinas category, and together with Amelia Stoutenburg, Sophie Winters and Ella Paterson won gold for their offbeat Willy Wonka routine.
Tauranga's younger athletes also shined at the national competition. Yeva Parshikova won bronze for 12 and under Figures, and with Eden Leach, Sophie Black and Mairead Pidgeon won silver for their catchy Jackson Five band team routine.
The club's youngest team, the Dolphins, only narrowly missed out on a placing in their highly competitive category.
Lara says for her athletes it's a hugely rewarding feeling walking away from Nationals with so many medals.
"The two major competitions we compete in each year, the North Island Championships and the National Championships, are a major focus for our girls. So coming away with all of these medals is fantastic recognition for all the hard work and effort that the girls have put in over the whole year."
"It was very satisfying to see our girls really improve on all their skills and step up and I couldn't be more proud."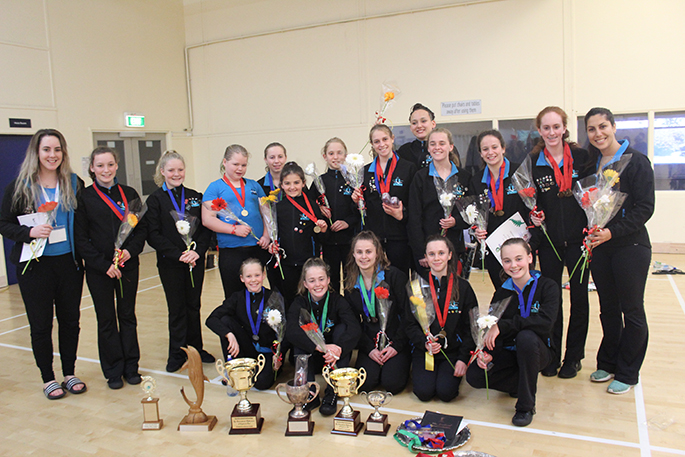 The Open Free Combination team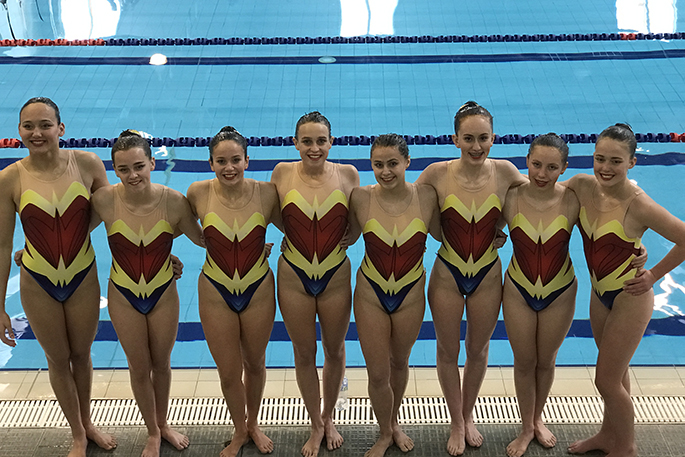 Most of the athletes at the awards ceremony (coach Lara is on the far right, and coach Jazzlee Thomas on far left).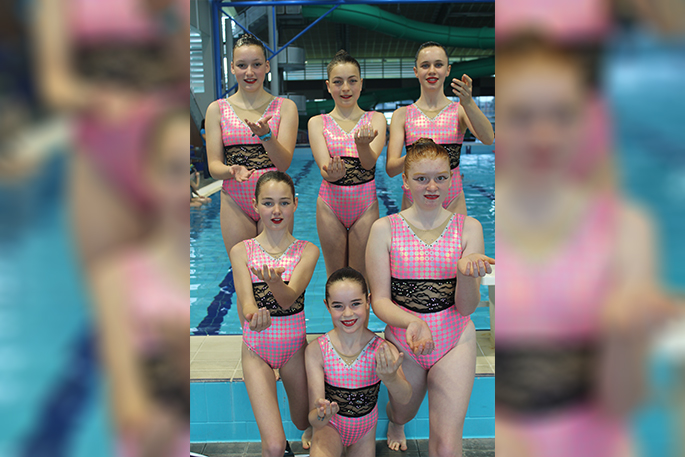 The Dolphin team.