When students from more than 45 schools gather in Tauranga for the North Island Secondary Schools Mountain Biking Champs in October, a group of local riders will have the jump on many of their competitors.

Partly because of home advantage, partly because of their own enthusiasm and work ethic. But that's not all. There's a healthy dose of mentoring, coaching, and cajoling from 20-year-old Tauranga mountain bike master Tristan Haycock behind their outstanding potential.

The students are members of the Mountain Bike Tauranga Youth Academy, a group Tristan set up to fill a gap he found in the sport's structure as he was on the way up.

"I came through the ranks and there was nothing there for me – no development squad at this age group. I felt there was that on offer I other sports. In mountain biking across the country there wasn't anything there, so I came out of high school and thought, I'm going to do something about this.

"I enjoy working with kids, so I kicked it off and started encouraging as many kids as I could into the academy."

Tristan's example is a great one for the group to follow, but he's set the bar high. Having kindled his passion for the sport in 2012, he found its endurance racing version in particular spun his wheels, and in 2014 entered his first six-hour race.

The following year, at 16, he was taking on 24-hour solo events. Twelve months later a 24-hour under 23 world title was under his belt – an astonishing success for a 17-year-old.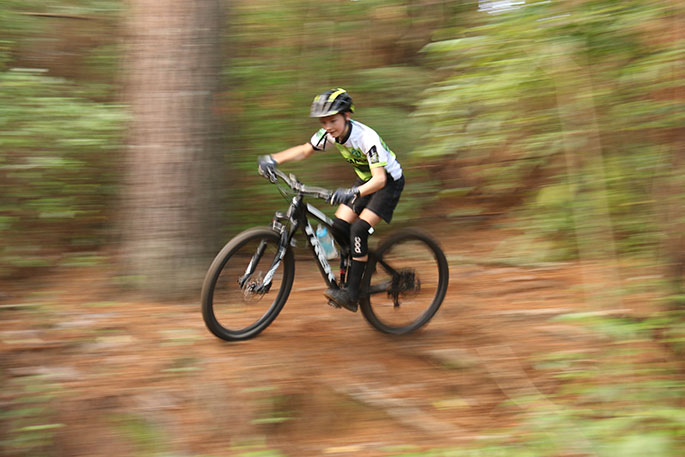 Looking to the future, he has more success on the world stage planned, all while studying for a Sport and Recreation degree at Toi Ohomai Institute of Technology.

The kids under his tutelage know they have to put in the hard yards.

"My philosophy, and the way I teach, is the riders have to want to do it, and have to want to be here. If they're just rocking up because Mum and Dad are telling them, to or because their mates are here, they're going to fall behind. And the group know that."

For 15-year-old Troy Herdman, as with many of the group, Dad did get him into the sport, but that's not the reason he sticks with it.

"I played football since I was about five, then Dad introduced me into mountain biking when I was probably nine or ten. Just bought me a new mountain bike. At first I didn't like it, but it definitely grew on me. I didn't like riding up the hills on my bike but when I got fitter it was okay."

Troy, along with fellow 15 year olds Emma Lord and Angus Riordan, are among the Academy's top title contenders in the coming North Island champs, and beyond.

All have already tasted success, taking North Island and National Secondary Schools titles, as well as medalling in their age groups at National and Oceania championships.

Training regimes vary depending on age. For the Academy's rookies, around 12 to 13, it's just skill sessions, and lots of unstructured riding on weekends, or after school with their mates, to keep up their enthusiasm.

"For the older riders, 15 to 16 year olds, they're at the point where they're into training plans, challenging for national and Oceania titles, which is really exciting," says Tristan. "So there's a lot more structure. I guess probably ten hours a week on the bike, and probably six hours recovery and strength.

"There is the odd early morning session, but again, we try to keep it fun."

Aware dropout rates across the board in all sports when kids leave school are a problem, Tristan is careful not to push the Academy members too hard.

"Fun's the number one goal. So, after school, just hang out with your mates, do some jumps, or go smash each other up on a climb or something. That's what it's all about."

However, with the fun comes a sensible awareness of the risks of the sport, which can be significant if you don't know what you're doing and don't have the right guidance, Tristan says.

"You've got to be patient. You can't just go and do big jumps or ride off big drops. You need to have the patience and learn the skills as you go. What we practice is just foundation building blocks, and then when we hit the trails the kids are all really confident."

The North Island Secondary Schools champs are on October 6 at Tauranga's Summerhill Mountain Bike Park.