Six local schools in the Mount area have turned a strip of construction fencing into a stunning environmentally-themed art piece. Right in the heart of Mount Mainstreet, the fence runs along Maunganui Road in front of the construction area previously known as the Phoenix Carpark.
Each of the six schools was given a different theme that also exemplifies the overall theme of caring for the environment. Mount Intermediate School's theme is 'Wheels'; Mount Primary School has focused on 'Zero Waste'; Arataki Primary School's theme is 'Energy Efficiency'; St Thomas More Catholic School has 'Take Care of our Water'; Omanu Primary School's theme is 'Biodiversity'; and Matapihi Primary School's theme is 'KaitiakiTanga- Protecting and Nurturing our Environment'.
Ten students' work from each school was selected to be incorporated into that school's mural.
To celebrate the completion of the fence art, Mount Mainstreet is putting on Envirofest, a free street festival on Saturday July 21 from 11am – 2pm. The alternative 'rainout' day will be July 29.
During the festival the road will be closed to vehicle traffic but open to many other forms of transport, such as electric bikes, skate boards, scooters, hoverboards, unicycles and minibikes.
Buskers will be performing, and the public is invited to come along and have a go on bikes of different sizes. Safety equipment will be supplied, and people may prefer to bring their own helmets.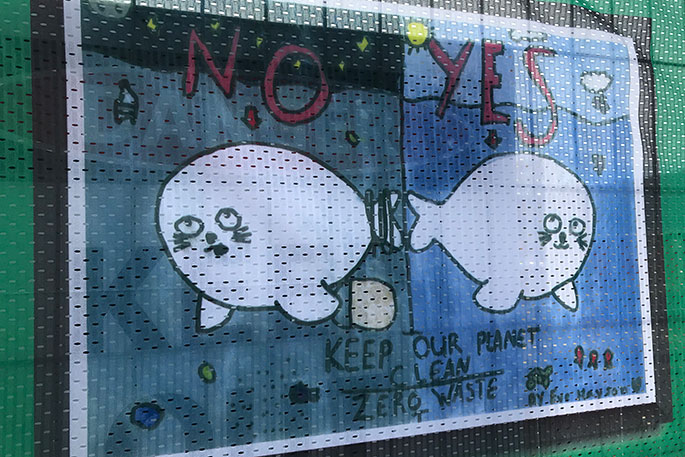 A sustainable fashion parade will be happening from 11.15am – 12.15pm, with entries registered prior to the day online on the Mount Mainstreet website.
Everyone is encouraged to dress up their bike, let their imagination go wild and create a free-wheeling trash to art work. New Merida Mountain Bikes will be awarded for 'Best Dressed Adults Bike' and 'Best Dressed Kids Bike'. The display for the bikes entering the competition will run from 12-2pm in opposite Zeytins. Owners are advised to bring locks for their bikes.
There'll be plenty of fun things to do and see regarding sustainability, including the Envirohub "Catch a fish" pool, sustainable Items, the Envirohub Smoothie Bike Machine, Hip Hop acts, and the Bike "Mr Fix it" providing a free service.
Prizegiving will take place at 2pm outside Zeytins, with first prize of $400 for Best School Environmental Art going to the school that wins. Each school will receive a prize, with second prize being $300, third prize $200, fourth prize $100, fifth prize $50 and sixth prize $25.
The 'Best Environmental Art by a Student' winner will receive a $100.00 Mount Mainstreet Voucher. The Sustainable Fashion Show will also feature a "People's Choice Prize".