The New Zealand Defence Force is sending a warship, two aircraft, a helicopter and more than 300 personnel to take part in the world's largest international maritime military exercise.
Twenty-six nations, 47 surface ships, five submarines, 18 national land forces, and more than 200 aircraft and 25,000 personnel will participate in the biennial Rim of the Pacific (RIMPAC) exercise, scheduled from 27 June to 2 August around Hawaii and southern California.
New Zealand's contingent includes the frigate HMNZS Te Mana, specialist divers from HMNZS Matataua, an air surveillance and reconnaissance force including two P-3K2 Orion aircraft, logistics and support elements, and Royal New Zealand Navy (RNZN), New Zealand Army and Royal New Zealand Air Force (RNZAF) personnel.
RNZN Captain Blair Gerritsen will have a key role as the Sea Combat Commander, responsible for commanding the at-sea defence of the Expeditionary Strike Group, employing escort ships and their helicopters plus shore-based aircraft.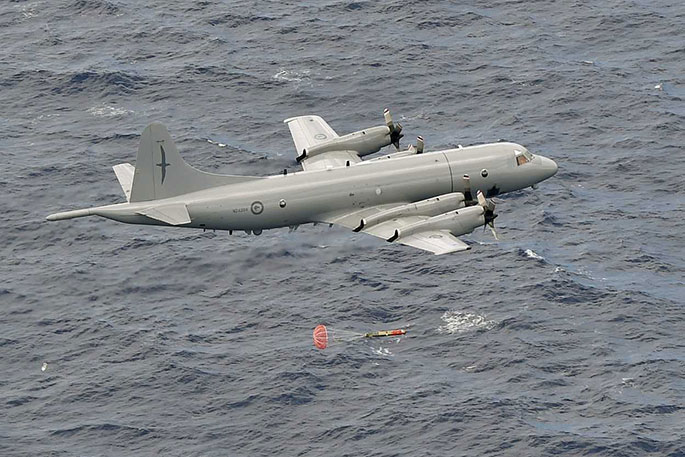 A Royal New Zealand Air Force P-3K2 Orion practising a torpedo drop during RIMPAC 2016 at the Pacific Missile Range Facility in Hawaii.
The Expeditionary Strike Group will include nine frigates and destroyers and Captain Gerritsen will control the movement of all the ships and will plan and direct the defence of the group against a range of air, surface and sub-surface threats.
"The opportunity to command such a capable force drawn from so many different nations and within a challenging exercise scenario is a fantastic opportunity for the NZDF and for the individuals involved," he says.
The theme of the exercise is "Capable, Adaptive, Partners".
Participating nations and forces will test a wide range of capabilities and demonstrate the inherent flexibility of maritime forces.
RIMPAC 2018 is the 26th exercise in the series and is hosted by the United States Navy. Major General Tim Gall, the Commander of Joint Forces New Zealand, says the exercise provided a unique training opportunity that helped foster and sustain the cooperative relationships with allies and partners.
"This is critical to ensure the freedom of the seas and security on the world's oceans.
"More than 300 NZDF personnel will participate in RIMPAC this year and will conduct a wide range of operations and exercises, including amphibious operations, gunnery, missile, anti-submarine and air defence exercises, as well as counter-piracy, mine-clearance operations, explosive ordnance disposal and diving and salvage operations."
RNZAF No. 5 Squadron will have two crews and two P-3K2 Orion aircraft participating.
They will both conduct up to nine missions and engage in a combination of warfare scenarios, hunting and tracking submarines and working with the maritime patrol community.
Along with maritime security and warfighting exercises around Hawaii, NZDF assets, featuring a detachment from HMNZS Matataua, the Navy's operational dive and mine countermeasures teams, will participate in amphibious operations in southern California.
RNZN frigate HMNZS Te Mana will be one of the nine escort ships making up the Expeditionary Strike Group, centred on five large amphibious ships from the United States, Australia, the Philippines and Indonesia.
The first RIMPAC, held in 1971, involved navies from Australia, Canada, New Zealand, the United Kingdom, and the United States.
The RNZN was involved frequently until the ANZUS nuclear ship dispute in the 1980s. In 2010 the NZDF attended in an observer role, and was a full participant in 2012, 2014 and 2016.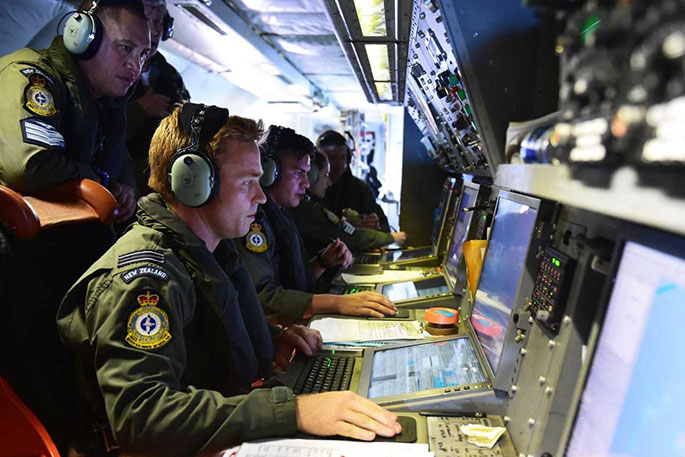 A Royal New Zealand Air Force P-3K2 Orion maritime patrol crew preparing to conduct a practice torpedo firing during RIMPAC 2016.