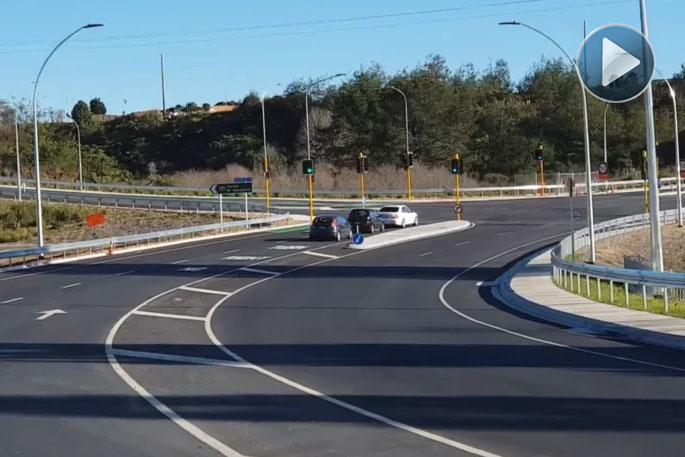 Click the image above to watch the video
If you haven't already driven on it yourself, then it's probably been the topic of your morning small talk – Welcome Bay is welcoming the new Maungatapu underpass.
Situated beneath the Maungatapu interchange, the two-lane 120 metre-long underpass connects Welcome Bay Road to the Turret Road causeway and includes a new bridge over the Kaitemako Stream.
The entire project has been a work in progress for more than two years and hopes to ensure at least one less traffic woe for commuters.
From behind the wheel of the SunLive Holden Spark, and accompanied by SunLive photographer Bruce Barnard in the passenger seat, I got to experience how it feels to drive on the new stretch of road – which opened to motorists today.
The entire round trip from Sun Media's offices at 1 The Strand Tauranga to Bruce's home in Welcome Bay, and back, took just under 30 minutes which is pretty good going in my opinion.
Weekend Sun journalist Kerry Mitchell, another Welcome Bay local, says while she didn't use the underpass herself – she did notice a significant drop in traffic in Welcome Bay this morning.
As someone who lives and commutes daily from Whakatane, and who seldom frequents Welcome Bay, I'll be the first to say trying to navigate my way around the Maungatapu Interchange has always been a challenge.
Needless to say the first thought I had when driving on the new underpass was just how easier it is to use and how much less lane switching there was to do, so I'm glad for out-of-towner drivers like me there's a more seamless way to get to Welcome Bay from the city.
If you haven't already been on the stretch of road, I encourage you to give it a go over the next few days and see just how easy it is.
Did you use the Maungatapu underpass today?
Did it improve your trip or make it harder? Email your thoughts to sam@thesun.co.nz