This morning, a sunny winter Saturday, I picked up my mum in Bethlehem and we headed over to the Omokoroa Lizard Market to explore some of the local arts and crafts.
Today the market, which is held on the third Saturday of every month, has over 30 stalls for people selling handmade crafts, and for those with small businesses who want to promote their products.
There's face painting for children, and a 'husband drop off zone', which looks to be a great sitting place to munch down on the mussel fritters cooking outside.
'I came all the way from Opotiki," says Howard Clark, who was flicking through one of the many magazines in the 'hubby' zone, and appearing quite relaxed. 'My wife is looking around the market. We've got friends along the road here."
The market is held in the Omokoroa Settlers Hall, with a smaller hall providing a café where children can get involved in colouring-in activities, and people can sit and chat before or after browsing the stalls.
Monthly promotions are highlighted on the market's Facebook page, and this month, the three organisers Cushla Stephens, Kim Breen and Janet Brown have been tantalising their readers with a mystery quiz – 'who were the special guests coming to this month's market?'
'We have over 30 stalls here today," says Kim, 'with a huge range of products. Ranging from clothes, babywear, jewellery, bread, plants, and also some really exciting visitors today.
'We asked our Facebook followers whether they wanted to just know who was coming, or whether we would do clue-based posts. They wanted clues. Unfortunately by the third clue, someone was very clever and guessed who our mystery guests are."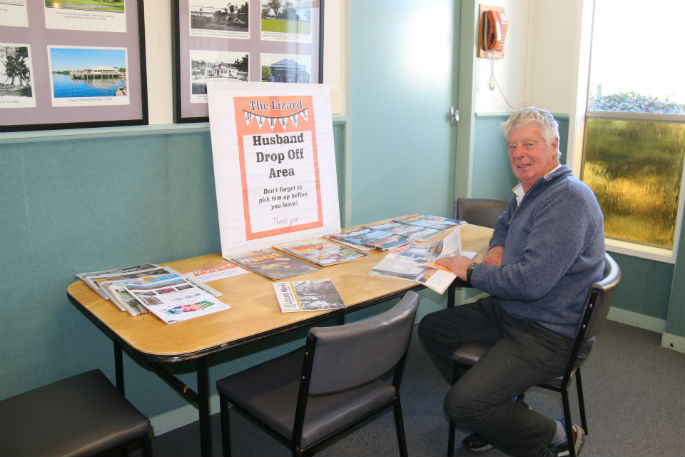 Howard Clark at the 'Husband Drop Off Area".
I had missed spotting the surprise guests when I had arrived, as I thought they'd be indoors, but also after hopping out of the car, a friendly local had wound down her windows to say hi and have a chat. There's a vibe in a close-knit community like Omokoroa that reminds me of the rural farm communities I grew up in. People stop and say hello more often, it seems.
I completed a circuit of the hall, which meant being distracted by Beth's delicious chutneys, jams and preserves; checking out Mamas donuts, Kerry's 'Smile from the Inside Out' aloe vera products, Edie Kids, Margaret the Bag Lady, Rosa and Rupert's knitted accessories and more. Bath bombs, lip balm, babies' dummy holders and teethers from Lil Love Bugs – there's just so much there. Finally I headed back into the sunshine and car park towards the food stalls.
There they are - Karena and Kasey Bird, who, as most of us know, entered and won the Masterchef New Zealand competition in 2014. Their first cookbook 'For the Love of…' went straight to number one on the Best Sellers List. They've also filmed their own cooking series 'Karena and Kasey's Kitchen Diplomacy' for which they travel to a different country for each episode. Since Masterchef they've travelled to over 50 global destinations and have now published their second cookbook 'Hungry' which has won an award at the Gourmand World Cookbook Awards.
Despite their global degustation dominance, they still relish the opportunity to be involved at the heart of this paradise peninsula with its extraordinary community spirit.
'Beautiful weather," smiles Kasey. 'We've come down to Omokoroa because it's close to Maketu and I guess to just hang out and catch up with everyone. And share a bit of our kai and our books.
'We have both our books here today. The first book is called 'For the love of…' which won The Best TV Cook Book in the World at the World Cook Book Awards. Then we've got our second book which is called 'Hungry'.
'We've started doing the markets at Maketu, and we thought we'd go to other small communities too and share our kai so that's why we're here."
They have been travelling for about three quarters of the last year overseas.
'We've now home planning our next year," says Karena."We're hosting our own dining experiences, so they are full multi-sensory meals, with lighting, pictures and sound, all wrapped around food. It's a new concept but we've been working on it for quite a while, and we're going to be taking that around the country."
The pair have hosted their first multi-sensory meal in Rotorua, with the next one in Auckland on June 23 and 24, followed by Wellington on August 4 and 5.
'And then we have plans to take it overseas later in the year," says Kasey.
'Everyone is so lovely here," says Karena, referring to the Omokoroa Market. 'It reminds us of our home town. They're just happy that we're here, and lovely and friendly. We're here signing our books but we've also got hot smoked pork buns which we're selling and our awesome chocolate slab."
My mum found delights amongst Julz Cardz, and came home with freshly made orange and lime marmalade.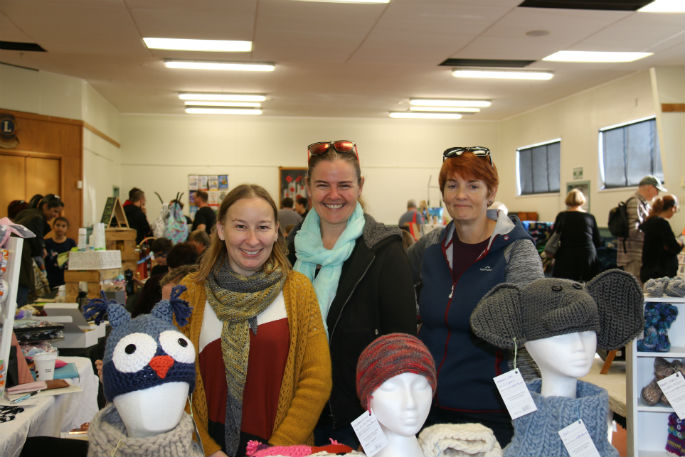 Organisers of the Omokoroa Lizard Market Cushla Stephens, Kim Breen and Janet Brown.