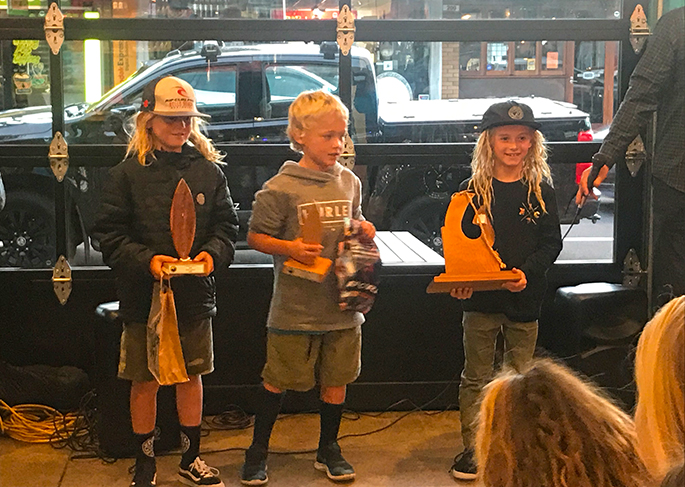 Click the image above to watch the video
The Bay Board Riders club has its sights on the Olympics 2020 with up-and-coming surfing grommets competing hard throughout the 2018 Summer Series.
This week the Bay Board Riders completed the summer's competitions with an end-of-season awards dinner and presentations at Mexicali Fresh.
"One of the major achievements this year was having 101 surfers competing across five competitions in the 2018 Summer Series," says committee member Jamie Brock. "There has also been a 400 per cent increase in the numbers of girls competing.
"The Under 17 Boys has had the largest number of competitors, closely followed by the Under 12 Boys."
Jamie says the Bay Board Rider surfers are some of the best surfers in NZ, with club members Kehu Butler, Elin Waharu and Kea Smith selected for the NZ Junior team. Tiana Breeze de Mooij and Georgia Wedderell have both been selected for the reserves.
"This is the first time Surfing NZ has selected the same number of females as males," says Jamie.
The objective of the Bay Board Riders Club is to promote surfing in the wider Bay of Plenty region, and families come from Whakatane, Katikati and the Waikato to compete.
"We have over 100 junior competitors who came and competed this year," says Jamie. "Not only are some of them getting their first taste of competitive surfing but they're meeting a lot of friends, they're learning a lot about water safety, and they're improving their surfing technique and prowess."
Matt Scorringe was the guest speaker at the awards. A Mount resident, Matt is the founder of The Art of Surfing. He was also recently confirmed as the High Performance Coach for Surfing NZ, and will be training surfers towards qualification and getting a team to the Olympics in 2020 in Japan.
"Matt is someone who knows what it's like to compete and coach at the highest level," says Jamie. "He first started competing at age ten, represented New Zealand in the Junior World Champs, surfing in the world qualifying series, and was the analyst and caddy on the WSL for Josh Kerr.
"With surfing recently becoming an Olympic sport for 2020, it's no longer the sport that perhaps people associate surfing with. It's a fast growing sport and it's really great to be involved in it."
As well as thanking the committee and parents for their support, Jamie also thanked the many sponsors of the 2018 Summer Series, including Mexicali Fresh, Placemakers, Curve Surf, Lower Clothing, Copious, Mount Surf Shop, Skin Centre, Bayfair Shopping Centre, Darryn McBride Artist, OB Wetsuit Repairs, Burger Fuel and Back Door.
The winners of the Junior Girls (Assisted) division were Isla Webster -first, Izzy Evans –second, and Demi Roberts - third. Junior Girls was won by Anna Brock, with second place going to Sophia Brock and third place to Coral Woods.
The Under 10 Boys was won by Indica Corcoran, with Tyler Stenzel coming second and Zen Mouldey third. The Under 12 Boys was won by Tao Mouldey, with Cooper Roberts second and William Blair third. The Under 14 Boys was won by Reef Newdick, with Harper McBride second, and Charlie Harris and Dakota Davy in third equal place. The Under 17 Boys was won by Jack Hinton, with Mitchell Dally second, and Max Roberts third.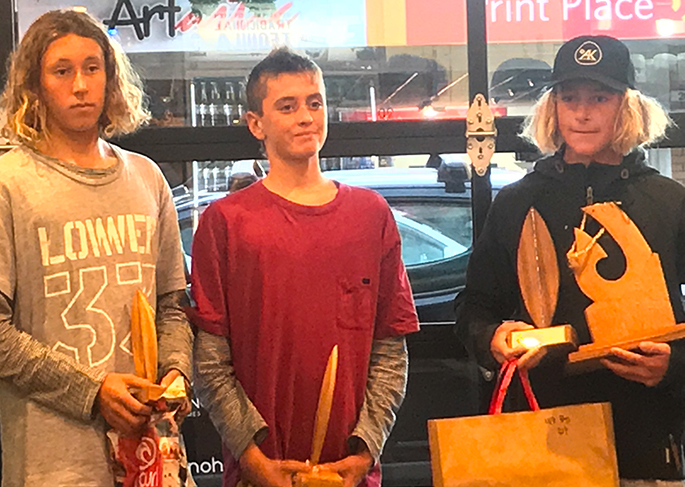 The winners of the Under 17 Boys were Max Roberts (third), Mitchell Dally (second) and Jack Hinton (first).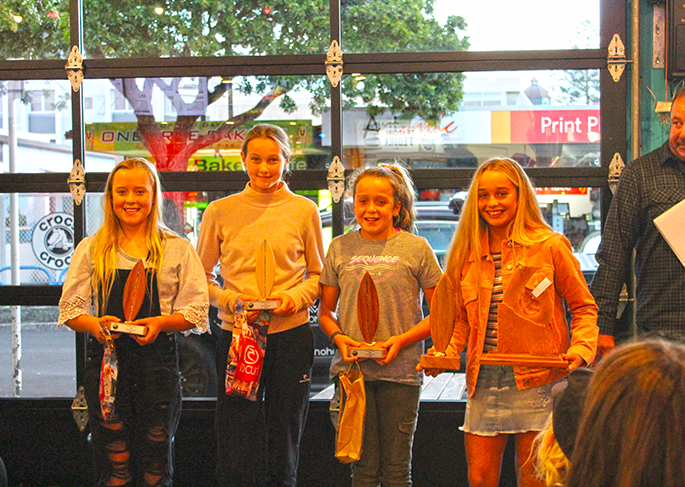 Winners of Junior Girls were Coral Woods and Amelie Brady (third equal), Sophia Brock (second) and Anna Brock (first).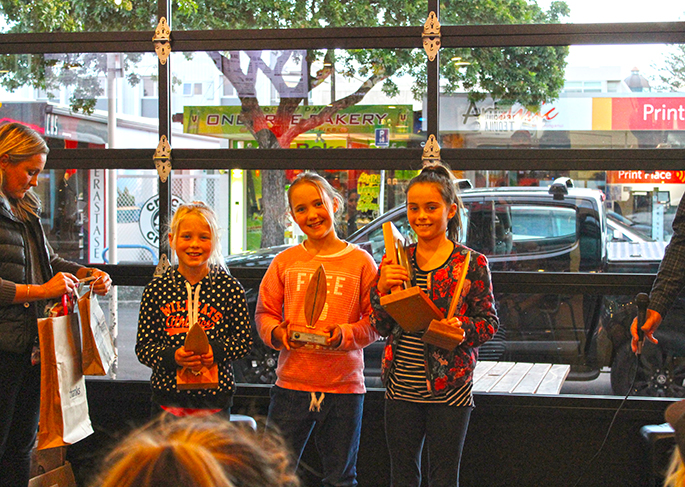 The winners of the Junior Girls (Assisted) division were Demi Roberts (third), Izzy Evans (second) and Isla Webster (first).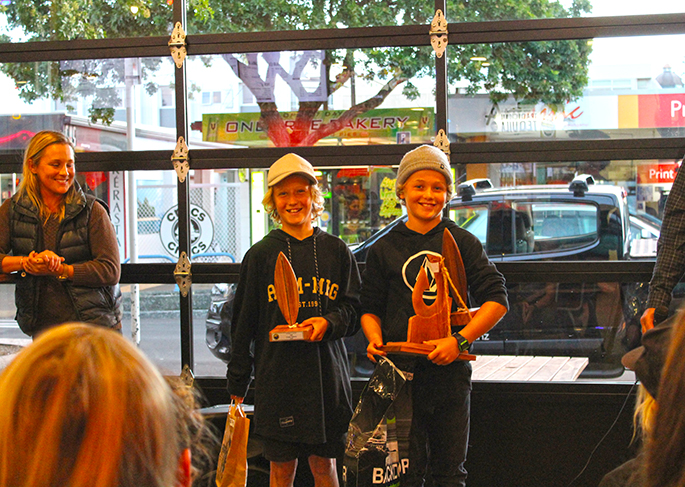 The Under 12 Boys finalists were William Blair (third), Cooper Roberts (second) and Tao Mouldey (first).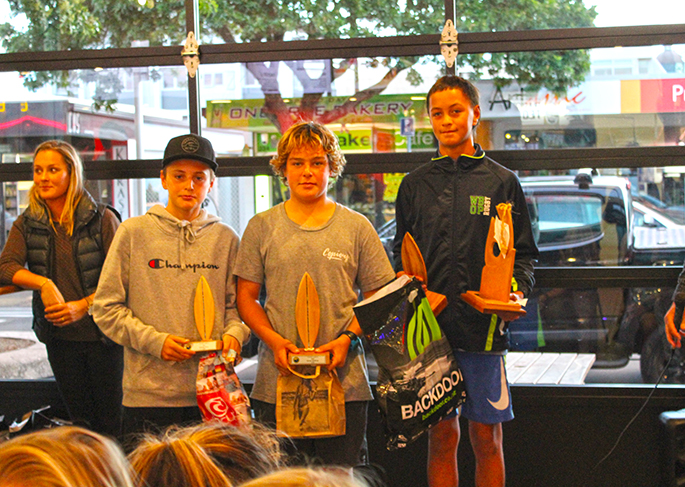 The Under 14 Boys finalists were Charlie Harris (absent) and Dakota Davy in third equal place, Harper McBride (second) and Reef Newdick (first).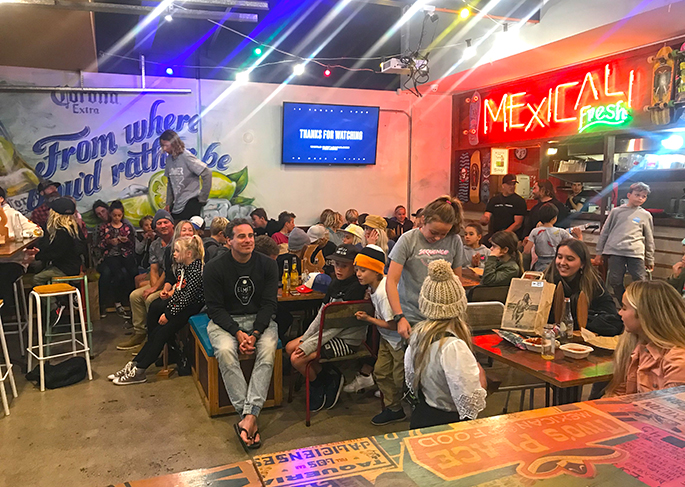 Bay Board Riders Awards at Mexicali Fresh, Mount Maunganui.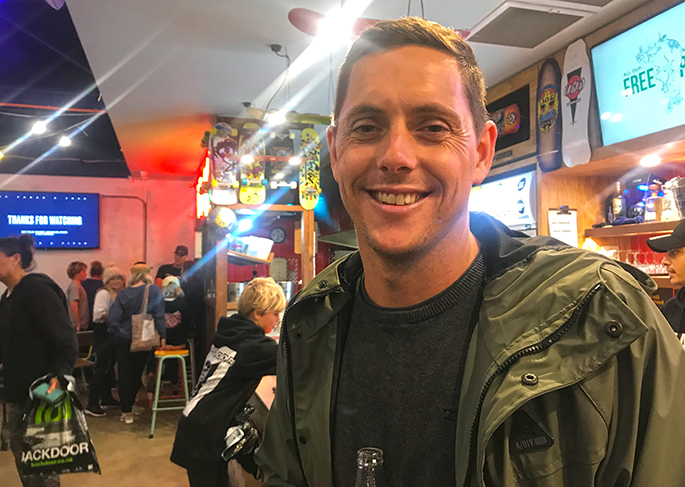 Guest speaker Matt Scorringe.