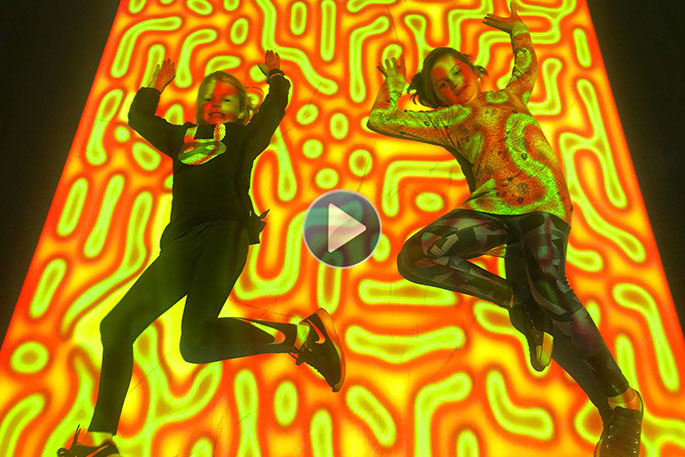 Click the image above to watch the video
A major interactive three-exhibition experience filling out the entire Tauranga Art Gallery is enthralling all who visit the exhibition.
Produced in partnership with Toi Ohomai Institute of Technology, 'Art Loves You' takes the visitor through digital and interactive experiences across three exhibitions and 14 individual projects.
There are light installations, virtual reality, sensory experiences and augmented reality.
Featuring artists, software developers, designers and scientists from around NZ and the world, TAG's 2018 Art Loves You runs to July.
"The exhibition comprises three exhibitions," says Tauranga Art Gallery Karl Chitham.
"Art That Needs You which is upstairs, Light Touch which is behind the black curtains, and Whose Water Are You. They're installed across the entire gallery and they include 14 artist's projects and over 30 individual artists, makers and designers.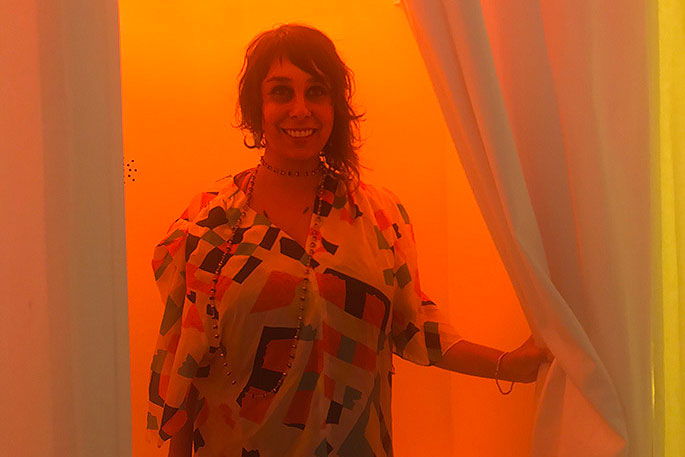 Artist Tiffany Singh with her work 'Language of Light'.
"Art Loves You was conceived as an opportunity to explore the notion of interactive art. But we were very clear from the outset that this would be an expansive idea and wasn't just about entertainment. We wanted it to include a vast array of approaches that make the visitor think about their role in the life of the work and to engage physically with some of the ideas the artist's were exploring.
"With 10 projects, Art that Needs You covers the entire gamut of interactivity."
The evening also featured the launch of Tauranga-based Swedish artist Jeanette Schäring's exhibition 'Whose Water Are You?'. Jeanette had invited the local community to contribute water samples which are suspended in small bottles, hanging from the gallery ceiling, creating a dynamic display.
"'Whose Water Are You?' is a dialogue about the water in us, the water in our lives, the water in our environment and it's spiritual connection and meaning in all of life," writes Jeanette in her exhibit description. As well contributing the water samples, people were also invited to contribute stories from their everyday lives and surroundings.
Moving through the gallery and upstairs from the newly launched 'Whose Water Are You', the Art Loves You exhibit invites the visitor to experience 'Light Touch' and "Art that Needs You', both interactive experiences.
'Light Touch' features 'Submergence', a dazzling forest of suspended lights that move and change colour. Also mesmerizing is the nearby 'Healing Pools' by Brian Knep that move light and shapes around bodies. Through a doorway is the movie experience delivered by Chin-En Soo, where visitors can select which movie experiences they wish to view.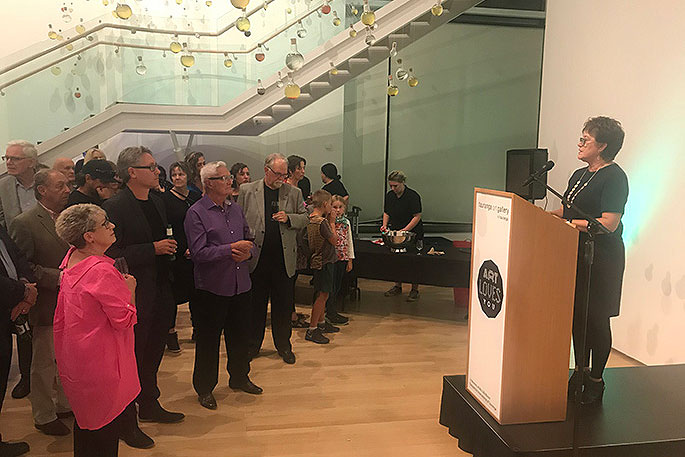 The opening of the 'Art Loves You' exhibition at Tauranga Art Gallery.
The 'Art that Needs You' exhibit is a collection of ten works that do in fact 'need you' in order to complete their purpose. They require either stepping in to the experience, touching, smelling, or physical movement or manipulation.
Tiffany Singh's work 'Language of Light' has been created in collaboration with Monmouth Glass Studio, Aurora Alchemy, Wilson Wu and Barney Teng and is made from wood, fabric, hand-blown glass, sound recordings, paint and scent diffusers. An Auckland-based artist, Tiffany says her work is an immersive environment which draws on ancient healing philosophies that use colour, sound and scent vibrations to promote wellbeing. The seven chambers of her installation are individually coloured, from red through the spectrum to purple, and reflect the seven centres of the body, with each chamber activating particular wavelengths of light, scent notes and sound frequencies. Visitors are encouraged to enter each chamber one at a time and meditatively take in the sound, smell and light that's specific for that chamber before moving on to the next.
Tiffany also has work on display at Te Papa Wellington.
"This piece for Tauranga is meant to be very subtle," says Tiffany. "The Te Papa work is very intense, overloading and saturating with colour. It's much more of a public gestural experience whereas this is more intimate, more personal. You can sit down, have a moment, ake your time."
Each art experience around the gallery requires the visitor to slow down and interact with the work, experiencing the colours, sounds and scents.
"The works are dependent on you to operate," says Tiffany. "That's the objective. You have a relationship with the piece."
Ten years ago, when the gallery was about to open there was much discussion about the types of shows that would be on display. At the time words such as virtual reality, augmented reality, twitter feed or even algorithms were little known.
Today, there's art to touch, feel, to Instagram, play with, listen to, smell and even take home. Don't miss it!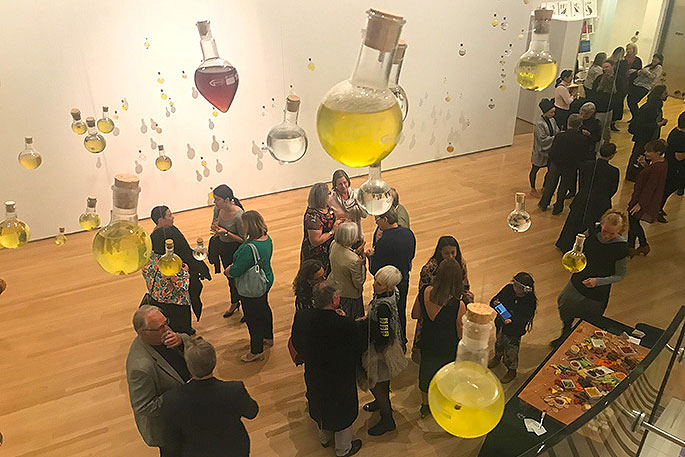 Up close with the 'Whose Water Needs You' exhibition.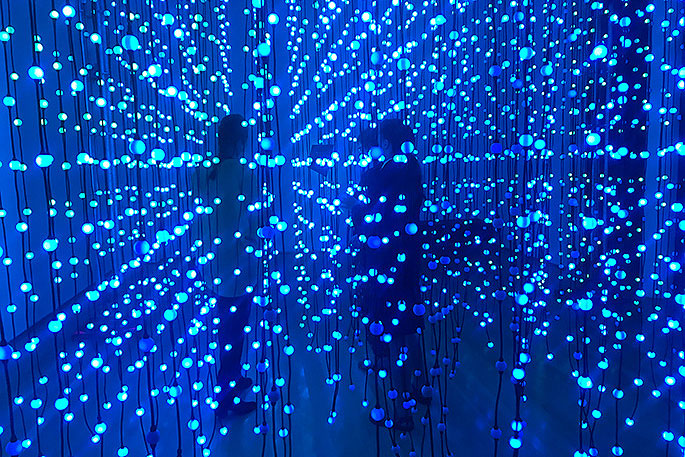 Walking through 'Submergence'.