A group of Tauranga residents will have to wait indefinitely before moving back into their homes at a troubled housing development.
The Bella Vista company went into liquidation in December, leaving about 30 houses unfinished.
On 9 March, 13 families were forced to evacuate with only 24 hours notice amid fears that Cyclone Hola could do serious damage.
Andrew and Chloe Stewart bought land at the development site in 2016, with hopes of building their first home for their young family, which includes two children under the age of two.
They began building last year, with hopes of moving in by December.
But the construction was stalled when Bella Vista Development went into liquidation and their contractors were laid off.
The council then ordered a fix-it notice to complete some of the construction and an engineer was called on to oversee the construction of a retaining wall.
A few weeks later, all construction stopped when the notice to evacuate was issued, says Andrew.
"Family-wise it's been pretty stressful. We've got two young kids under two and yeah, we just want to get into our home."
His family have been living with friends for almost two years, and now they don't know for how much longer.
He says he thought they had a clear timeframe of when they would move into their home, but now believed that timeframe was non-existent.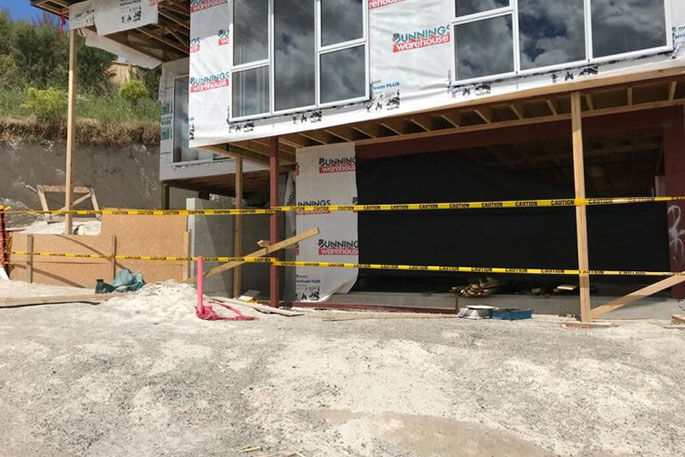 "Family-wise it's been pretty stressful," Andrew Stewart says. Photo: RNZ / Sophia Duckor-Jones.
Their neighbours, Jenny and Damian Coffey, have also had to evacuate, but unlike the Stewarts, their house was already built, furnished, and had full consent compliance.
They moved into their home in 2016, and say they never had a problem until they got the notice to evacuate.
She says it had been stressful living in limbo.
"We've done extra things to the house, we've got gardens and planted gardens, we've put a lawn out. You know, we've put a lot of love and time in, and both of our parents have come in and helped us over that time as well. So it's just horrible and I just want to be at home."
Tauranga City Council chief executive Garry Poole says the council had no option but to evacuate the residents.
He says the council was working with structural engineers, but couldn't give a time frame when the residents would be able to move back in.
"We're working through the site on a house by house basis, with the objective of hopefully having some of the residents back in their homes as soon as possible."
The council hopes to have a better idea later this week on when the residents can move back in.
In the meantime, Garry says the council would continue to pay for them to stay in motels.
-RNZ