It's a miniature world with every possible weather condition under the sun. From cloudy days to rain and thunder storms - it's the future of New Zealand.
The exhibition Future Island is a very detailed story about New Zealand's past, present and future, and is designed as a navigational experience told through 55 architectural projects on hundreds of cloud-like islands.
Tauranga Art Gallery exhibition manager Duane Moyle says the piece has several models, such as cows, figures and buildings, and projections of looped weather that show the diversity of our architecture and the exciting possibilities for architectural adventure in our fast-changing world.
The islands also range in size, and are made from a range of materials and textures, such as 3D printing, balsa wood, paper and card.
"Probably one of the most spectacular projections is one that projects onto the island and shows a fantasy historic development of a certain landform, where people inhabit it and build on it," says Duane.
"Then at one point the sea levels rise and wipe everything out, so it's an interesting look at man's influence on the landscape.
"The thinking behind using the islands as supports for the models was obviously based around New Zealand being an island nation, where we have lots of little islands but are also part of the Pacific Islands.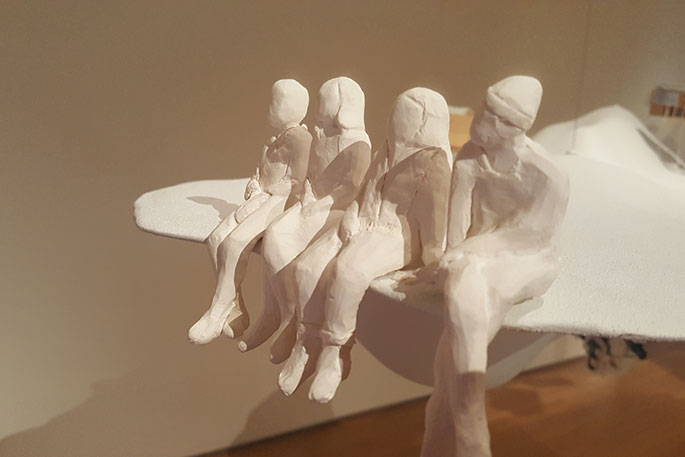 "In previous colonial thinking we were an outpost of the British Empire, but I think it's important for us to realise that we are a unique place, and while that may seem isolated from a lot of other societies, we still have our own thing going on here.
"We are pushing the boundaries in many different disciplines."
The pieces were produced by a creative team led by Charles Walker of AUT and Kathy Waghorn of the University of Auckland, and were New Zealand's official entry in the 2016 Venice Architecture Biennale.
Since then the exhibition has been featured in several galleries across the country.
Future Island will be held from now until March 18 at Tauranga Art Gallery, 108 Willow Street before heading to Waikato Museum.