The 46kg of cocaine seized in Tauranga last year nearly doubled the amount of the drug seized last year by police and customs, and is among 132 cocaine seizures made in 2017.
The 46kg smuggled in the underwater sea chest of the container ship Maersk Antares on November 1, lifted the total cocaine seizures for 2017 to 108,150 grams, compared to 36,314 grams for 2016.
"Last year the National Organised Crime Group, in partnership with Customs, dismantled at least ten significant transnational crime groups operating in New Zealand and preying on our communities," says Police organised crime group national manager Detective Superintendent Greg Williams.
Four men have been arrested in connection with the estimated $20 million Tauranga seizure.
Matthew Scott, 44, Deni Cavallo, 46, Benjamin Northway, 35, and Mario Habulin, 46, are in custody awaiting trial on charges of possessing cocaine for supply, possessing methamphetamine for supply, importing and exporting cocaine, and participating in an organised criminal group.
"Our intent is to continue to prevent organised crime flourishing. These illicit drugs are destructive and have no place in our communities," says Greg.
"We know they cause negative health implications and financial and social harm to users and their families. As a result of drug use and drug dealing, communities often notice increased levels of crime such as burglaries, theft and vehicle crime.
"Often drug users try to fund their habit this way, and it's not uncommon for drug dealers to receive stolen property as payment for drugs. This affects the whole community."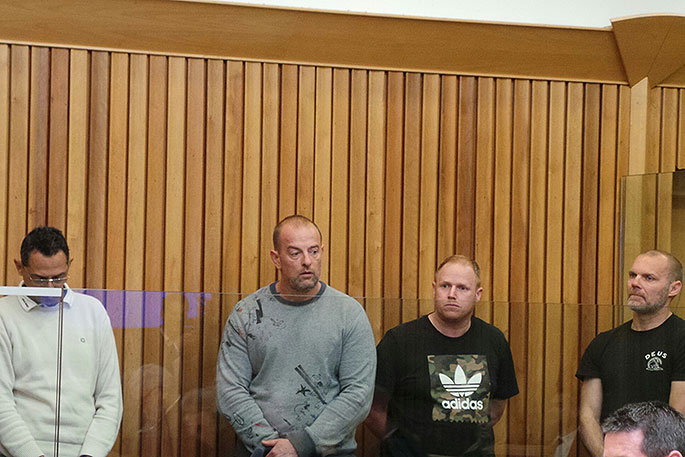 Accused drug smugglers Deni Cavallo, Matthew Scott, Benjamin Northway and Mario Habulin. Photo: Sam Gardner.
Working alongside other partner agencies, Police and Customs seized large amounts of both methamphetamine and cocaine between January and November last year.
A priority for police during these operations is also referring users to the appropriate agencies so they can get the help they need, says Greg.
He also acknowledged the partnership of Customs in many operations last year.
"We will continue to work together to take every opportunity to disrupt the supply of drugs in New Zealand."
From January until November, Police and Customs jointly seized over 403.5 kilos of methamphetamine across 1879 seizures, both at the border and domestically through investigations.
There have also been a number of offshore seizures that has prevented drugs getting into New Zealand.
Customs' Group Manager Intelligence, Investigations & Enforcement Jamie Bamford says a key part of New Zealand's strategy to counter cross-border smuggling is focusing on preventing the drugs from reaching New Zealand in the first place.
"Both Customs and Police work very closely with our overseas partners to share intelligence and target both the international drug suppliers and the distribution networks in New Zealand," says Jamie.
"Our overseas-based liaison officers play a crucial role in facilitating such operations.
"International drug cartels will continue to try all methods to make money in New Zealand, and we are doing everything possible disrupt this."
A number of drug supply chains were disrupted last year, with New Zealand Police and New Zealand Customs making a large number of drug seizures throughout 2017.
While the available statistics are between January and November last year, Police across the country also made a number of other seizures at the end of 2017, such as Operation Sweden, a collaborative effort from Police staff across Wairarapa, Wellington and Counties Manukau, which saw 17 people arrested and approximately 30 kilos of methamphetamine seized.
Please note that the 2017 data is provisional only.
It's inclusive of New Zealand Police and New Zealand Customs Service data.
Cocaine:
2017: 108,150 grams, more than 165 seizures.
2016: 36,314 grams, more than 132 seizure.
Methamphetamine:
2017: 403,523 g over 1879 seizures
2016: 941,269 g over 2059 seizures
If you or someone you know is struggling with drug addiction, do something – you could be helping yourself or someone around you to have a more positive future.
The Drug Alcohol Helpline (0800 787 797 or alcoholdrughelp.org.nz) is a great place to seek information and support for yourself or someone you know.
You can also report information about drugs to your local Police station, or anonymously through Crimestoppers on 0800 555 111.