A tanker driver believes a dip in the road on State Highway 2, near Pukehina, could cause drivers to lose their head.
Ian Bedggood says there is a significant dip in the road on SH2 at Pongakawa Stream Bridge, near the Pukehina Beach Rd intersection.
He drives the road daily.
"I travel SH2 about 600 times a year, I see it all. This piece of road would have to be one of the worst parts I travel over.
"I have contacted New Zealand Transport Agency and Downer to fix the road, and they won't do it.
"They say the dip is caused by peat in the road, which makes the road soft and undulating.
"The dip would have be two or three inches. If you were to sit there and watch a big truck hit the bump, you would be able to see all the axles hitting it at an incredible force.
"A truck spring could easily break on that bridge, and hit someone sitting in their car at the nearby intersection," says Ian.
"I slow down to 70km/h and then crawl up the hill at 50km/h but it's still risky."
He says he's already been involved in similar incidents.
"I've already broken a spring this year on my way to Gisborne while I was on another bridge. It went flying through a car radiator.
"It just annoys me when things like this don't get fixed. They say it costs too much."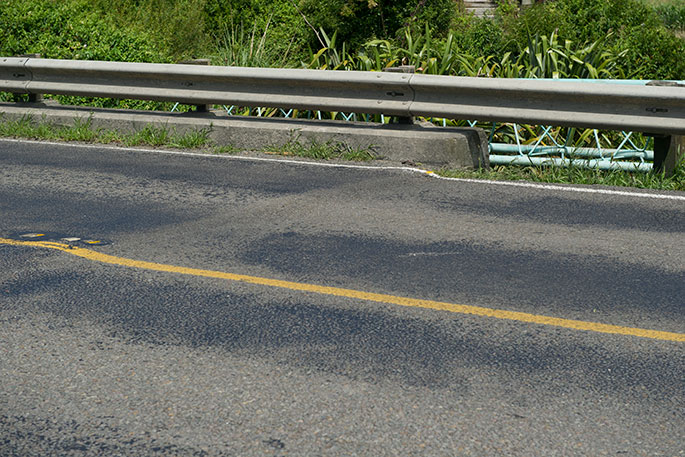 Axles hitting the dip with force could cause springs to break, says Ian. Photo: Nikki South.
NZTA senior manager system management Steve Mutton, says NZTA reviews all roading concerns.
"NZTA takes road safety very seriously and appreciates any information from road users about a potential safety concern.
"The tanker driver describes a dip in the road at the Pukehina Bridge on SH2.
"The dip is caused by settlement of material below the road which is common along much of this length of State Highway. Because the bridge does not move, the settlement creates a small bump at the abutment of the bridge."
He says the Pukehina Bridge is in good structural condition and there are no plans for any significant works in the near future.
"NZTA measures the roughness of all State Highways every year and smooths areas that are identified as unacceptably rough.
"We are currently analysing data from the latest survey carried out in December, and we will move quickly to fix the road surface on Pukehina Bridge if any remedial work is required.
"The bridge was inspected on January 8th and the Transport Agency will continue to monitor it, ensuring that any issues are dealt with before the safety of drivers becomes a concern."