Karla Reeves' Chihuahua Miley started panting after a walk on a Thames Coast beach.
Thirty minutes later, her treasured pet died in her arms.
Karla tells a Fairfax reporter, her vet suspected Miley had come in contact with a poisonous sea slug, which closed Hauraki Gulf beaches in 2009 after many dogs were killed and many others became ill.
She had taken Miley and her two basset hounds for a walk along the beach at Ngarimu Bay on January 12.
When they left the beach, Miley started to pant but Reeves thought it was because it was so hot.
However, Miley worsened despite attempts to cool her in a paddling pool when they got home.
"She kept panting quite a lot and then she started trying to cough like something was stuck in her throat," she says.
It was after 6pm, so Reeves called the vet to arrange an urgent visit.
"On the way, Miley was in and out of consciousness, I had her on my shoulder and I was cuddling her and trying to get her to stay with us.
"And then she just died in my arms. I was so upset."
Karla, who bought Miley as a puppy in 2008, says she died one day before her 10th birthday.
Miley wasn't a scavenger, so Reeves never thought it could be something she ate.
An autopsy concluded that the dog was in perfect health, but a toxicology investigation wasn't carried out because of the cost, she says.
She wants to warn other dog owners.
"I'd hate for anyone else to have to go through that. It was awful. The vet said there was nothing we could have done."
Her veterinarian, Thames Anexa FVC Vet Clinic's Cath Picard, says she had treated and discharged two other dogs with similar symptoms. Another dog has reportedly died with the same symptoms.
Cath suspects sea slugs but there is not yet any concrete evidence as nobody had seen the slugs.
"If [sea slugs] are around, the only real advice is don't take them to the beach, because there's no way to avoid it," she says.
"That's the hard thing, are we at the point of saying 'don't go to the beach'? And without any evidence of [slugs] being around it's a hard call.
"Algal toxins can also cause the same sort of thing, the only reason I suspect a sea slug is that the death was so quick."
Dogs can become symptomatic within 30 seconds of touching or licking a sea slug - dogs don't even have to eat the slug to become ill or die.
Cath says she has notified the Ministry of Primary Industries about the dog deaths and illnesses and is waiting to hear back.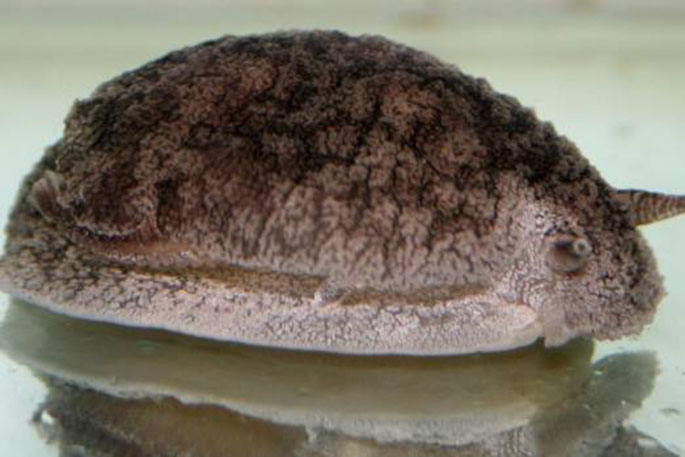 The toxic sea slug is suspected to have killed two dogs and made other dogs ill on the Thames Coast. Photo: Delwyn Dickey.
In 2009, the potent tropical poison tetrodotoxin was found in sea slugs on Hauraki Gulf beaches and it is thought that the affected dogs had eaten dead slugs.
Tetrodotoxin is also extremely toxic to humans and even a very small dose can be fatal.
Thames SPCA manager Lisa Hancock says the SPCA is investigating the deaths.
Meanwhile, pet owners should always be wary of what their pets choose to eat, especially after bad weather as berries from fallen Karaka trees were poisonous to dogs and water could be contaminated, she says.
"We would also say if you are worried about your pet or notice any change in behaviour that concerns you contact your vet as soon as possible."
- Stuff