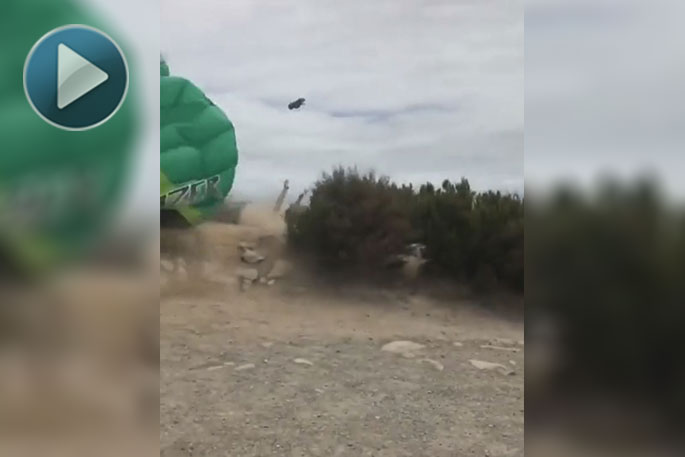 Click the image above to watch the video
A paraglider has had a gut wrenching experience on top of Mauao recently, when windy conditions caused his kite to slam-dunk him into the mountain face.
Instagram user @draggonslayer was on the mountain, also known as Mount Maunganui, when he filmed a paraglider appearing to have trouble keeping his footing in the windy conditions.
Suddenly the paraglider is whipped into the air as a gust barrells through before being dumped unceremoniously against the side of the mountain.
People can be heard yelling, "Oh s**t" as impact occurs.
The video was shared to Instagram page @kookslams where it has received more than 275,000 views and close to 3000 comments.
The condition of the paraglider is unknown at this time.
Secretary of the Bay of Plenty Gliding and Paragliding Club Dominique Le Sellin says Mauao is a very safe place to paraglide and accidents like the one in the video are rare.
After viewing the video she says the wind looked to be very strong and the pilot was using a speed glider which has smaller wings and is very fast.
"It could have been a rotor (turbulent air) that pulled him up," she says.
Dominique says more and more people are choosing to paraglide from Mauao as the sport becomes more popular.
"We used to have about 50 and that has gone up to 80 now," she says.
Mauao does have its challenges for gliders so Le Sellin says they try to induct new members.
"It can be challenging for new pilots so we will try and go out with new members to teach them about the conditions," she says.
"Generally it is quite safe as it is a coastal environment and we are not riding thermals."
- Stuff