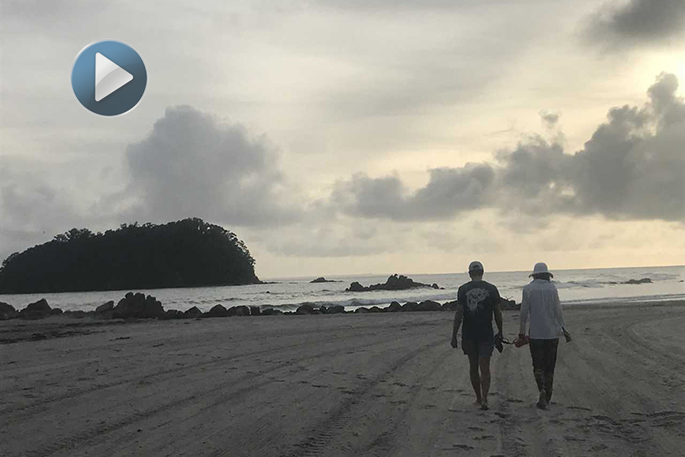 Click the image above to watch the video
In today's weather we are expecting morning cloud with one or two light showers, then sunny spells with northerly breezes.
It's a one-clothing layer day today with a predicted high of 25 and an overnight low of 20 degrees. Humidity is 89 per cent.
High tide is at 10am and low tide at 4.10pm. Sea temperature is 21 degrees. There's a sea swell of .4m. Sunset is at 8.33pm.
If you're going fishing today the best fish bite times are between 7.30 and 10.30pm.
This day in NZ history in 1957 the Scott Base opened in Antarctica. Captain Harold Ruegg, Administrator for the Ross Dependency, opened Scott Base, New Zealand's permanent Antarctic research station, during a ceremony on Ross Island.
In world history on this day in 1783 Britain signed a peace agreement with France and Spain, who allied against it in the American War of Independence.
In 1908 women were barred from smoking in public facilities in the United States. In 1930 Charles Lindbergh arrived in New York, setting a cross country flying record of 14.75 hours.
In 1942 Nazi officials met in the Berlin suburb of Wannsee to decide the "Final Solution of the Jewish Question." In 1945 Franklin D. Roosevelt was inaugurated for his fourth term.
Today is the birthday of Anne Clough, who was a promoter of higher education. She was born in 1820. It's also the birthday of Dr. Edwin 'Buzz' Aldrin, the second man to walk on the moon.
Born in 1930, he once said "If we can conquer space we can conquer childhood hunger."
To get involved in activities and events across the Bay please check out our What's on page. Have a great day!