Mount Maunganui beach goers are being warned to steer clear of a number of puffer fish washed up at popular spots along the shorelines.
The fish which have been described as having a spiky exterior, have been spotted in the dozens near Mount Main beach and south of Moturiki.
Tauranga marine ecologist Chris Battershill says recent storms may be one reason the fish are washing up.
"They've probably succumbed to the north easterly storms we've been having.
"Pufferfish aren't a very aerodynamic species, or the water equivalent of that, and because of this they can get quite agitated.
"The ones that are around the reefs and closer to the shore end up drifting closer to it until they get caught in the current and wave surges and eventually brought to the shoreline."
He says the weather has also resulted in birds being washed up.
"As the name suggests puffer fish can inflate themselves and in this country we have two species of puffer fish; one has spines, the other doesn't.
"When these fish blow themselves up their spines come up as a protection mechanism."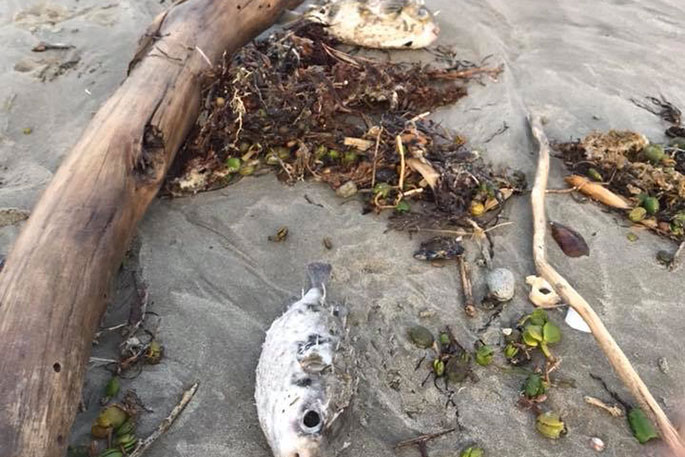 Photo: Sandor Schubert.
He says the fish are also related to Fugu, a popular and potentially lethal Japanese fish dish, known for its potentially poisonous nature due to its tetrodotoxin.
"These puffer fish therefore also have toxins in them. You don't want to eat them or let the dogs mess with him.
"Any spinal fish can induce bacterial infections when touched so you shouldn't handle them."
He recommends avoiding the fish completely unless wearing protection.
"If you grab them by their tail or you are wearing some type of protection you can put them in a nearby litter bin to get them off the beach."