There I was, hundreds of feet underwater standing on the deck of a sunken ship, staring into the black abyss of a whale's eye that'd swum up from the murky depths to investigate my presence.
A split second later and I'm standing on the platform of a space ship at the edge of the Earth's atmosphere, shooting furiously and dodging the blasts from attacking drones swarming on mass.
Soon after I find myself locked in a different battle, this time I'm protecting a castle from a horde of invading stickmen, armed with bow and arrow. I failed miserably as they broke down my defences, stormed the ramparts, and ransacked and pillaged like the good little Vikings they were.
These were just three of the experiences I, er, experienced at VRE Tauranga – the city's first arcade dedicated to virtual reality.
Housed in Goddards Arcade just off Devonport Road, it's owned and operated by husband and wife duo Reuben and Anneke Turner who've been up and running since the beginning of this year.
What struck me the most was the stark confines which they operate from – the walls are bare, there's a couch for onlookers, a desk where the duo work from, four computers and a handful of cables strewn across the floor.
But that's completely irrelevant once you don the headsets and plug into an experience of your choosing. Worlds – both fantastical and real – open up before you with the click of a mouse button.
Reuben tells me VRE Tauranga utilises the best VR headsets available, the HTC Vive. He also mentions many VR companies producing games and experiences are still trying to catch up to the technology, so they've opted to go for games/experiences which offer a truly immersive experience.
This was highlighted for me when I embarked on a stroll through a mountain range in North America. Inside the virtual world, the view is absolutely breathtakingly stunning, and felt so real my stomach did that weird 'I'm going to fall and die' sensation as I stared over a mountain ledge.
But don't let that put you off though, I'm just crap when it comes to heights.
I capped off my VR experience with a zombie shoot 'em up game which was probably my favourite of the five, despite the fact I only lasted a couple of minutes before one of the undead turned my head into a salad bowl and nearly caused an embarrassing 'Code Brown' situation.
VRE Tauranga offers more than 15 different experiences and games, so if you can imagine it then it's likely Anneke and Reuben can sort you out. They also offer a range of options, from a five minute 'dip your toes in' for the curious, to those wanting to be fully immersed in VR for an hour.
And I know, videogames are the devil, but seriously all you parents out there, with school holidays coming up the kids will absolutely, positively love this. But also be warned – your kids will absolutely, positively love VRE Tauranga.
I know I'll definitely head back at some stage to give that zombie the righteous comeuppance it bloody well deserves.
VRE Tauranga is located on the Devonport Road side of Goddards Arcade in the Tauranga CBD. For more information, visit vre.nz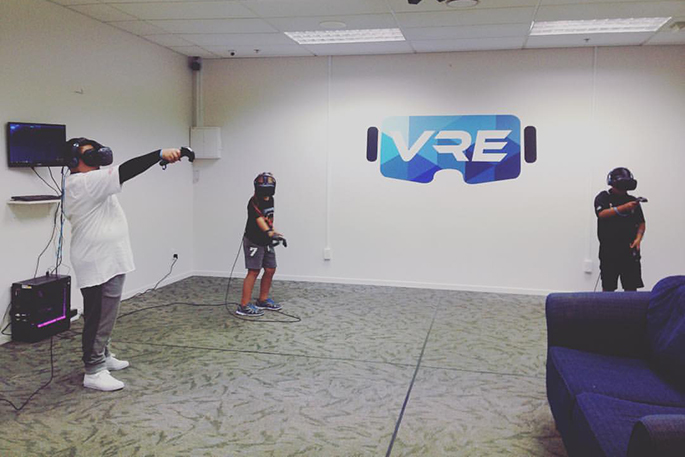 VRE Tauranga offers both single and multiplayer games and experiences. Photo: VRE Tauranga/Facebook.