If I had only four words to describe 16th Ave Theatre's latest and final show of 2016 they'd be: 'rapaciously rollicking ribald romp'.
The Tauranga theatre company is proud to present its latest production 'One Man, Two Guvnors' which is onstage until December 10.
Directed by Sarah Oemcke, it follows the permanently ravenous Francis Henshall who finds himself employed for both a gangster and a criminal in hiding, and to prevent being discovered Francis goes to great lengths to keep his two guvnors apart.
This is fabulous and funny show full of chaotic cockney energy, magical musical moments, some fantastic tearing down of the fourth wall, and is peppered with many witty one liners and gags that have you laughing from when the curtains open until they close.
Matt Glover's performance as Francis Henshall is hugely enjoyable with his affable presence, mischievous grin, talent for the slapstick and fantastic timing. He's also great for a song or three, and who knew he played the xylophone?
Matt shares some brilliant scenes with the two guvnors played by the always-funny Liam Hagan as Stanley Stubbers, who also doubles as the show's musical director, and the delightfully monozygotic Jaine Kirtley as Rachel Crabbe, who are both strong, confident and hilarious in their roles.
They're supported by a brilliant cast who all hit the mark. Particular standouts are Melissa Osgood (Dolly), Robert Ashford-White (Charlie Clench), Quentin Pidduck (Alan Dangle) and Larissa Allen (Pauline Clench).
While the cherry on the top is the wonderful skiffle band of Vallo Valentin, Phil Cavanagh Mason Williams, which add a superb dimension to the show.
The 16th Ave Theatre's 'One man, Two Guvnors' at 16th Avenue Theatre until December 10. For more information, visit: 16avetheatre.co.nz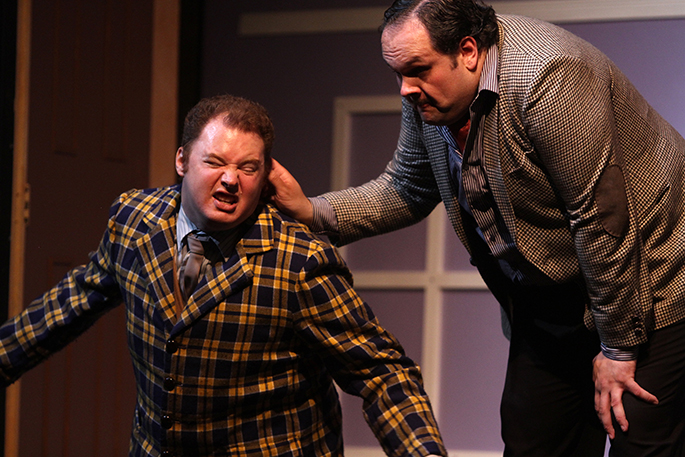 Matt Glover as Francis Henshall and Liam Hagan as Stanley Stubbers in 16th Ave Theatre's latest production 'One Man, Two Guvnors'. Supplied Photo.