The final few voting papers of the 2016 Local Body Elections are coming in across Tauranga and Western Bay of Plenty this morning, as residents make a last minute dash to make their votes count.
Cyrus and Kimberly Tuporo with their papers they were dropping off at the Greerton Library with only a couple of hours to go before the ballot was closed. Photos: Chris Callinan.
Residents are encouraged to cast their votes into ballot boxes at council offices or city libraries by midday today, after the deadline for voting by post closed on Wednesday, October 5.
Fleur Sweeney, who is accepting voting papers at Western Bay of Plenty District Council this morning, says while it's a bit early to tell how much higher voting returns are compared to last election there's been a few people coming in to cast their votes this morning.
"We've been open since 9am and about half a dozen people have come in to vote. The last three have been in their early 20s.
"Yesterday we were about three per cent up on the 2010 total which is good. We're really pleased with that."
WBOPDC has had their voting caravan visible in the district and all area offices open for people to vote today which Fleur says is helping people remember to vote.
Fleur, who cast her vote by post, says it's important for people to vote "because they need to make positive choices for their communities for the future".
A record 11 mayoralty candidates are running this year, compared to six in 2013. This time round Larry Baldock, Greg Brownless, Kelvin Clout, Murray Guy, Hori BOP Leaming, Max Mason, Steve Morris, Doug Owens, Noel Peterson, Graeme Purches and John Robson are looking for success.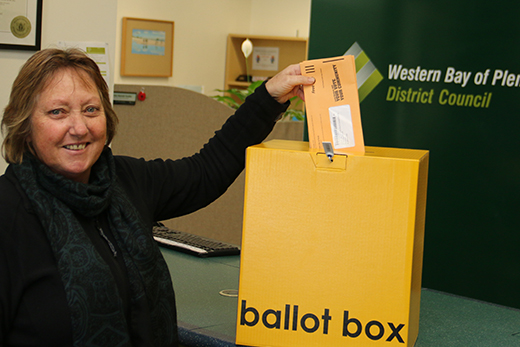 Sue Somerfield casting her vote at the Western Bay of Plenty District Council office at Barkes Corner.
And there's 11 Tauranga council seats being contested by 33 candidates. In the Western Bay of Plenty District, five people – Gwenda Merriman​, Mike Lally, Don Thwaites, Garry Webber and Kevin Tohiariki –are contesting the mayoralty and 20 candidates running for 11 council seats.
Bay of Plenty Regional Council's Tauranga General Constituency has five seats – with eight nominees putting their hands up. While the BOPRC Western Bay of Plenty General Constituency's two seats only received nominations by Norm Bruning and Jane Nees, which has seen electoral officer Lucinda Butt elect the pair unopposed.
Seven elected positions on the Bay of Plenty District Health Board are being contested by 20 people.
Voting is open until 12pm today. Postal votes are closed, but you can still drop off your voting papers in a ballot box at council offices and in all city libraries.
SunLive will have full coverage of the elections as the results are released after voting closes at midday.
Keep checking SunLive both Saturday and Sunday for up-to-date results.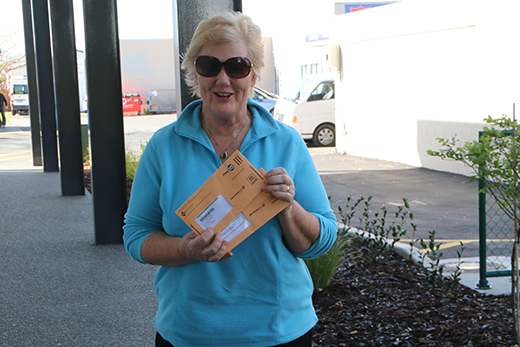 Carol Packwood with her voting papers at the Greerton Library.