Excited children and adults alike braved the rain at the Omokoroa Sports Grounds today for the turning of the first sod on the community's own one-of-a-kind skating facility.
Construction of the Omokoroa Skate Path is underway today – the reward of a long and enthusiastic campaign by families and individuals in the community.

Vicki Knell, Catherine McDonald, Councillor Garry Webber, Annabelle Peers, Jay Stone, Jonas Bell, Councillor Gwenda Merriman, Sam Cartwright, Miles Bell, Jason Cartwright, Veronica Peers, Erin Cartwright, John Palmer, and Ben Bell at this morning's turning of the first sod.
The Omokoroa Community Skate Group, in partnership with the Western Bay of Plenty District Council, has been working to make the environmentally sustainable skate path a reality since the idea was first pitched by local children in 2013.

The 188m skate path is jointly funded by Council ($50,000), the Omokoroa Community Board ($50,000) and community fundraising organised by OCSG.
It will be built during the next four to six weeks, weather dependant, adding another dimension to the sports grounds where the new tennis courts opened late last year.
OCSG Chairperson, Erin Cartwright, says everyone is excited the skate path is finally coming to fruition.
It has been a committed campaign by many in the community who have plugged away and fundraised to get a skate facility on the peninsula, she says.
Council's coordinator for the project, Stephen Lun, says the Skate Group members have been fantastic to work with and are to be congratulated for their fundraising effort that has added almost $100,000 toward the project cost.
"They are a great group of people and it has been refreshing to have such a keen group of enthusiasts in the community,'' says Stephen.
Demand for a skate path began with a 100-signature petition to the Community Board in 2013 and submissions to Council's 2015/16 Annual Plan, including a contingent of Omokoroa Point School pupils and their teacher Vicki Knell presenting their case in person to Council during hearings.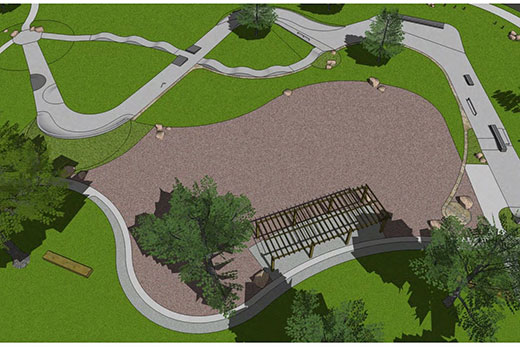 Artist impression of the new skate path.
Initially a request for a traditional 'skate park', the concept has evolved into a 'skate path' that will weave through the sports grounds in a figure-of-eight pattern and include areas for performing tricks.
Richard Smith of Rich Landscapes Limited has designed the path, with construction being done by J-Stone Skate Parks.
The skate path is part of Council's concept plan for the development of Omokoroa Sports Ground. A playground is planned in the 2016/17 financial year.