'Engulfed in flames' is how Tauranga Fire Brigade senior station officer Phil Price describes a house fire on Welcome Bay Road.
The house, which had been empty for about a month, was reported on fire about 9.30pm.
Phil says it was totally destroyed by the fire.
"We had about three fire trucks at the scene and one water tanker as it was a non-reticulated area.
"It was a single storey dwelling that was not occupied at the time of the fire, but there was some furniture inside."
Police have posted a scene guard overnight and will return to the scene this morning, along with a fire safety investigator, to investigate the cause of the fire.
Earlier this morning, Tauranga Fire Brigade were called to a car fire on Borrell Road just after 1.30am.
Phil says someone had set fire to a derelict car.
Firefighters spent about 30 minutes at the scene.
Phil says police were already "in attendance when firefighters arrived".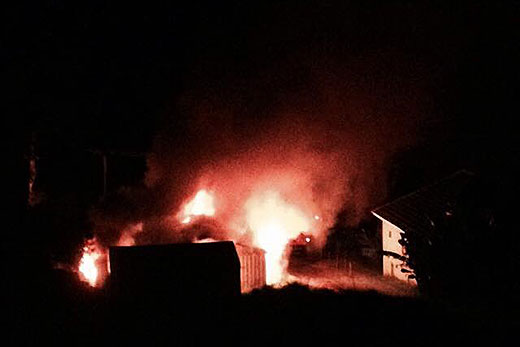 Flames seen leaping from the house on Welcome Bay Road. Photos: Stephanie Jarrett.