UPDATED - 11.45am: Waikato Police have confirmed that both lanes of State Highway 25 south of Tairua have now now been reopened to traffic following this morning's fatal crash.
But they also advise motorists that SH25 between Timata Rd and Woody Hill Rd will be reduced down to one lane and overseen by traffic management later afternoon.
Media reports state a 65-year-old Whitianga man died at the scene of the crash whcih occured before 7am.

The other driver, a 42-year-old man, was freed from his vehicle at about 9.45am and has been airlifted to Waikato Hospital in a critical condition with multiple injuries.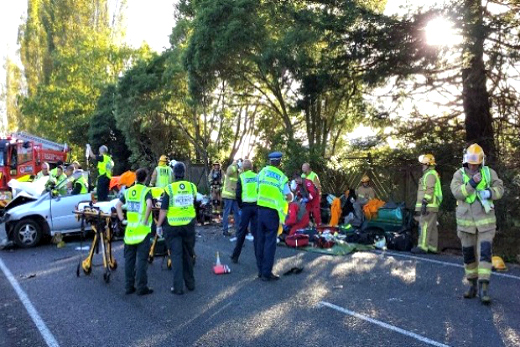 Photo: Auckland Westpac Rescue Helicopter

EARLIER- 9.45am:

Police say the site of the fatal head-on crash on State Highway 25 this morning is by the old mill meaning the road closure is south of Tairua and will affect a wider area.

Travel between the intersection of SH25 and SH25A north to Whitianga is blocked and police are advising motorists in Whitianga intending heading south to Waihi, Thames, or Whangamata will need to travel via Thames.

Waikato Police communications manager Andrew McAlley confirms the injured motorists who was trapped inside their vehicle has now been freed and is currently being airlifted to hospital via helicopter.


EARLIER:

One person is dead following a head-on crash on State Highway 25, between Tairua and Whitianga, this morning.

Emergency services are working to free a second person, who is critically injured, from the wreckage of the crash.

Senior Sergeant Andrew O'Reilly says units are at the scene alongside fellow emergency services and the Serious Crash Unit is travelling there at present.

"At this point we believe two vehicles, each with one occupant, have collided head-on," says Andrew.

"One driver has died while another has suffered critical injuries.

"An air ambulance helicopter is flying to the scene to transport the injured party, once freed, to hospital."

Andrew says while little is confirmed about what caused the crash, what is known is that SH25 will be closed for several hours and Police are advising against all but absolutely urgent travel in the area.

"There are no diversions available where the crash happened and people in Whitianga intending travelling south towards Thames, Whangamata or Waihi will need to do so via Coromandel and the Thames Coast Road," he adds.

"Heavy transport vehicles are asked, where possible, to avoid both the area around the crash and the Thames Coast Road due to anticipated heavy traffic flows diverted on to this route."

Police attended another fatal crash in Morrinsville yesterday and Andrew says that crash happened in a period of wet weather, whereas today's crash happened in ideal driving conditions.

"It just goes to show, you can't take your eye of the ball when the weather fines up," he says.

"Driving is a challenging task irrespective of climate, conditions or terrain and we need to drive to survive."