AC/DC drummer and Tauranga resident Phil Rudd may have difficulty continuing his globe trotting lifestyle after being convicted of cannabis possession on Wednesday morning.

When leaving the courthouse convicted of cannabis possession, Phil Rudd told SunLive, 'I'm not a bad person."
Rudd, who was convicted under his legal name Phillip Witschke, appeared before community magistrate Robyn Paterson in the Tauranga District Court.
This is the first time he has been convicted of a drug offence.
His lawyer, Craig Tuck, asked the magistrate to discharge him without conviction because the 'low level" offence could hinder his chances of travelling internationally as AC/DC's drummer.
The offence was discovered by police when they executed a search warrant on Rudd's launch, called Barchetta, at the Tauranga Bridge Marina on October 7.
Inside they found 25 grams of cannabis and a further two grams of cannabis at another location on the boat.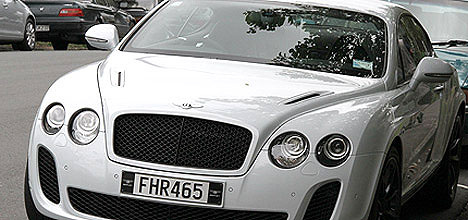 Phil's 2010 Bentley Continental.
Craig told the court that Rudd spent nine months travelling the globe with AC/DC in 2009, earning his share of $400 million from concerts.
'Over the last nine months, at least 20 countries have been entered," says Craig.
'He travels extensively around the globe, across the planet, and on the basis of such criminality, which is low level offending, he is being targeted."
Craig told the magistrate that Rudd was remorseful and has taken full responsibility for his actions.
He says Rudd has contributed millions of dollars to the local community since moving to Tauranga.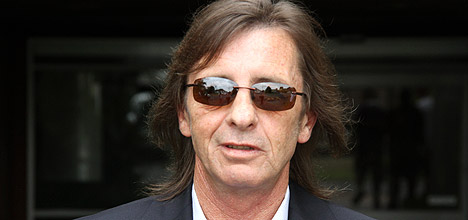 Phil Rudd outside the Tauranga District Court on Wednesday morning.
Police opposed Tuck's request to have his client discharged without conviction.
They say that if Rudd wanted to enter a country like the United States, he would still have to declare that he has been arrested on drugs charges and appeared in court.
Community magistrate Robyn Paterson refused the request for him to be discharged without conviction saying Rudd was playing 'Russian roulette" by being in possession of cannabis.
She says given his age, responsibilities and the fact that he earns multi-millions travelling the world, he should have known how serious a drug conviction could be.
'It was not just an accident. You were blindly ignoring the law. You have been playing Russian roulette."
Rudd was convicted and given a fine of $250 and ordered to pay court fees.