Many of the wireless microphones across the city are going to be illegal after next Wednesday because the government has sold off the frequency.
It means that microphones in the 700Mhz range will no longer be permitted to operate in the 698-806 MHz frequency.

Neil Turner is warning many wireless microphones will be illegal next week.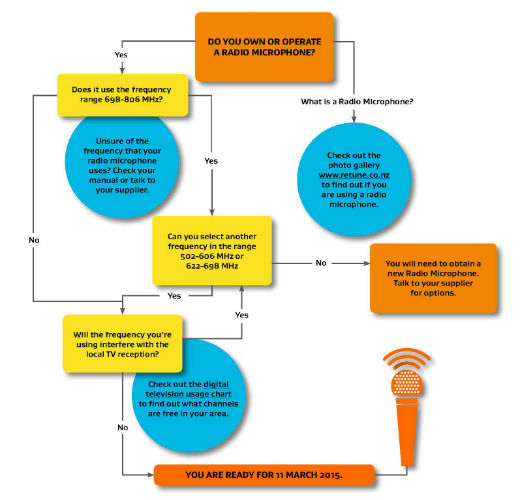 It affects microphones, and portable sound systems such as are used by celebrants, funeral directors, auctioneers, and in pubs, clubs churches and institution.
The change has been coming for two years, but Neil Turner at Triac Light and Sound is finding many wireless microphone users are unaware their equipment will be illegal after next Wednesday.
"I've dealt with four wireless microphone users today, all four of them three of them know nothing about the changeover,' says Neil.
"Two of them were having issues with their microphones cutting out, or interference. I suspect that their cutting out issues are because Vodafone is doing trials.
"I could be wrong but it just seems co-incidental when it is in the last week or two that they are having problems whereas the microphones worked perfectly well up until that point."
The government sold the frequency to Vodofone for its 4G network for $123 million. Wireless microphones must now operate in two frequency bands 502-606Mhz and 606-622Mhz.
"People are saying 'what will happen, what will happen?' Well you could get jammed, or you might interfere with Vodafone. Either way if you get caught your microphone will be confiscated and you might get a fine.
"It's quite apparent to me there is a number of wireless microphone users in the area who have no idea that next Wednesday their microphones could be illegal.
"I don't think there's been any government publicity. I've known about it for two years and all those in the industry have known about it for two years."
The inspectors say they are probably going to take more the educational approach, says Neil. Whether their microphones are confiscated or not, people will still lose the use of them.
"If you are using your microphone next Thursday and they say you can't use that, you can't use it.
"Most of these microphones are ending up in the rubbish bin. Perfectly good mics, some have been offering trade-ins but a lot have dropped that now."
One company offering is offering re-tunes but only on their own microphone. Downside is 12 weeks
It's affecting churches, nightclubs, social clubs, schools, retirement homes. Radio microphones start in price at about $530 for a basic model.
"But if you want something to sing through in a performance or in a church, something more reliable or robust, it's going to cost you a lot more," says Neil.
"Some tell you when the battery is going to go flat on the microphone, others can self-tune, so it finds its own clear frequency band then tune the microphone to the receiver."
Some radio microphones can be re-tuned, but there's currently a 12 week wait. Some companies offer trade-ins.
"One company will trade any brand and others will trade only their own brand," says Neil.
Being in the business of hiring out radio microphones and the like, Neil started changing over his stock some time ago, to "avoid having to fork out a whole lot for a whole heap at once."
He's aware some of the big hire companies have sold gear to the UK, or it has been sold off cheap on the local market. It would be irresponsible of the sellers to not tell the local buyers of the gear's limited life, says Neil.
But the numbers of radio microphone owner/operators he's come across this week who have no idea if their equipment will still be legal next week, shows there are many who will be caught out.

"We've tried to let all of our clients. But the message is if anyone's in doubt we're happy to advise over the phone or go and have a look."
Many of them have the frequency, a single digit and a letter denoting the band and frequency range -7D. A lot will say 760-820 or something similar.
"But anything in that range is out of band," says Neil.
"Churches, schools, gyms, clubs, there's just so many groups out there that are using wireless mikes."
Radio microphones operating in the frequency range 698-806 MHz will not be permitted to operate in this range from March 11.