White Fern autographs and posters are one thing, but Papamoa Primary's all-girls cricket team will come away from school today brimming with confidence after a brush with international stardom.
The school was one of the fortunate few to have White Fern cricketers on hand this morning to take part in a number of off-field activities targeted at growing the women's game.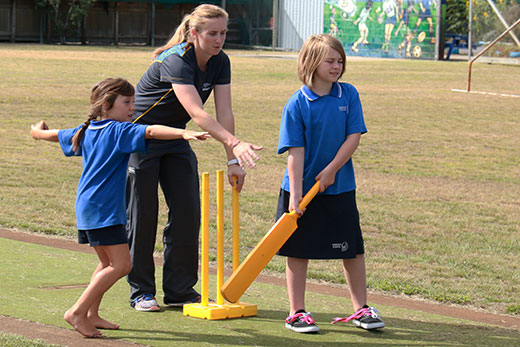 White Ferns all-rounder Anna Peterson keeps an eye on some Papamoa Primary cricketers. Photos: Tracy Hardy.
The other schools were Gate Pa, Pahoia and Greenpark.
Along with another round of schools on Monday - Tahatai Coast, Pongokawa, and Golden Sands – the visits are part of the lead up to the White Ferns' three-match ODI series against England at the Bay Oval starting next Wednesday.
After a short Q&A session with White Ferns captain Suzie Bates and all-rounder Anna Peterson, year four and year six girls made use of the artificial pitch and nearby field as the duo helped hone their bowling and catching skills.
Papamoa Primary health, sport and PE head teacher Hamish Avery says it is fantastic to have such high-calibre athletes make a fleeting visit, but knows the students will have enjoyed every minute.
And one aspect of the girls' cricketing repertoire he is keen on developing while the White Ferns are in attendance is bowling.
"Bowling is the most technically difficult skill to teach primary school athletes," says Hamish. "The sooner the girls can practice, or pick the skill up, the better off they will be."
The girls may have been excited to get up close with the two players, but it's just as evident that Hamish was rapt to have Suzie at the school given her sporting background.
White Ferns' captain since 2011, she has also been named the ICC World Cup 2013 player of the tournament and the ICC ODI player of the year for the corresponding year. She was also part of the Tall Ferns basketball side at the 2008 Beijing Olympics.
"It's just great for the girls to see that if someone from Dunedin can be an Olympic athlete, then they can too," says Hamish. "That level of experience it's just so powerful.
"This is so much better than watching a DVD or talking about how to bat or bowl."
Suzie says it is "awesome" to see so many enthusiastic faces as she took them through the basic skills of catching and running between the wickets – two aspects she sees as vital at an early age.
"They seem so simple, but if you aren't shown properly it's a bit foreign," she says.
"It's good to see so many girls keen. I didn't expect that many out there and they all just wanted to get stuck in."
The White Ferns' clash with England at the Bay oval on Wednesday, February 11, before backing up on Friday, February 13 and finishing with the final fixture on Sunday, February 15. Entry is free for all matches.