A man refuelling his boat at the Gull Petrol Station in Paengaroa is in serious condition after being caught in an explosion.
The 45-year-old was fuelling his boat at the station around 4.30pm when the fuel ignited, resulting in an explosion.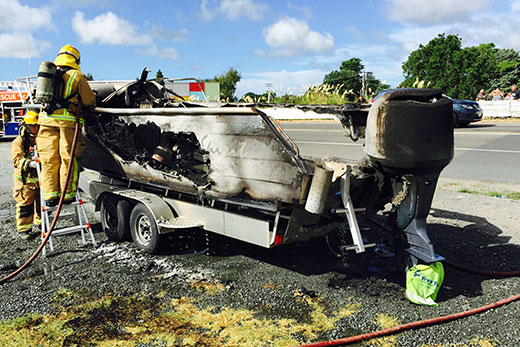 The boat was completely gutted by the fire. Photo: Supplied.


"The man received serious burns to legs, arms and abdomen and was treated at the scene before being flown to Waikato hospital for further treatment," says Trustpower TECT Rescue Helicopter spokesperson Todd Dunham.

"The boat was towed from the forecourt to a safe area where it was totally destroyed by the fire."

Maketu Fire Brigade responded to control the fire and secured a landing area for the helicopter.

Todd says the helicopter was called due to the nature of the man's injuries.

How the fuel ignited is still under investigation.